Not everyone is cut out for an hours-long, 10-course meal that costs just as much as your rent. You might be looking for a bit of a bargain without having to sacrifice high-quality food or a high-quality experience, and we support that. With a little digging, there are plenty of multi-course meals in Chicago's dining scene to be found at a reasonable price. We're talking three to 10 courses, some family-style, others plated, some pre-set, others diner's choice, all delicious. Whether it's called a pre-fixe, tasting menu, fixed menu, or something else, these are our city's best set menus for under $100 per person.
Humboldt Park
Price: $42
This charming Humboldt Park cafe delivers a fantastic menu all day. But on Wednesday nights you can create your own multicourse meal with a selection of three specials from the bistro's blackboard menu for $42. You're guaranteed to always have a different experience since the menu is constantly shifting to reflect in-season ingredients. Right now try dishes like an apple, fennel, yogurt, and hazelnut salad, grilled cucumbers, and bottarga, catch of the day with a house-made compound butter, and their signature duck frites. Grab a friend and share six different dishes for just $84 all in.
Bucktown
Price: $29
Stop by The Bristol Sunday through Thursday when you have your chance to taste the best of the season for just $29 per person. Its B-Sides menu features a rotating seasonal ingredient-driven three-course menu. This month, it's all about tomatoes including heirloom tomatoes with creamed smoked trout, housemade farfalle with slow-roasted tomatoes, zucchini basil pesto and fennel pollen, and white tuna with tomato consomme. Add an optional wine pairing with each course for $19 per person.
River North
Price: $45
This River North hot spot just launched a 45-minute omakase menu for $45 for when you're short on time but still want to enjoy a high-quality sushi experience. The 10-course chef's choice menu is available at the sushi bar seven days a week and features a rotating selection of nigiri and sashimi of the day, plus an optional $15 sake pairing with three sake selections. Still hungry? Top off your meal with add-ons from the main menu.
Loop
Price: $36
A three-course meal including a high-quality steak can be yours at Morton's for less than $40 per person. The restaurant's menu changes throughout the year, showcasing seasonal flavors and ingredients. Choose a starter course like lobster bisque or prosciutto-wrapped mozzarella, and entree like honey balsamic glazed salmon or grilled filet with a red wine demi glaze, plus your choice of a side, and desserts like sea salt caramel cheesecake and chocolate espresso mousse.
Lincoln Square
Price: $33
Visit this cozy French bistro on Wednesday night for a create-your-own three-course menu including an appetizer, main course, and dessert for $33. Start with the classic escargots or French onion soup or the chicken liver mousse with puff pastry, fava bean, fennel, cherries, and hazelnut-walnut relish. Choose from entrees like Faroe Island salmon with fennel, baby carrots, lyonnaise potatoes, salmon roe, and sorrel-cream, duck confit paired with cherry-duck sausage, asparagus, spring onions, pickled cherries, and duck au jus or steak frites with Bordelaise. The traditional dessert menu adds a sweet touch to this sweet deal. Highlights include creme brulee, chocolate pot-de-creme, and bread pudding.
Pilsen
Price: $44
Grab your family (or your friends who are more like family) for Haisous's family tasting menu. The $44 family-style menu is offered Monday through Saturday evenings and includes five courses from papaya salad and grilled baby octopus, to braised chicken with lemongrass, grilled eggplant, and exotic fruits for dessert. A vegetarian menu is also available with chilled tofu and soy, crispy rice, and pickled shallots, plus Vietnamese-style vegetable curry.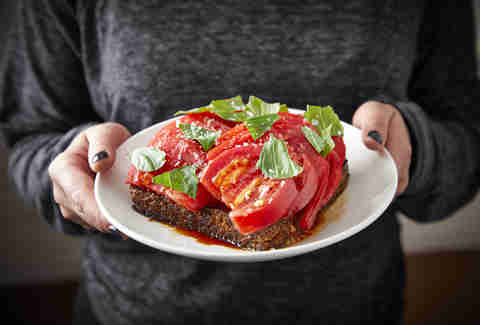 Logan Square
Price: $45
Logan Square pasta palace, Daisies, takes a family-style approach to its set-price menu aptly named the "FEED ME" menu. For $45 per person on Wednesdays, Thursdays, and Sundays, put your trust in the staff at Daisies to bring you a variety of seasonal menu items including a bar snack and seasonal starters like fried mushrooms and cheese curds or carrot rillettes, four or five pastas such as chitarra with sungold tomatoes or its famous beet agnolotti with dill and smoked trout roe. Finish up with desserts like ricotta cake with stone fruit. Beverage pairings can be added on for an additional $25 per person, which includes two glasses of wine plus a dessert aperitif.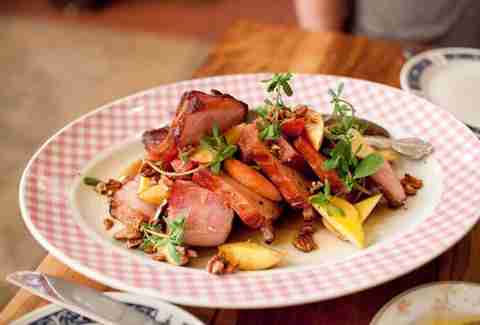 West Loop
Price: $65
The Publican's farmhouse family-style menu features a multi-course chef menu for $65 per person. It's a great option if you're feeling extra hungry (and don't have vegetarians or vegans in your party). While the menu options change at a chef's whim, you can expect five to seven courses including The Publican's greatest hits like barbecued carrots and spicy pork rinds, plus the half chicken, porchetta with charred corn relish, or halibut with corn and roasted tomato.
Pilsen
Price: $33
Tuesday is the night to swing by Dusek's in Pilsen for a $33 three-course dinner menu. Start your meal with a choice of a sourdough pretzel epi, beef fat fries, farm greens, or shishito hush puppies. Entree options include nine selections like the mussels with warm harissa butter, Slagel Farms chicken, or wagyu steak bavette. Dessert is a gianduja mousse with dark chocolate, hazelnut cookie, and burnt marshmallow ice cream, or you can supplement your meal with a dessert from the full dessert list for a small upcharge. As a bonus, you'll also get an after dinner drink at no extra charge.
Evanston
Price: $30
While technically just outside Chicago city limits, the pre-fixe menu at The Barn Steakhouse is a deal worth venturing out for. The $30 "Early Bird" dinner menu features three courses and is available Sunday through Friday from 5 to 6pm. Start your night with a Little Gem salad followed by a choice of roasted branzino with cherry tomatoes and sungold beurre blanc, New York strip steak, or za'atar roasted quarter chicken. Finally, choose between "Arnie's" chocolate velvet cake or pecan streusel carrot cake.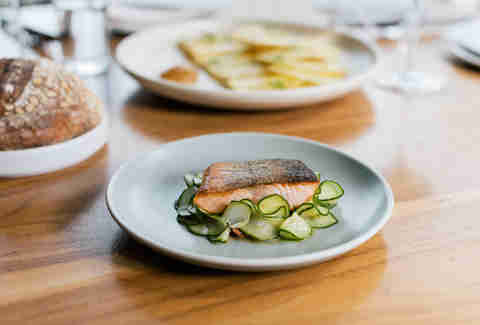 West Loop
Price: $95
Danish-inspired Elske offers its nine-course tasting menu every night, in addition to its a la carte menu. It's one of the best deals you can get at a Michelin-starred restaurant in Chicago. Current menu offerings include cured hamachi with crispy potato and dill pickles, poached arctic char with braised chanterelles, and smoked duck breast and sausage with roasted fennel. Dessert includes two courses like the frozen fennel jelly with mint and blueberries with soft milk ice cream, coffee, kombu, and lavender. Tack on a wine pairing for $55 or non-alcoholic options for $25.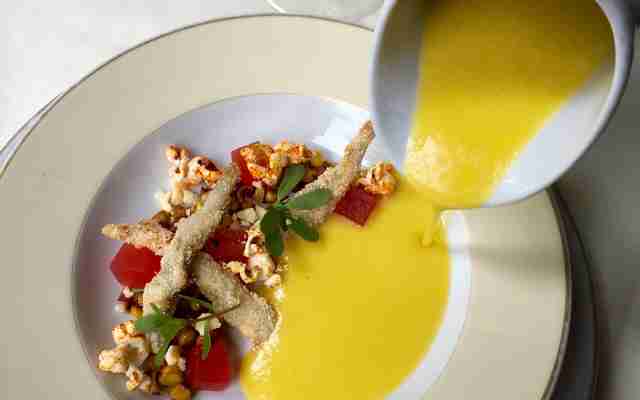 Lincoln Park
Price: $95
North Pond, tucked away in Lincoln Park, is another Michelin-starred spot with a tasting menu just shy of $100. For $95 you'll experience a five-course menu highlighting the flavors of the season. A recent menu included a gulf shrimp and sweet corn soup, a cauliflower-sesame tartelette, grilled leg of lamb with apricot, cucumber, feta, and pistachio. Dessert includes a peach pie with smoked almond ice cream, cobbler crumbs and blueberries. Elevate your experience (and your budget) with an optional $45 wine pairing.
Sign up here for our daily Chicago email and be the first to get all the food/drink/fun in town.