13 Things You Need to Eat in Chicago This Summer
Having an epic summer doesn't just happen, it takes some planning. Like where to stop on your road trip, who to invite (or NOT to invite) to your wedding... and what to eat every weekend of the season. Here to assist you in this most monumental of seasonal conundrums is our list of 13 foods to eat in Chicago this summer.
June 27-28: Hot Doug's!
Hot Doug's rises from the ashes today's at The Dog Dayz of Summer along with fabled encased offerings such as Atomic Sausage, Baked Ham Sausage, and Chicken Chorizo. Pair yours with duck fat fries, Bloodshot Records bands, and specialty tappings of Bourbon County Stout during what just might be the best days of summer. If not ever.
July 3-5: Ribs
Forget about mom and apple pie. This Fourth of July is all about ribs at this weekend's Windy City RibFest, with top-of-the-line 'cue from the likes of Aussom Aussie, Chicago BBQ, and Sweet Baby Ray's. Just don't tell mom where you've been all day.
July 8-12: Shrimp roll
Sure, there is a ridiculous amount of food to try at this weekend's Taste of Chicago. But the real excitement goes down at this year's select pop-ups including Stan's Donuts, Burger Bar, and Luke's Lobster, the fabled East Coast eatery that recently dropped anchor in Chicago to offer you lobster rolls, crab rolls, and shrimp rolls tailor-made for summer.
Neil Burger
July 18-19: $100 ice cream sundae
Yes, there are plenty of places in town to get ice cream. But only one is as ridiculously entertaining, addictive, and over-the-top amazing as Donald Trump's presidential campaign: the $100 sundae at The Terrace at Trump with 20 scoops of ice cream and an assortment of luxury toppings. Do it, or don't and just lie to everyone.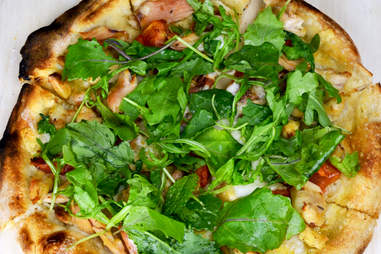 Ten Mile House
July 25-26: Chicken pizza
Deep dish is great and all, but summer is all about less gut-busting options like Ten Mile House's smoked chicken wood-fired pizza with garlic oil, fontina, roasted tomatoes, red onions, and dressed arugula (which is obviously the best kind of arugula).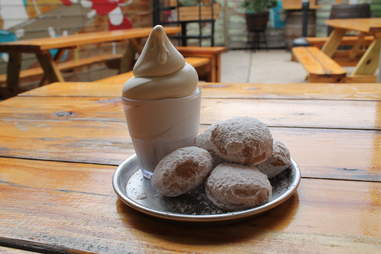 Boiler Room
August 1-2: Drunkin' Donuts
The only thing better than surviving Lollapalooza? Toasting your success with Boiler Room's Drunkin' Donuts, five deep-fried dough balls lightly coated with powdered sugar and cinnamon. Did we mention they're also served with Jameson soft serve ice cream? Because they're also served with Jameson soft serve ice cream.
Anjali Pinto
August 8-9: Lobster mac & cheese 
There are three things (and only three things) you need to know here: it's lobster mac and cheese. It's from Shaw's Crab House. It's pretty damn good.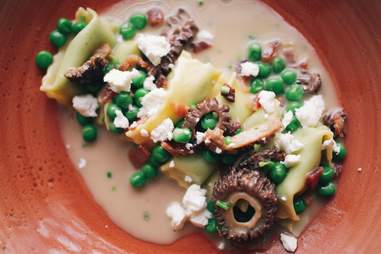 Homestead on the Roof
August 13-16: English pasta
At this weekend's Festa Italiana, it's all about the pasta. But if you don't feel like trudging all the way to Little Italy, hit up Homestead On The Roof for its English Pea Agnolotti pasta with morel mushrooms, morel & duck brodo, smoked chèvre, and bacon. English pasta: now a thing.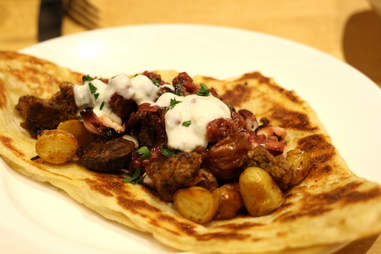 Jay Gentile/Thrillist
August 22-23: Greek food
It's Taste of Greektown this weekend, which means somewhere in the city there are people eating absurd amounts of gyros and thinking it's hilarious to yell out "oopa!" after too many shots of ouzo. Which, come to think of it, is basically every weekend.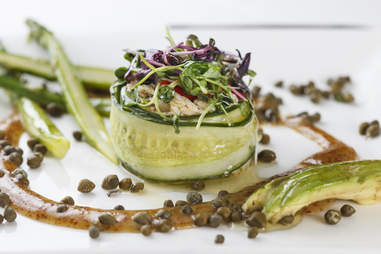 Jay Gentile/Thrillist
August 29-30: Crab & avocado
After all those gyros, it's time for something lighter: like the crab & avocado dish from Chicago Cut Steakhouse. With crab delicately wrapped in cucumber, resting on a bed of capers and topped with microgreens and avocado, it tastes like summer. If summer had a taste. Which it does. It's this.
September 4-7: Pierogi
The only thing more free flowing than the Polish beer and polka bands at this weekend's Taste of Polonia? The pierogi.
September 11-12: Oysters
What's that sound you hear at this weekend's Shock Top Oyster Fest? Why that is the sound of shucking, dear reader. Do not fear it. Embrace it.
September 19-20: Fish tacos
In honor of this weekend's Lakeview Taco Fest, hit up LYFE Kitchen for its mahi fish tacos with chayote slaw, avocado, and chipotle aioli on corn tortillas with salsa fresca. Or head to Lakeview and stand in line with a bunch of people on their fifth tequila shot. Your call.
Sign up here for our daily Chicago email and be the first to get all the food/drink/fun in town.
Jay Gentile is a Thrillist contributor who is officially inviting Donald Trump to come discuss his presidential ambitions with him over a $100 ice cream sundae. Your move, The Donald. Follow him @innerviewmag.