We're not here to stoke the flames of the deep dish/thin crust debate (we believe in a world where they can coexist), but rather to highlight the unheralded pizzerias around Chicago that're pounding out quality pies.
Oh, and when we say they're under-the-radar, we mean they're legitimately under-the-radar: none of these slice-houses appear on any of the most recent "Best Chicago Pizza Places" lists from Chicago magazine, Time Out Chicago, or Zagat.
Portage Park
Having grown from a carry-out/delivery spot into a full-service restaurant (with BYOB), super-thin, brick-oven pizzas are the norm for this place. Look for simple staples like the bruschetta pizza or Mexican variants like the pizza la ranchera (w/ chipotle sauce, beans, mushrooms, onions, and chorizo).
Bucktown
Swimming in the wake of giants like Giordano's and Malnati's, My Pie can be an afterthought for deep dish pizza, as evidenced by the fact that its multiple locations are now down to one. It's not for lack of effort, though -- with fillings like sausage, pepperoni, and pesto chicken, the deep dish pizza runs on the thinner side, so you can have multiple slices without going catatonic.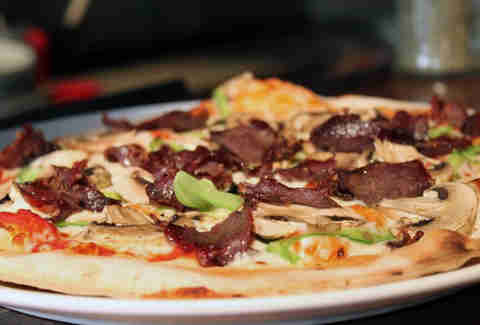 Lincoln Square
Owned by Bosnian natives who worked their way through Milan's pizzerias, their art of pie-making involves a quick-cooking, wood-burning oven and 12in pizzas topped with the likes of four cheeses, seafood, house-cured smoked beef, or prosciutto di Parma topped with olives. It's also BYOB with no corkage fee, so we call that a win-win... -win-win-win-win-win-win.
Lincoln Square
On the other end of Lincoln Square, I Monelli offers Southern Italian fare with crispy, thin crust pizzas, like a house special with sausage, chopped pepperoni, sautéed onions, and green peppers. The pizza lineup is backed up by appetizers like suppli (rice, mozzarella cheese, and marinara sauce rolled in breadcrumbs and fried), and desserts like tiramisu or cannoli.
Lakeview
Italian for "The Gondola" (I know, we were totally shocked too), this restaurant outdoes its strip mall surroundings with generous slices of oily, thin crust pizza. Fill up on toppings like BBQ chicken, bolognese, and puttanesca.
Albany Park
File through the liquor store door and hang a right to find Marie's retro dining room. Sit down for some of the greasiest, quality pizza around -- blot with a napkin and you better hang your head in shame -- including Marie's special (sausage, green peppers, onions, and mushrooms). And be sure to pit stop at the liquor store on the way out for some road sodas.
Lincoln Park
Just when you thought you'd conquered the entire pizza landscape (deep, thin, Sicilian, pan, frozen), here comes Chicago Pizza and Oven Grinder Co. with a pot pie pizza. Resembling a giant door knob, the pies are made up of light Sicilian bread dough that encapsulates gooey cheese and sausage made from prime Boston butts (aside from Big Papi's), and the piping-hot heap is actually spooned out of a bowl tableside.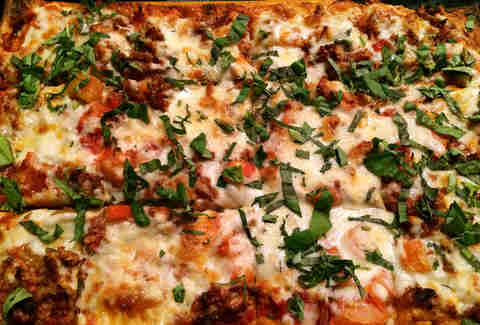 Lakeview
Having grown out of its original storefront across the street, this Italian eatery's pie menu is split between traditional (margherita, marinara, bianca) and non-traditional (ham with pineapple and jalapeños, rosemary potato slices). Be on the lookout for patio seating and daily blackboard specials.
This list -- and all the rest -- look even sexier in our iPhone app. Get it now!
Sean Cooley is Thrillist's Chicago Editor, and he hopes to one day sing backup vocals for The Pizza Underground. Follow him @SeanCooley.