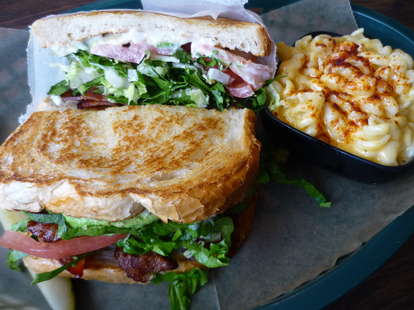 Yeah, you went to PB & J Middle School and Ham and Cheese High, but by now, you've likely graduated to Italian Beef, Cemita & Turkey Club Tech. Here to take you to sandwich graduate school, this list of the 10 most under-the-radar sandwiches in Chicago.

Shrimp BLT
The Brown Sack (address and info)
Humboldt Park
Meet my favorite Summertime sandwich. BLTs were meant for July and August, and when I need one, I can always rely on the deliciousness of The Brown Sack to be at my service. What's better than a BLT? How about a shrimp BLT? Perfectly assembled each and every time for a consistently satisfying sandwich.
Steak Jibarito
La Bomba (address and info)
Logan Square
If you've ever taken a stroll through Humboldt Park, you may have seen this Puerto Rican food cart (they've also got a brick-and-mortar on Armitage). Stop inside for what might be the best representation of a jibarito, in the city they were made in. Thinly pounded tender steak and a perfect fry job of the plantains put this sandwich head and shoulders and a hat above the rest.
Patty Melt
Edzo's (address and info)
Lincoln Park
Edzo and his top-of-the-mountain burgers are by no means under-the-radar, but the sandwich? The oft-overlooked and totally perfect epitome of a patty melt. Comfort food, in sandwich form.
Corned Beef Sandwich
Moon's Sandwich Shop (address and info)
Near Westside
Moon's has been serving Chicago's blue collar, working class community since 1933. When loyal patrons aren't indulging in one of the massive breakfast plates, they're most likely eating one of Moon's signature corned beef sandwiches. As they say, if it ain't broke... eat the crap out of it.
Shish Kebab Sandwich
Mr. D's (address and info)
Montclare
You really can't go wrong with anything on the menu at Chicago's most well-known, under-the-radar spot. If you live anywhere near Mr. D's, you know all about the stick-to-the-ribs shish kebab sandwich that's flame-kissed to perfection every time. Served with some of the best fries in the city, this is a monthly stop for me.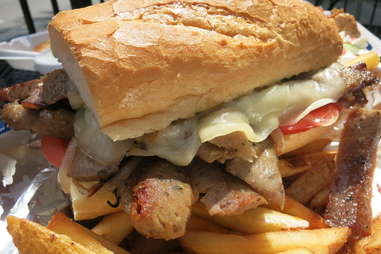 Gyro Sandwich
George's Hot Dogs (address and info)
Bucktown
There's no shortage of gyro options in Chicago, but how many of those options are different? Not many. It's the same meat with the same toppings on the same pita, which is why I like George's Hot Dogs in Bucktown. Going into its 66th year, my go-to order here is the "The Greek Squeeze", a sub stuffed with gyro meat and topped with melted cheese, grilled onions, tomatoes, and the house-made tzatziki. Don't plan on moving much after eating one of these.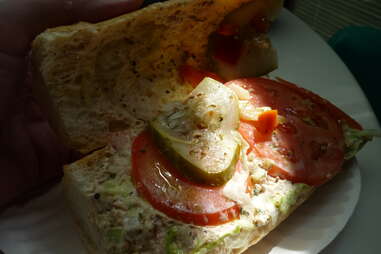 Tuna Salad Sub
Vinnie's Sub Shop (address and info)
Noble Square
Yes, I've been to the other sandwich shop down the block hundreds of times, but this is still where I go when the hankering for a tuna salad sub hits. Those cravings tend to come when it's really warm outside, and lunch calls for something that's not hot. Enter Vinnie's family-recipe tuna salad, which only uses Italian stuff and lip-smacking oil.
Superfish Sandwich
Superdawg (address and info)
Norwood Park
It's hard to pass up on the signature Superdawg at Chicago's premier drive-in, but WE BELIEVE IN YOU, and if you're gonna do it, do it with the Superfish Sandwich. It's no different than the hot dogs when it comes to preparation, and that means shortcuts are not taken. Freshly breaded filets of cod take a bath in the same oil used for the fries, which results in a golden outside and beefy, flaky inside after they're fried in beef tallow. Two filets go inside a fresh-baked onion roll with a smear of tartar sauce on top. My favorite fried fish sandwich in the city.
Torta Ahogado
Las Picosas (address and info)
West Lawn
There's no shortage of torta options in the city. One of the locals' favorites in West Lawn is this place specializing in tortas ahogadas, which're popular in the Mexican state of Guadalajara. Simplicity reigns supreme in these sandwiches that get stuffed with carnitas and then drowned in a spicy tomato sauce. And of course, they're served with a mini-taco dorado to drain it all down.
Ham, Egg & Cheese on a Biscuit
Ms. Biscuit (address and info)
Washington Park
Fresh-baked biscuits are few and far between in Chicago, but they can be found. This appropriately named breakfast spot packs them in for the baked delights. I like to have one in sandwich form, and the ham off the bone with egg and cheese is a damn good way to start a lazy Sunday.
This list -- and all the rest -- look even sexier in our iPhone app. Get it now!
Titus Ruscitti is a contributing writer for Thrillist. You can join him on his food travels throughout the cityscape and wherever else life takes him on his blog, where he's single-handedly tackled close to 1,000 food stops. Follow him @chibbqking.