After a slow start to the season, the Cubs are back and chasing their second World Series championship of the Theo Epstein era. How these games will play out is anybody's guess, but no one can deny the immensity of the recent changes to Wrigleyville itself, as the billionaire Ricketts family continues to pour huge amounts of money into revitalizing their team's stadium and its surroundings. This may anger fans of the old Taco Bell and its ridiculously large sign, but it also means more choices than ever for where to eat and drink on gameday.
As more and more upscale restaurants move into a neighborhood known mostly for divey sports bars, it's started to seem like two Wrigleyvilles share one space. With that in mind, we've rounded up the best food and drink to hit before and after a game, but split our efforts into two MLB-style leagues of "old" and "new" Wrigleyville. Whichever you choose, let's hope the W is flying.
Best of new Wrigleyville:
Recommended Video
Please Don't Hang Up: The Best Things to See, Eat, and Do in Milwaukee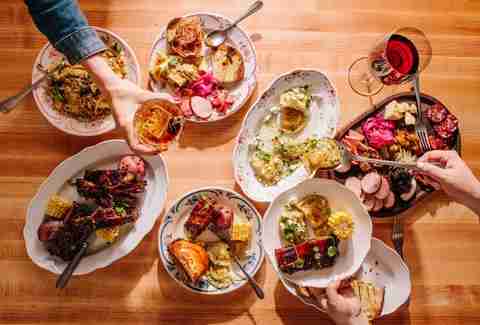 Italian & Polish staples from a James Beard winner and Cubs manager Joe Maddon
The newest entrant to Wrigleyville's rapidly expanding upscale dining scene is this classy neighborhood spot opened by Cubs manager Joe Maddon in partnership with local James Beard Award-winning chef Tony Mantuano. Subtle nods to baseball include Maddon quotes and Haymarket's Try Not to Suck beer, but overall the bi-level, 7,400-square-foot space tries to "Do Simple Better" with Italian and Polish staples like wood-fired pizzas and three types of pierogi. Stop by for a brunch of kielbasa and eggs or rent out the second-floor speakeasy-styled Flamingo Room for private parties.
BBQ joint, taco spot, upscale restaurants, and more -- all in one location
On the leading edge of the neighborhood's increasing transformation from Wrigleyville to Rickettsville is the seven-story, Ricketts-owned, 173-room Hotel Zachary. The building complex houses outposts of a number of popular local bars and restaurants, including the second locations of two Wicker Park staples: the hip, taco-centric Big Star and the BBQ/live music mainstay Smoke Daddy, both of which vastly expanded their original footprints in these fancier digs. There's also Mordecai, an upscale restaurant known for its library premium bourbons and rare spirits, and Boka Restaurant Group's American comfort food emporium Dutch & Doc's, which now has the distinction of being the closest bar/restaurant to the iconic Wrigley Field marquee.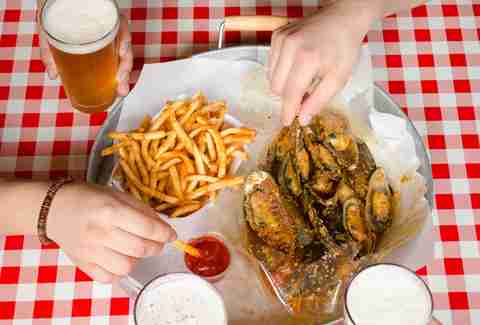 Laid-back Southern-style seafood, with a highball cocktail machine
Get your hands dirty cracking open some lobster at the Wrigleyville location of this laid-back Southern-style eatery, which houses one of the few Japanese highball machines in the city. In addition to seven types of highballs and summery drinks like sweet tea and rum punch, Lowcountry slings an excellent assortment of authentic Southern seafood staples in boil-in-a-bag style, plus guilty pleasures like deep-fried Oreos and Nutella-stuffed beignets.
Low-key vibe. Top-notch pizza.
One of the best pizza joints in a famously pizza-crazed city made its entry into the Wrigleyville market in 2015, yet continues to fly under the radar thanks to its low-key vibe and out-of-the-way location on the Southport corridor. Beloved for its thin crust, coal-fired pizzas served from a blazing hot 1,500-degree oven, this is where you get away from the all-encompassing madness that is modern game-day Clark Street.
Quick, counter-service spot for delicious fried-chicken sandwiches
The fourth location of this small counter-service spot has quickly established itself as the Wrigleyville's go-to for the post-imbibing delicacy that is the fried chicken sandwich. Whether you're going classic with the chicken and cheddar or kicking things up a notch with their habanero BBQ-infused Heater, you'll have a nice base for a long day of drinking before the game or a quick bite after when you just want to get the hell out of Dodge with something good in your belly.
Detroit-style pizza and a basement cocktail bar
This boutique hotel opened last year smack in the middle of Wrigleyville's frat bro row along Clark Street, but cultivates a discerning vibe geared toward adults. Its on-site restaurant Union Full Board serves up killer Detroit-style pizzas that distinguish themselves from the late-night pizza emporiums cluttering the neighborhood (not that there's anything wrong with a mac & cheese or s'mores pizza from Dimo's when you really need it). The Wheelhouse's basement bar Tinkers to Evers, on the other hand, serves A-list cocktails in a refuge from the sea of idiocy just outside its doors.
Best of old Wrigleyville:
Spacious beer garden, popular for pre-game meetups
Long known for one of the finest beer gardens in the city, Sheffield's is a traditional meeting place for linking up with friends before the game over some quality craft ales. Don't expect to have the place to yourself, though. While the longtime neighborhood institution remains as popular as ever, the spacious beer garden should provide enough elbow room to where the crowds don't feel overly oppressive. Key word here: should. Get there early to avoid the risk of lines out the door.
Board games, community, and a totally un-Wrigleyville vibe
With board games and a quiet almost scholarly vibe tucked away off the main drag of Addison, this quaint neighborhood hangout is the antithesis of everything Wrigleyville is known for. The old-school tavern's building dates back to 1900 and brings with it a friendly locals-heavy crowd more interested in showcasing their Candy Land skills than discussing the Cubs' latest bullpen issues. In fact, the ivy on the building's exterior is just about the only thing this place has in common with Wrigley.
Quick stop for huge deli sandwiches and craft beer
While only open in Wrigleyville since 2004, this beloved sandwich emporium feels like an OG by today's standards. As the name suggests, there's not much to the place outside of ridiculously large yet delicious deli sandwiches stuffed with fries and paired with a small yet decent collection of craft ales for a quick and satisfying stop before or after the game. Extra hungry? Take part in the Lucky's Challenge to tackle three sandwiches in an hour to win a T-shirt and "Wall of Fame" photo.
Hip bar with pool, music, and whiskey
Long regarded as one of the only cool bars along the Wrigleyville bro-levard that is Clark Street, this hipster-approved joint owned by Metro's Joe Shanahan is more concerned about who's playing next door at Metro than who's playing against the Cubs. And that's the way longtime patrons like it. Shoot some pool. Drink some whiskey. See a live band. Having appeared in The Color of Money and calling itself "the last bastion of bohemia" on North Clark Street, you can still be a Cubs fan here.
'60s diner vibes with a vegan-friendly menu and a patio
This neighborhood institution looks like something transported from 1960s San Francisco and is pretty much overlooked by the mustard-stained jersey-clad set hooting and hollering their way up Clark Street. The good news is that means there's (usually) plenty of room for you to relax on comfy diner-style seats and dig into a vegan-friendly menu or sip coffee (they also have booze) on the small outdoor patio. It's a most welcome step back in time in a place where you need it most, and a perfect way to unwind after a long booze-fueled day at the ballpark.
Pool, darts, and Malort at Wrigleyville's oldest dive
Ah, Nisei Lounge, why do we love thee? Let us count the ways: 1. A no-frills dive just off Wrigleyville's main drag packed with character (and characters) that also happens to be Wrigleyville's oldest bar. 2. Pool and darts, play or don't play, no one cares. 3. Malort shots and "Chicago Handshakes" (a shot of Malort and an Old Style beer). Do them if you know what's good for you, and quite probably make some new friends along the way. Any questions? Didn't think so.
 
Live music, great brunch, and the first organic brewery in the state
With live acoustic bands and some of the best damn brunch in the city, this laid-back oasis is also home to Greenstar Brewing, the first certified organic brewery in Illinois. Pair one of the beers with excellent yet approachable farm-to-table cuisine including pulled pork tacos or a grass-fed beef smash burger and get cozy before catching a live show in their intimate listening room. Located far north enough along Clark Street to avoid the puke splash zone, this place will feel like heaven on Earth after a few hours at Murphy's or Cubby Bear.
Chicago's quintessential hot dog in a no-frills spot
With accolades ranging from "Most Authentic Chicago Hot Dog" to "Best Cheap Food in Lakeview" to "Best Cheap Lunch in Chicago" (and that's just in this fair publication alone), there's no place in Wrigleyville better for an authentic Chicago-style hot dog than this tiny little stand on Irving Park Road. And that includes the stadium itself. This classic no-frills hot dog stand is famous for its combo meals (including two hot dogs for under $10), so stop in before the game and walk out with some extra cash to blow on that sweet-ass Anthony Rizzo bobblehead you've been lusting after all season long.
Sign up here for our daily Thrillist email, get Eatmail for more food coverage, and subscribe here for our YouTube channel to get your fix of the best in food/drink/fun.