Stella's Bar and Grill

| Joshua Foo/Thrillist
Stella's Bar and Grill

| Joshua Foo/Thrillist
9. The Grey Plume Earthen Burger
I contemplated not including this burger in the rankings for a long time because it doesn't truly fit in with the quest of trying to find the best classic cheeseburger. The Grey Plume is a nationally known, ambitious restaurant with a top-notch chef/owner named Clayton Chapman; it's the kind of place that delivers you a pastry at the end of the night to eat the following morning (a move out of the Aaron Silverman playbook). But it also has a bar menu, and I figured the burger on the bar menu would be worth seeking out as a more casual version of the Chapman vision. After all, there were chicken wings and a "haute" dog, and some sort of tater tots and popcorn on there. This, however, was not the burger I was looking for.

The bun was dyed using squid ink and nearly black. The patty was created with the James Beard Blended Burger Project initiative of making 25% of your meat patty mushrooms (I wonder why the Beard foundation didn't just opt to have more people adopt the Oklahoma-style onion burger style, which accomplishes a very similar goal and already exists). I respect Chapman for doing something different and for failing to cease ambition with a bar menu, but I'm just not sure that this accomplishes the necessary elements of a good burger experience. For one, the burger was so funky, earthy, and vegetal that it lacked balance. It's hard to have good acid balance when faced up against truffle oil and intensely flavorful mushrooms, and the bun was so dense and dry, it didn't help. Chapman certainly has the chops to pull off a delicious burger (even in keeping with the initiative), he just might've overthought this one.

Those morning pastries were delicious though.
8. Cheeseburger with grilled onions
What a name. Burger Lust! And what a menu! It's got a "best of the US" sandwich portion with things like an Iowa Country pork tenderloin, a Cali Chicken Malibu, and of course, Omaha's own Reuben, plus it's definitely the only place in the country that offers up jalapeño salsa as a standard burger topping.

As for the burger itself, it was well-salted, hand-formed, and the meat tasted pure and beefy, but the rest of the elements were middle of the road. The burger was overcooked and got dry fast, and the onions were underdone, so they retained a little bit too much of that acid tang. Overall, it was a totally fine burger, just maybe not one I lusted after.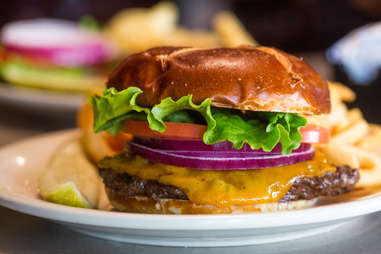 7. Cheeseburger with American
There was nothing on TV at Goldbergs. It was at a random hour, and I watched a man advertising locally made manufacturing equipment ask another man about the chances of a local high school's baseball team this year. "Not the best," said the first man. "But also not the worst."

This might also be how I'd describe the Goldbergs burger. There was nothing particularly wrong with it. It had solid beefy flavor, well-melted cheese, and a great (possibly potato?) bun. But it was overcooked and the accoutrement didn't add a lot of value: The red onion was overpowering and cut too thick, and the pickle spear didn't fit on the burger and add the necessary acid. Not the best, as the man said. But not too shabby either.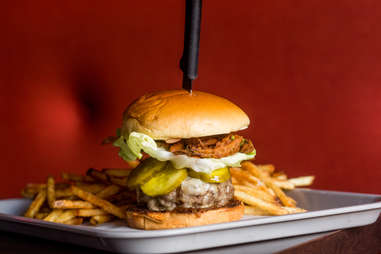 6. Nite Owl Burger
Before we even get into the burger, let me just say I loved this bar. The bartender Gunnar was hilarious and damn talented, it had a gin and tonic on tap, the movie Gremlins was playing in the background, and it had a free jukebox that played Nas' oldest CD so I could listen to "Halftime" and remember when I used to pretend I was tough in middle school.

Also, one caveat here: By the time I ate the burger, it was at least midnight. I got the Nite Owl's signature burger with bourbon bacon jam and crispy onions and it was... huge. Especially considering it was the ninth burger I had that day, it was just so much meat. The onion ring on top was also large and somewhat overpowering. But the flavors were all there: The bacon jam was tangy and salty, if a touch sweet; the pickles (which they put on the burger, unlike almost everywhere else in Omaha) offered good acidity as did the special sauce, so it balanced nicely with the cheese and meat. Like so many other burgers in this city though, it was overcooked. Nonetheless, I will come to this bar and eat this burger and hang out with Gunnar every single time I come to Omaha. And you should too.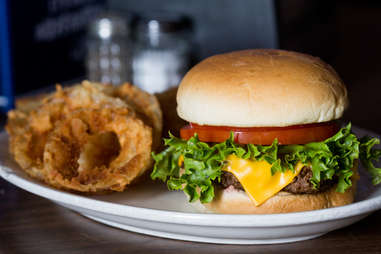 5. Deluxe Cheeseburger
A red and yellow sign outside of Dinker's reads "Omaha's Best Burger." When I roll in around 1:30pm on a weekday, it's half full with locals tucking into their burgers and watching CNN Money. I put my burger order in and pay $2 upfront for a Bud Heavy (you order food in the back, drinks in the front). A dude studying from a thick sociology textbook sits down next to me.

When the burger comes, it's slightly overcooked but has decent char, a loose grind, and a great, meaty flavor. There are a few issues: The bun is barely toasted, half the cheese isn't melted, and there is way too much mayo. It needs pickles desperately. And yet the meat is good enough to keep it in the top five.
4. Coal Fired Burger with Caramelized Onion and Cheddar
When people told me that one of the best burgers in Omaha was at a pizzeria, I was like "WHY ARE YOU LYING TO ME? WHAT DID I DO TO YOU? I WILL NOT STAND FOR THESE SORT OF DUPLICITOUS TARADIDDLES!"

But then I calmed down, went to Pitch, and had one of the best burgers in Omaha. The burger is coal-fired, like the pizza. The meat was one of the loosest grinds in the city, so it fell apart gracefully as you bit into it. It tasted like a fantastic backyard burger, thanks to the coal flavor. There were a few speed bumps: Cheddar doesn't melt like American so it seemed to fall off the meat in huge globs and harden on the plate. The onions were cut too thick (possibly for use on the pizza), and the pickle was just a vertically split spear so it's huge and doesn't quite stay on the meat. Still, the flavor of the meat alone and that grind is reason to come to Pitch. Also, I ate a very delicious Margarita pizza with fresh jalapeños because I have FOMO issues.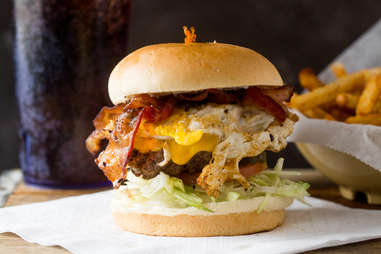 3. Cheeseburger with American and "everything"
If there is one legendary burger spot in the Omaha area, it is Stella's. Every single person I talked to mentioned Stella's. Every story I read mentioned it too. "Serving world famous hamburgers since 1936" helps, I think. When I came in at noon on a Wednesday, every seat in the place was taken. I bellied up to the bar next to a man in a WWII vet hat drinking a beer with his own koozie and glanced at the wall behind, which featured shots of people who'd tried their burger challenge and failed. Today, I was informed, is donut burger day. "And we only have about three left." I don't want you to think less of me, but I did not get a donut burger, friends.

The burger I did get was fantastic quality. Six-and-a-half ounces of hand-pressed patty with a great loose and salty grind and a clean meaty taste. The fresh Rotella hamburger bun, which was not toasted (a pet peeve of mine) was actually not soggy and held up well. The acid in the pickles and tomato balanced out the American cheese and the mayo. My only issue was with the raw onion, which was so thickly cut that it often dominated bites with its tang. Other than that, I can understand why Stella's is a local legend, but I think a few others are ready to challenge for the crown.
2. Block Burger
There is a place in Atlanta called Fred's Meat and Bread, and it is fantastic. Block 16 is very similar. Both are lunch counters offering up a variety of sandwiches that span the globe. Both have that vaguely hip, current vibe. And both serve up some damn delicious cheeseburgers.

The Block Burger is small but aesthetically very handsome. In comparison to most places in Omaha, it was only mildly overcooked, and the hand-formed patty had fantastic char and a peppery flavor. The bun was toasted perfectly, and the balance and composition were exquisite. The shredded lettuce managed to pick up all the sauces -- mayo, mustard, ketchup -- and keep them balanced throughout. The Swiss was mild and well-melted. This is a burger to travel for, friends. And that's before you get the Dragon Fries and that sandwich with bacon and apple butter.
1. Dario's Cheeseburger
I wasn't even going to come here, truthfully. Dario's was one of the last additions to my burger list, mostly because it's, well, a brasserie. At the last second, I rolled up to Dario's, sat outside, and ordered a Belgian sour and the burger. The waiter tried to sell me on the fancier version, but I held fast and lord did it pay off.

Generally, almost every restaurant in Omaha overcooked its burgers. Many have it as standard practice to cook medium-well unless otherwise noted, and even when you request medium, they tend to err on the side of overcooking, as if they don't quite believe what you want. Not Dario's. This burger had a salty-and-peppery outer crust that gave way to a juicy, pink center. A perfect medium. Gruyère, which is second to American in meltability, partnered well with the meat, and the caramelized onions had that deep, French onion soup texture and tang, and the brasserie sauce provided a little bit of acid and balance. The bun was well-toasted and not cloying or too thick. And the beer was a near-perfect pairing. Dario's cheeseburger is the best burger in Omaha. Et c'est final.
Sign up here for our daily Thrillist email and subscribe here for our YouTube channel to get your fix of the best in food/drink/fun.
Kevin Alexander is Thrillist's National Writer-at-Large, chief burger critic, and least skilled French speaker. Follow him to freedom/Twitter @KAlexander03.