Get ready for the Year of the Tiger. According to the Chinese calendar, which is based on the phases of the moon, the Lunar New Year usually starts on the second new moon after the Winter solstice, and this year, that means February 1. We turned to none other than Chicago chef Edward Kim of lauded Pan-Asian fixture Mott Street for the lowdown on how to properly ring it in.
Kim was raised in Park Ridge, and visited Korea, his family's country of origin, almost every year throughout his childhood. There, Kim remembers Lunar New Year—Seollal in Korean—as a major celebration. "We'd have a large dinner one night with our extended family," he explains. "We'd pay respect to our elders—in Korea, the graves are on top of mountains and they are very beautiful. We'd spend time in nature, having a picnic at the hill that your ancestors' graves are built on. It's something that could be macabre, but it's actually very celebratory."
Along with the parties comes the important ritual of sebae, bowing deeply to show respect to your parents, grandparents, and ancestors. The practice is sometimes accompanied by gifts of money, or sebaet don, for the children.
Food, of course, plays a huge part in the multi-day ceremony, and many traditional dishes are prepared to represent luck, prosperity, and longevity. "Rice is very important because it's a staple food, and rice cakes look like coins," Kim continues, referencing a rice cake-laden soup called tteokguk. "Eating long noodles, that's like long life, as well. And the number eight is very auspicious in the Chinese New Year, [as] it symbolizes wealth and prosperity."
The holiday lasts for days, which, says Kim, "allows you time to say 'bye' to the last year, welcome in the new year… and to do your spring cleaning."
Chef Kim was classically trained, attending culinary school and working in high-end restaurants in California and New York with a focus on contemporary American and French-inspired cuisines. "With Mott Street, I want us to be the best Chicago restaurant we can be," he says. "I feel that the terroir we are working with is going to influence how good we can be. So, if I was trying to be the best Korean restaurant in Chicago, there's a cap to that, right? Because I'm not in Korea—I'm in Chicago. I'm going to have the best Chicago ingredients, and that includes the terroir, the people, the ambience."
Speaking of the Windy City's unique Asian culinary landscape, local restaurants Kim loves to visit include Han Bat on Lawrence for seolleongtang, a soulful brisket bone broth, Daebak for Korean BBQ, and suburban Chef Ping for Chinese-American classics with a few Korean favorites sprinkled in throughout the roster.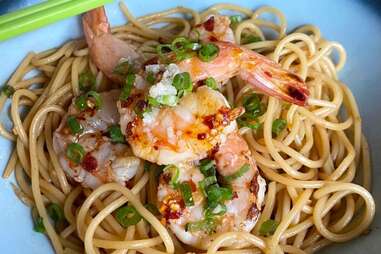 Back at Mott Street, chef Kim puts on an annual Lunar New Year feast. This year, the eight-course family-style Lucky 8 menu reads like a greatest hits from their long run on Ashland Avenue. Kim describes Mott Street's style as Asian-American, giving way to a cornucopia of flavors and inspirations. Thailand shows up in the Kohlrabi Salad (a take on the traditional green papaya-based som tum), herbaceous Pork Imperial Rolls get inspiration from Vietnam, while the Skirt Steak Kalbi is 100% Korean-American. "Each year, we like to incorporate the upcoming Lunar Year's animal in our menu," adds Mott Street co-owner Nate Chung. "In a spirit of playfulness—and perhaps even cheekiness—we will be incorporating the boldness and confidence of a tiger with our Tiger Shrimp Everything Noodles."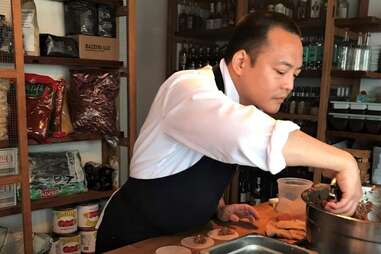 Mott Street's Lunar New Year Lucky 8 Feast runs January 28 through February 6 and costs $62.88 per person, with reservations available via Tock. As you might have noticed, even the price taps into the holiday symbolism. Six plus two equals eight, while the number 88 signifies double happiness, wealth, and prosperity.
Can't get enough Lunar New Year deliciousness? Check out these buzzy events around Chicago and toast the Year of the Tiger in the utmost style.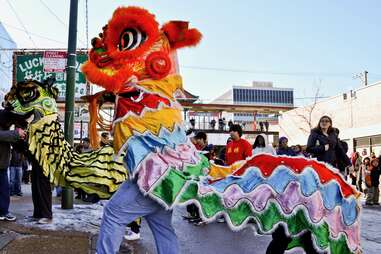 Saturday, February 5
Uptown
Join Uptown United and 48th Ward Alderman Harry Osterman on Argyle Street this Saturday from 12 to 4 pm for the annual Argyle Lunar New Year Celebration. The procession includes over 200 red lanterns and an eight-block-long socially distanced parade, among other festivities.
Cost: Free
Sunday, February 13
Chinatown
This year's Chinatown Lunar New Year Parade goes down on Sunday, February 13. The late start promises to be worth the wait, with marching bands, dragons, and dancing lions leading the charge up Wentworth Avenue from 24th Street to the viewing stand at Cermak and Wentworth starting at 1 pm.
Cost: Free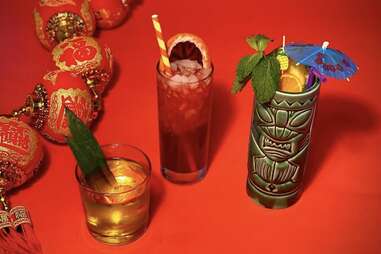 Tuesday, February 1
Chinatown
Also in Chinatown, smash-hit pop-up concept Nine Bar is slated to throw their annual Lunar New Year Party at Moon Palace on February 1 from 7 pm to midnight. Expect over-the-top cocktails from founders Joe Briglio and Lily Wang, creative Pan-Asian snacks like Adobo Nugs, Budujigae Corndogs, and Katsu Sliders from Moon Palace's Glenn Wang, Bananaphone's Michelle Back and Dylan Heath, and Nick Jirasek from the Ox-Bow School of Art & Artists' Residency, and a DJ set by Will Galvan.
Cost: Menu prices vary