RIP: 20 Chicago spots that shuttered their doors this year
For every hot new restaurant or bar that opens in Chicago (ooh, special cider!), dozens of other concepts, for better or for worse, end up at the big restaurant sleepy place in the sky. And today, we're paying homage to those places, delivering eulogies to the 20 biggest-deal bars and restaurants that we lost in 2014.
 
Hot Doug's
Avondale
We are still in a postmortem funk over the closing of Doug Sohn's encased meat emporium. The wiener shop that inspired tattoos, a documentary, and hours of line-braving fans is gone but not forgotten. It will be weird the first few times walking into the space that'll now be occupied by Frank Meats Patty, the new burger and dog spot from the owner of Fatso's Last Stand, but not too weird because, well, burgers and hot dogs. - Sean Cooley
 
Johnny's Grill
Logan Square
When we picked out the city's most iconic diners, Johnny's in Logan Square was one of the first we thought of -- and then it was gone before the article was done, and along with it, a piece of Logan Square's soul, which needed a friendly hangout and a cheap cup of coffee for everybody more than it knew. - Mike Gebert
 
Underbar
Roscoe Village
We'll miss one of Chicago's finest late-night institutions and one of the only bars in the city to host cool music after 2am. We'll also miss those times when late nights at Underbar transitioned into early mornings at the riverboats or random rooftops of people we just met at Underbar, who we now call friends. - Jay Gentile
 
Silver Cloud
Bucktown
After 20 years as a neighborhood fixture, the bar and grill at the corner of Damen and Wabansia shuttered after a split between its partners. Winter will be a little colder without their chicken pot pie. - Matt Lynch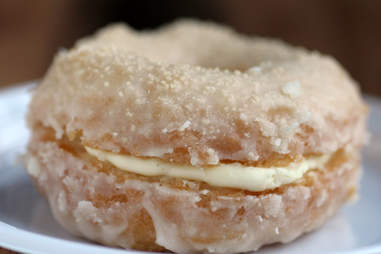 Sean Cooley
Endgrain
Roscoe Village
And with it, potentially the end for the majestic doughscuit, which took top honors at last year's Donut Fest. You'll be gone but not forgotten, dear friend. - Sean Cooley
 
Arami Go
Streeterville 
The Ukrainian Village mother ship, Arami, is still alive and well, but its fast-casual Streeterville sibling never quite took off in the same way, which is a shame, because it was a fine option for people who wanted a quick meal but didn't want to hate themselves too much afterwards. Arami did gain a sibling this year as well, in Lincoln Park's Ani. - Matt Lynch
 
Muskie's
Lakeview
We've had a burger renaissance in the last couple of years, full of places making artisanal burgers with farmer-named meat and crazy toppings like ghost peppers, pulled pork, etc. Muskie's was none of that, but it was a solid place to get a no-BS burger or grilled chicken sandwich and damn good fries and shakes. For 20 years, that was enough. - Mike Gebert
 
Hungry Brain
Roscoe Village
​We'll miss one of Chicago's coolest bars and coolest crowds, period, not to mention a leading purveyor of independent live jazz. When combined with the loss of Underbar, this is a devastating blow to not just the neighborhood, but the city itself. - Jay Gentile
 
BadHappy Poutine
River North
Remember that week when everybody was making poutine? BadHappy seemed like the response to a trend that was practically over before it began, but it lasted a few years not only because poutine was great drinking food but because Chef-owner Tom Kern did a great job with other things -- like big gloppy burgers, all of which tasted better than they sounded even when you had not been drinking. - Mike Gebert
 
Moonshine 
Wicker Park
One of the first bars to usher in the current sports bar-heavy state of the Wicker Park stretch of Division, Moonshine is no more. Another Division St OG, Smoke Daddy, reportedly has eyes on the space. - Matt Lynch
SmallBar Division
Wicker Park
Another changing face on Division, Small Bar leaves the street (and Chicago in general) without one of its most thoughtful and reliable craft beer bars. Hard to know who's more upset: the craft beer fans or the soccer fans. Definitely most upset? The craft beer-loving soccer fans. Owner Phil McFarland gave a lengthy, thoughtful exit interview to Good Beer Hunting. - Matt Lynch
 
Burger Philosophy
Andersonville
Every time a burger spot closes in Chicago, a little piece of us dies with it. This A-ville gastropub will be remembered for its patty-topped pretzel buns and Greek fries. - Sean Cooley
 
Telegraph
Logan Square
In a city of concepts, Telegraph felt like a rare gimmick-free restaurant for grownups. It was kind of an Italian restaurant, and kind of a wine bar, but low key about both -- relying on the solidness of Johnny Anderes' cooking and beverage director Jeremy Quinn's eye for a good deal on a bottle from Italy or Spain. - Mike Gebert
 
Club Foot
Ukrainian Village 
We'll miss all sorts of bizarre flotsam hanging from the ceiling for no apparent reason, including blow-up Vienna hot dogs, Gumby with a guitar, and Frylock from Aqua Teen Hunger Force. We'll miss the weird elevated table by the window, the comically throne-like bathroom, and one of the city's finest DJ cages. Huge, huge loss for fans of the weird around Wicker Park/Ukrainian Village. - Jay Gentile
 
Takashi
Bucktown
Another Michelin-decorated Chicago fine-dining standby that's shutting things down after New Year's Eve. Takashi will still be plenty busy with Slurping Turtle and numerous other projects in the works, but the intimacy of the Bucktown flagship will be missed. - Matt Lynch
 
iNG
West Loop
When Next was impossible to get into, more people should have realized that the answer was just two doors over at the experimental lab-restaurant of Homaro Cantu (Moto). Here was a taste of the same kind of space-age culinary wackiness, for less money and on less self-serious themes (like Heavy Metal). There should have been curious tourists lining out the door for something you could only get in Chicago. - Mike Gebert
Sean Cooley
Edzo's
Lincoln Park
Ugh, looks like everyone has to go back to making more frequent trips to Evanston again. Suburbs, here we come. - Matt Lynch
 
Prasino
Wicker Park
We'll miss feeling like we've living in LA on those warm sunny days when the sidewalk outside Prasino explodes with beautiful people eating super-healthy dishes on plush outdoor sofas. We'll also miss: warm sunny days. - Jay Gentile
 
L20
Lincoln Park
Lettuce Entertain You's seafood-driven tasting menu concept reached some staggering highs during its run, but serves up its last meal on New Year's Eve. Luckily you won't have to wait long to meet its successor. - Matt Lynch
 
The Snuggery
Gold Coast 
Kevin Hickey, chef at Bottlefork and Duck Inn, sums it up best: "My first job when I was 14 was working for my uncle at The Snuggery. We ground our own beef for hamburgers, we used fresh potatoes for french fries. It was a singles bar on Rush St, but my uncle took the food seriously." - Mike Gebert
Sign up here for our daily Chicago email and be the first to get all the food/drink/fun in town.