Despite Cubs games packed to the gills, indoor dining at full capacity, sweaty dive bars once again doling out the shots, and record turnouts (and, at least so far, minimal fallout) for reemerging festivals like Lollapalooza, a rise in positive Coronavirus cases statewide and the looming threat of the potent Delta variant suggest that Chicago's much-hyped hot vax summer might be sliding headfirst into an autumnal crisis. And while that's a terrifying concept to confront for just about every red-blooded human the city over, it's especially bone-chilling for anyone with a stake in our city's beloved dining scene—a sector that is still struggling to regain its footing after the past year's lockdown-inducing quarantine.
It's this fear—along with concerns about staff safety and efforts to convince the vaccine-hesitant—that's motivating bars, restaurants, and event venues across the country to consider instituting vaccine mandates for their patrons. Yet unlike New York, Illinois has yet to announce any laws requiring these types of businesses to require masking or proof of vaccine to gain entry. In response, a growing number of local outposts, from raucous Boystown dance clubs and legendary live music joints to trendy Logan Square eateries and stalwart neighborhood pubs, are taking upon themselves to announce and enforce their own policies when it comes to vaccination status.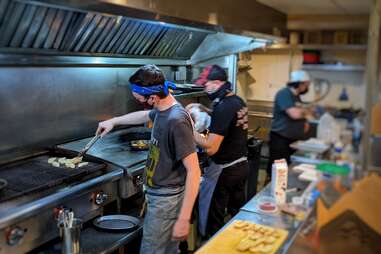 Sure, it might sound like a pain in the ass to have to carry your vax card around in your wallet or submit yourself to yet another mind-numbing reCAPTCHA trial courtesy of Vax Verify, the state's new online COVID vaccine verification portal. But we can assure you that another economy-shattering lockdown is much, much larger pain in the ass—not just for you, but for every Chicago-repping bartender, dishwasher, server, runner, host, restaurateur, brewer, line cook, sommelier, chef, and all the other talented industry folk that make our culinary scene one of the nation's best and brightest.
Here's a list of Chicagoland restaurants, bars, and venues that are officially requiring proof of vaccination as of Friday, August 13. Get your shots, pocket your mask, and enjoy the ride.
Restaurants and cafes:
Fiya, Andersonville
D.S. Tequila Company, Boystown
Uncommon Ground, Edgewater
Uncommon Ground, Lakeview
Bonus Round Game Cafe, Lakeview
F. O'Mahony's, Lakeview
mfk, Lakeview
Baker Miller, Lincoln Square
Giant, Logan Square
Superkhana International, Logan Square
Jaleo, River North
Four Moon Tavern, Roscoe Village
R Public House, Rogers Park
Beat Kitchen, Roscoe Village
Split-Rail, Ukrainian Village
City Winery, West Loop
Bars, taprooms, and clubs:
Lizard's Liquid Lounge, Albany Park
Marty's Martini Bar, Andersonville
Atmosphere, Andersonville
Replay Andersonville, Andersonville
Metropolitan Brewing, Avondale
Lucky Horseshoe Lounge, Boystown
Progress Bar, Boystown
Scarlet, Boystown
Replay Lakeview, Boystown
Hydrate Nightclub, Boystown
Sidetrack, Boystown
Roscoe's Tavern, Boystown
Splash Chicago, Boystown
The North End, Boystown
PRYSM, Clybourn Corridor
Berlin Nightclub, Lakeview
Beermiscuous, Lakeview
Elixir Lounge, Lakeview
Burlington Bar, Logan Square
Cole's Bar, Logan Square
Logan Arcade, Logan Square
Whirlaway Lounge, Logan Square
Kinslahger, Oak Park
Skylark, Pilsen
Koval Distillery, Ravenswood
Spybar, River North
Rogers Park Social, Rogers Park
Le Nocturne, Uptown
Meeting House Tavern, Uptown
Cobra Lounge, West Loop
Beauty Bar Chicago, West Town
Bourbon on Division, Wicker Park
Smartbar, Wrigleyville
GMan Tavern, Wrigleyville
Nisei Lounge, Wrigleyville
Performance venues:
Chicago Magic Lounge, Andersonville
Sleeping Village, Avondale
The Hideout, Elston Industrial Corridor
SPACE, Evanston
Schubas Tavern, Lakeview
Annoyance Theatre & Bar, Lakeview
Logan Square Improv, Logan Square
Golden Dagger, Lincoln Park
Kingston Mines, Lincoln Park
Lincoln Hall, Lincoln Park
Constellation, North Center
Thalia Hall, Pilsen
Radius, Pilsen
Empty Bottle, Ukrainian Village
Subterranean, Wicker Park
Metro Chicago, Wrigleyville
Meredith Heil
is a Senior Cities Editor at Thrillist. She floats like hovercrafts and stings like vaccinations; when her name's said out loud, you'll lose your concentration. Hit her up
@mereditto
.