Ask five people what the most important component of a sandwich is, and you'll get five different answers (it's the bread, by the way). But ask any Chicagoan what the best sandwich shops in the city are, and you're guaranteed to get an answer on this list. As a city, we might be less known for our sandwich artists and more known for our deep-dish pizzas, but Chicago is full of classic sandwich shops with Italian, Cuban, Puerto Rican, Jewish, and of course, American roots. These are Chicago's can't-miss sandwich slingers, all available via delivery or pickup.
West Loop
Nonna's is the smaller, more casual offshoot of the modern Italian spot Formento's and if there's one sandwich to get here, it's the chicken parmesan sub: a heaping dose of thin, crispy chicken laced with gooey mozzarella and molten marinara and cradled between two hunks of Italian bread. Don't forget to fancy up your meal with a slathering of Nonna's housemade giardiniera for an extra buck -- it's well worth it.
Call 312-690-7323 or order via GrubHub, Postmates, Caviar, or Uber Eats.
West Town
This sunny West Town shop is beyond beloved for its deep inventory of cured meats, proudly sold alongside a bevy of artisan sandwiches, salads, charcuterie, and more. Try The Dante, a carnivorous dreamscape of hot soppressata, mortadella, finocchiona, hot coppa, and porchetta plus provolone, giardiniera, 'nduja aioli, lettuce, and tomato on a baguette. The B. Franklin elevates the traditional turkey sandwich with Hooks 2-Year Cheddar, pickled fresnos, avocado, pea shoots, and sofrito aioli on sourdough.
Call 312-929-2551 or order via Toast, Caviar, DoorDash, or GrubHub.
Lincoln Park, Lincoln Square, River North, Hyde Park
As one of the first spots to bring Nashville-style hot chicken to the City of Big Shoulders (and even bigger appetites), this far-reaching minichain has more than proven its staying power. The main attraction is best enjoyed on a brioche bun with The Budlong's signature comeback sauce, farmslaw, and pickles. The classic has the perfect balance of heat and tang, but if you're a heat lover, opt for the hot or x-hot.
Call 773-270-9005 or order via ChowNow, GrubHub (Lincoln Park, Lincoln Square, River North, Hyde Park), or Uber Eats (Lincoln Park, Lincoln Square, River North, Hyde Park).
South Loop
If you've never had a Manny's experience, you really don't know what you're missing. The old-school cafeteria has long been a neighborhood hub for standout soups, salads, sides, and hefty deli sandwiches like the What Am I, Chopped Liver? (layers of house-made corned beef topped with melt-in-your-mouth chopped liver) and the My Four Kinder with, no joke, four different types of meat: corned beef, pastrami, brisket, and turkey pastrami. For an extra treat, rise, shine, and get in line for Manny's famous hot breakfast, served only on Saturdays and Sundays until noon.
Call 312-939-2855 or order via Chownow, Doordash, Grubhub, and Caviar.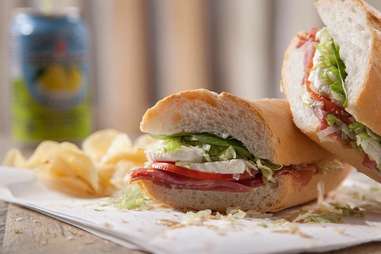 West Loop
This fourth-generation general store has been a staple in the West Loop for decades due to its gargantuan subs. Must-tries include the Mr. G, a monsterous pileup of imported provolone, hot sopressata, prosciutto di Parma, genoa salami, truffle mustard, balsamic vinaigrette, hot oil, marinated Roman-style artichokes, fresh basil, lettuce, red wine vinegar, and oregano. Toss in a jar of housemade hot or mild giardiniera to keep the party going long after your sandwich has dwindled to crumbs.
Call 312-666-4587 or order online and via Postmates.
West Loop, West Town
Firenze Street Food keeps it simple: Authentic Italian ingredients stuffed between pillowy slices of freshly baked bread. Their popular stand keeps hungry West Loopers sated with signature panini like the Spicy, a smouldering mix of fiery Calabrese sopressata, honey whipped ricotta, caramelized onions, arugula, and hot pepper on Schiacciata bread. Check out their brand new West Town pop-up tent on Carroll and Damon for even more delicious take-out options.
Call 781-606-0112 or order via GrubHub, Ritual, Uber Eats, Postmates, or Toast.
Lakeview
A great sandwich starts with great bread, and this northside stalwart has kept their eyes steadily affixed to the carbo-centric prize since 1994. In particular, Panes is lauded for the focaccia-like tomato bread that forms the base for The Popular, an aptly named combo of chicken breast, caramelized onions, spinach, roasted peppers, and provolone cheese. The cozy outpost -- muraled walls, dark wood fixtures, signs and knicknacks filling every open space, shelves brimming with oven-fresh baked goods -- looks almost as enticing as it smells.
Call 773-665-0972 or order via Postmates.
Loop, South Loop, Gold Coast, Lincoln Park
Pressed-to-order Cuban sandwiches are this Chicago-based minichain's tried and true specialty. Delectably tangy house mojo marinade serves as the driving force behind stellar creations like slow-roasted ropa vieja skirt steak with sweet plantains, black beans, and tomato Creole sauce. If you're more of a traditionalist, opt for the Cubano, stacked with the requisite roasted pork, Swiss cheese, ham, mustard, and pickle.
Call 312-263-4750 or order via Ritual (Loop, South Loop, Gold Coast, Lincoln Park), GrubHub (Loop, South Loop, Gold Coast, Lincoln Park), Uber Eats (Loop, South Loop, Gold Coast, Lincoln Park), or Postmates (Loop, South Loop, Gold Coast, Lincoln Park).
Logan Square
Sure you can always order takeout, but experiencing this Logan Square den's long list of handcrafted sandwiches -- not to mention original draft cocktails, craft beer, and sides -- fresh out the kitchen is well worth snagging a socially distanced spot on the breezy back patio. Don't sleep on the reuben, a slippery stack of Swiss cheese, sauerkraut, Russian dressing, bread and butter pickles, and juicy corned beef on rye, and as far as cold takes go, the BLT (fried tomatillo, bibb lettuce, Nueske bacon, and spicy aioli on sourdough) has all the bases covered. To boot, the house is happy to make gluten-free and veggie tweaks to a slew of their offerings so everybody can join in on the gut-busting fun.
Call 773-661-0675 or order via Caviar, GrubHub, or Postmates.
West Town
Combine oven-kissed D'Amato's bread with paper thin slices of imported meats and cheeses plus a bounty of fresh veggies and zesty spreads and you've got Bari, purveyors of one of the city's top Italian-style sandwiches. Whether you're going big (nine inches), bigger (twelve inches), or completely nuts (three feet), you can't go wrong with the classic capicola, Genoa salami, mortadella, and provolone combo with the works (i.e., lettuce, tomato, oil, seasonings, onion, pickle, giardiniera, the list goes on).
Call 312-666-0730 or order via BeyondMenu, GrubHub, EatStreet, Postmates, or Ritual.
Humboldt Park
No frills needed here -- when it comes to extra tasty sandwiches, this parkside favorite is all business, all the time. Pick your poison, from standards like tuna melts and turkey clubs to overstuffed originals like the Beast, a hoard of turkey, pastrami, roast beef, ham, mortadella, salami, provolone, lettuce, tomatoes, and onions topped off with a dollop of cleverly-named Haus dressing. Throw in a bag of chips and a couple of cold brews and ta-da, it's picnic time.
Call 773-904-8083 or order via Caviar, GrubHub, Uber Eats, DoorDash, Delivery.com, or Postmates.
Lawndale
To say this westside gem has stood the test time would be a grave understatement. The humble hole-in-the-wall diner has been serving up a steady stream of egg sandwiches, burgers, fried bologna, and extra-tender housemade corned beef since the Great Depression and shows no sign of slowing down. Place your order for pick-up, mask up, and drop by the well-loved counter for a taste of old world ambiance.
Call 312-226-5094 or order via GrubHub or Toast.
Pilsen
This food truck-turned-neighborhood staple is finally back in action after a temporary COVID-related closure and, boy, are Pilsenites relieved. As the name indicates, this is one stop shopping for the almighty jibarito, a Puerto Rico-by-way-of-Chicago favorite that smashes belly-warming fillings like steak, chicken, or pork plus cheese, lettuce, tomato, mayo, and garlic between thick, savory fried plantains.
Call 312-988-0585 or order via GrubHub, Uber Eats, or Postmates.
Sign up here for our daily Chicago email and be the first to get all the food/drink/fun in town.
Amanda Topper is a Chicago-based contributing writer for Thrillist. She is also the founder and food blogger for Chicago restaurant review blog,
The Ghost Guest
.