Chicago's 11 Most Ridiculous Eating Challenges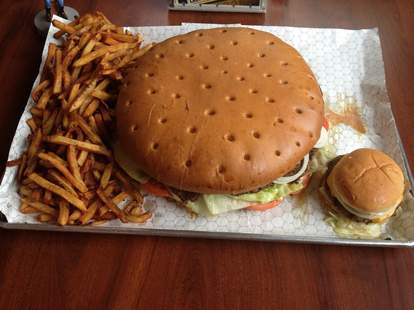 Chicago You know what they say about eating in Chicago: "When you love something, set it free... or do it competitively for a free T-shirt... or maybe a gift card? Or... both???" For those of you interested in the latter, we've compiled this list of the 11 best eating challenges in town, complete with all the deets on what you have to take down -- and what you win if you do. More Stuff You Will Like
rudy's bar & grille
Challenger Burger
Rudy's Bar & Grille (
address and info
)
Loop
Time Limit: 30 minutes
Prize: A comped meal, a T-shirt, a $100 gift card, and you get to sign the wall of champions
The Challenger Burger at Rudy's Bar & Grille is a burger inasmuch as the slimy banker your mother married is your new father. In reality, there are hamburger patties in there somewhere, but you'll have to find them by digging through a 5.5lb skillet that includes eggs, bacon, cheese, and hash browns. Continue Reading
paddy long's
Bacon Bomb
Paddy Long's (
address and info
)
Lakeview
Time Limit: 45 minutes
Prize: A T-shirt, a spot on the wall of fame, and a comped meal
Yeah, yeah, everyone loves bacon. But this is a whole different level: Paddy Long's Bacon Bomb is a 5lb loaf of ground sausage, pork, and beef that surrounds a pepper-bacon center and has a sugar-bacon-weave exterior, all served with a huge side of fries.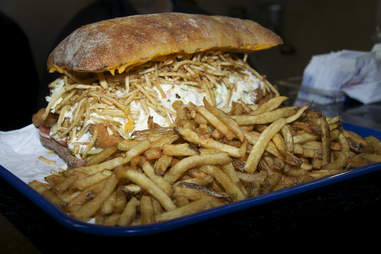 fatso's last stand
Po'Boy Challenge + Jumbo Fatso Challenge
Fatso's Last Stand (
address and info
)
Ukrainian Village
Time Limit: 45 minutes
Prize: A T-shirt, your name on a plaque, a comped meal, and a $50 gift card to Lockdown Bar & Grill
The Po'Boy Challenge at Fatso's Last Stand features an absurd seven-pound sandwich that's made with 2lbs of fried jumbo shrimp, coleslaw, pickles, lettuce, tomatoes, special sauce, cheddar cheese sauce, and shoestring fries. You'll have to finish off a pound of fries and a 32oz soda as well. If you're not feeling up to the po'boy just yet, there's also a Jumbo Fatso challenge that consists of a 5lb burger with a half pound of fries (that's it pictured above).
wiener and still champion
Triple Undisputed 911 Burger
Wiener and Still Champion (
address and info
)
Evanston
Time Limit: None
Prize: Heartburn, alongside a sense of satisfaction
When an eating challenge has "911" in its name, you know it will definitely kill you... oh, uh, or like, um, be lots of fun? Or something? Either way, this towering creation features 3lbs of beef, nine patties, and eleven slices of cheese.
The Slinger
Diner Grill (
address and info
)
Lakeview
Time Limit: None
Prize: A certificate!
The Slinger at Diner Grill isn't really much of challenge to finish (it's a car-wreck of hash browns, eggs, chili, onions, cheese, and hamburger patties), but look at the picture of it above and tell us you don't think that would be hard to eat? Yup.  
Ultimate Eating Challenge
The Fifty/50 (
address and info
)
Wicker Park
Time Limit: 50 minutes
Prize: A T-shirt, a photo on the wall of fame, and a comped meal
For those who like a little bit of variety with their gastrointestinal complications, the Ultimate Eating Challenge at The Fifty/50 offers a variety of eats in one epic challenge. The whole shebang includes (take a deep breath) 30 Buffalo wings, five bacon strips, five onion rings, one side of mac & cheese, a half rack of ribs, one burger slider, one turkey burger slider, one pulled pork slider, one duck breast slider, one grilled cheese slider, one crab cake slider, one PB&J slider, and 50oz of beer (exhale).
Lucky's Challenge
Lucky's Sandwich Co. (
address and info
)
Wrigleyville
Time Limit: 1 hour
Prize: T-shirt, a photo on the wall of fame, and all three sandwiches comped
Popularized by Man v. Food, this eating challenge offers the opportunity to live out an episode of You v. Man v. Food. Simply choose three of the qualifying sandwiches -- all of which are stuffed with fries.
rocks lakeview
Rockstar Challenge
ROCKS Lakeview (
address and info
)
Lakeview
Time Limit: 30 minutes
Prize: A T-shirt, recognition in the hall of fame, and a comped meal
The Rockstar Burger at Rocks Lakeview looks more like the Leaning Tower of Pisa, if the Leaning Tower of Pisa were made of cheeseburger. It features four Angus beef patties topped with eight slices of bacon, giardiniera, cheese, onion strings, lettuce, and pickles, all on a pretzel bun served with a pound of fries. The whole meal weighs 4lbs.
timothy o'toole's
Big Timmy Challenge
Timothy O'Toole's (
address and info
)
Near North Side
Time Limit: None
Prize: An O'Toole's T-shirt
The fact that this challenge is actually doable for mere mortals also makes it great for, you know, actually enjoying your meal. This tasty-looking burger comes with two half-pound patties topped with cheddar, mozzarella, jack, Swiss, onion straws, bacon, barbecue sauce, lettuce, tomato, onions, and fries.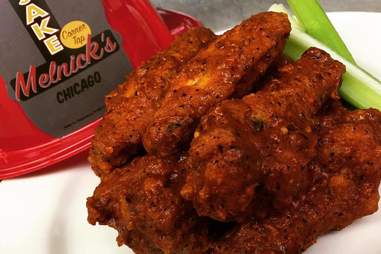 jake melnick's corner tap
XXX Hot Wings Challenge
Jake Melnick's Corner Tap (
address and info
)
River North
Time Limit: None
Prize: Your photo on the Wall of Flame
The cooks here do not mess around. Challengers will have to sign a waiver before proceeding, and the wings are made with the Trinidad Scorpion pepper... which sounds really freaking hot because, again, it's called the TRINIDAD SCORPION PEPPER, in case you missed that. Finish the order without ringing the bell for a "cooling plate," and you'll get your photo on the Wall of Flame.
Sign up here for our daily Chicago email and be the first to get all the food/drink/fun in town. Raf is a long-tenured Baratheon loyalist and Point Break apologist. You can check out his weird-smelling blog Alley Connoisseur, and follow him at @RafFoSho.