Mike Gebert
Mike Gebert
You've got two options when it comes to Chicago winter this year: 1) lower your body temperature/metabolic rate, slow your heart rate, stagnate your breathing, and subsist on your fat deposits for three months, or 2) definitely don't do that, and instead tackle our "Winter Eating Challenge", wherein we give you one must-eat Chicago food for every weekend between now and International Green Beer Day, and you try to down them all.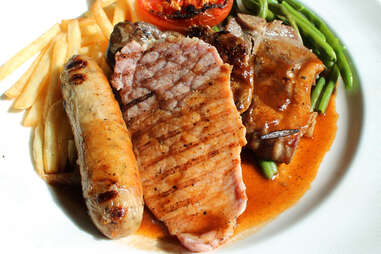 December 19: English feast
Pre-game for Christmas, London style, at Wicker Park pop-up Geek Bar's Hogwarts Holiday Feast, where you and your crew can dress up Harry Potter-nerd-style while indulging in a proper English feast of unlimited turkey, eggnog, and open tabletop gaming. Expelliarmus! Or something!
December 26-28: Huevos rancheros
Recover from holiday binging with... more binging!... at Parson's Chicken & Fish's newly rechristened daily brunch. Starting at 10am, it features huevos rancheros with charred salsa, loaded hash browns, and fried chicken on a buttermilk biscuit with a sunny-side egg. Pair with a Bloody or an OJ & Old Milwaukee Beerdriver.
January 4: Spaghetti
Did you know today is National Spaghetti Day? We didn't either, but it's as good an excuse as any to gorge on the stacked lineup of standout dishes at River North Tuscan outpost Coco Pazzo, including Linguine alle Vongole artfully packed with Manila clams, white wine, herbs, and Mollichella bread crumbs. Gotta love this (fake) holiday.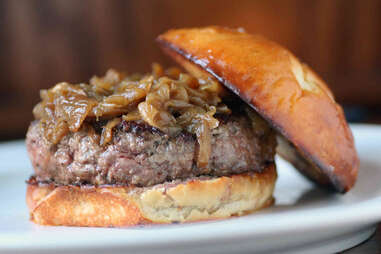 January 9-11: Slagel Farm beef burgers
When it's 20 degrees out, there's never a bad time for a burger. Especially at Owen & Engine, where the Slagel Farm beef burger is one of the best in the state. Featuring a flavor-rich patty made from a combination of brisket, short rib, and locally sourced ground chuck, it's served on a house-made potato bun with caramelized onions and chips.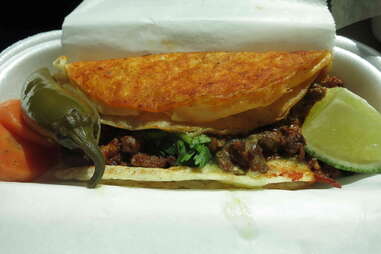 January 16-18: Tacos al pastor
Little Village's Taqueria Los Barrilitos is serving up one of the city's most crave-worthy, winter-warming-up-ingly foods in the form of their tacos al pastor, starring perfectly seasoned bits of meat (shaved off as you stare and salivate) topped with house-pickled onions and habanero.
January 25: Donuts
Need a reason to roll out of bed? How about donuts? Like, A LOT of donuts? Like, a whole donut FESTIVAL??? Featuring an AM (for real men) and PM (for quitters) session, Chop Shop's Donut Fest will have you sampling signature donuts from leading donut makers, including Glazed & Infused, West Town Bakery, and Stan's Donuts. Don't worry: they'll be plenty of coffee too.
January 30-February 1: Empanadas
Just 'cause you're stuck in Chicago doesn't mean you can't dream of Buenos Aires, and the authentic creations from 5411 Empanadas will get you pretty damn close (mentally). They feature soft, flaky dough and are stuffed with good things like bacon and goat cheese. Grab yours with baked-in ingredients like slow-braised beef in Malbec wine or caramelized onion with Parmesan.
February 6-8: Creole shrimp
For some reason, a massive party erupting in the dead of winter always seems to catch us off guard. Instead of being caught flat-footed by the start of Mardi Gras this year, make a pilgrimage to Heaven on Seven. The shrimp ravigote served over rice with Creole mustard cream sauce? Yeah, it's a must.
February 14: Candy
Valentine's Day basically sucks, but the food it's built around totally doesn't. Just ask Margie's Candies, where you can score hand-dipped cherries and boxed-by-hand chocolate assortments featuring milk chocolate and Kosher dark chocolate, plus nuts and fruits imported from Spain and Australia. Presented in the shape of a heart because... you love yourself?
February 20-22: Italian beef
This is the time every winter when you're cursing the heavens and wondering why the hell you live here. One reason: Italian beef. More specifically, the juicy creations from family-run deli/former tavern Bombacigno's J&C Inn. These first-rate beauties are served by the Stepdaughter of Al's Beef's namesake, Al, who knew a thing or two about beef.
February 27-March 1: Pizza
Last weekend was great and all, but the sky is still grey and you still need another reason why you still live here. Introducing, Reason No. 2: Pizza. And if you feel like checking out something different, you can do no wrong at Salerno's. Grab a slice of ready-made cheese or sausage from the back carryout section or dine indoors with a Meat Lover's, Hawaiian, or a Supreme that will haunt your dreams.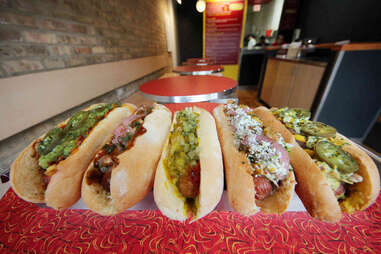 March 6-8: Hot dogs
By now, you're craving Hot Doug's. Hard. Really hard. Grab the next-best thing at Andersonville's Hoppin' Hotts, where they have been upping their gourmet sausage game as of late with inventive Chicago dogs topped with tomato jam, jalapeño mustard, and even a duck dog.
March 17: Irish breakfast
You know spring is close in Chicago once the streets (and rivers) start to run green with beer. Get appropriately fueled up at O'Shaughnessy's massive Irish breakfast, which is basically a food bomb of bacon, bangers, eggs, black and white pudding, baked beans, and white toast. If this doesn't prepare you for the madness ahead, some other breakfast probably will (but it won't be as good!).
Sign up here for our daily Chicago email and be the first to get all the food/drink/fun in town.
Jay Gentile is the publisher of Chicago INNERVIEW Magazine and a Thrillist contributor who apparently is a big fan of mealtime planning. Follow him on Twitter.