Even though it's not official, through the years Chicago has become the hamburger capital of the US -- if not the world. America's first hamburger served on a bun is said to have debuted in the Windy City in 1917 at a small restaurant called Drexel's Pure Food. In 1921, the White Castle burger was invented, and, not long after, the chain set up shop. The McDonald's corporation redefined the fast-food industry in the 1940s, and not only had the hamburger become one of America's most popular food, but also the quickest and most accessible meal.
The hamburger has been an ever-evolving work in progress, but one thing that can be said is that Chicago has never had a shortage of burgers, and for many fast-food corporations, from McDonald's to Jack in the Box, it has been a good place to call home at one time or another. Like the rings of a tree trunk, these 10 burgers offer a snapshot of Chicago's history with stories that have all shaped the city and its meat-loving culture.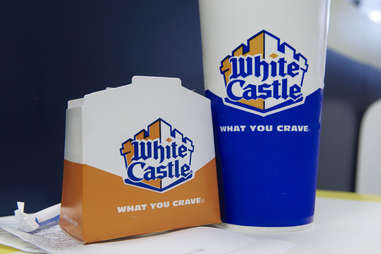 Various locations nationwide
White Castle officially originated in 1921 in Wichita, KS, via a short-order cook named Walt Anderson. Lore has it, the slider came to be by accident -- Anderson, in an annoyed state, smashed down a meatball that had been sticking to a griddle. From his frustration, he invented the "flat patty," which came to be known as the modern variation of the hamburger. He also invented what would come to be known as the idea of "fast food" in America.
In 1916, Anderson opened a hamburger stand with an $80 loan, and quickly expanded. W.E. Billy Ingram, a local real estate broker, bought in and became the company's CEO in 1921, helping Anderson start a chain of restaurants that became one of America's great success stories. The griddled burgers were little and perfect for a meal or quick snack with a composition of grilled onions, pickle, and a steamed bun.
By 1930, White Castle was headed to Chicago. According to John Brewer, of White Castle's Chicago headquarters, the first Chicago location opened in 1930 at 2501 W. 79th St, in Chicago's Wrightwood neighborhood where it continued it success. By the end of that year, White Castle had five locations throughout the Chicagoland area. In present day, there are still five White Castles within the city limits. Those who love them hold a strong following to the original five-cent burger.
Most missed burger: Wimpy (1936-1978)
Various locations nationwide
When White Castle hit its stride, it opened the door for a new market. With its simple business model, many copycats and competitors quickly emerged. It was an especially popular endeavor among WWII vets in the late 1940s. One of White Castle's fiercest Chicago competitors was a hamburger chain named after the hamburger-eating degenerate, J. Wellington Wimpy, the beloved Popeye character. The burger chain went simply by the name Wimpy.
The chain began in 1936 and was originally based in Bloomington, IN. By 1947, Wimpy was headquartered in Chicago and that same year, one newspaper reported that Wimpy's various locations were expected to sell 8 million hamburgers annually around the Chicagoland area. Something that set Wimpy apart was that the Wimpy burger composition was much different than the White Castle sliders -- it was to be eaten with both hands. This new take on the hamburger and cheeseburger set it apart and eventually helped grow its success. The burger was bigger and it also featured lettuce, tomato, and onion.
Wimpy eventually expanded to the UK in 1954 -- where it has maintained operations since 1967. The chain kept on chugging around the US until 1978, the year Gold died. After Gold's death, the company name was sold to a restaurant company in the UK where they are licensed overseas, but no one has ever resurrected the Wimpy name in the United States.
Oldest standing burger story: Hackney's (1920s-present)
The Loop (original location in Glenview)
Hackney's restaurants have been family-run for over 76 years, and its burger is one of the most famous in the city and the surrounding suburbs. According to Hackney family spokesperson, Jim Hebson, the story of the famous Hackney burger begins with his Great-Aunt Bebe who grew up in Chicago. According to Hebson, Bebe was the oldest girl in a family of 10 whose mother had died when she was young. Because she had a lot of siblings -- mostly brothers -- she was expected to cook for them. "Over that time, she became a really excellent cook," Hebson says.
By the Prohibition-era, Bebe had married a bartender named Jim Hackney. They had met at a bar near Grace St and Seminary Ave, The Green Parrot. At this time, Hebson's grandfather and the official founder of Hackney's, Jim Masterson, was about seven. Jim Masterson's father had also died young and his mother, (Bebe's sister) re-married a guy named Frank who had a house in what is now Glenview -- the location that is now Hackney's on the Lake. Masterson grew up over that tavern and when his mother moved her family out to the "country," as it was known then, she also invited Aunt Bebe and Uncle Jack. So the Hackney's operated their restaurant/saloon through Prohibition, selling Bebe's burgers and beer off the back porch until 1939, the year both Jack and Bebe passed away.
Hebson says that although some things have changed with Hackney's over the years, the burger recipe has remained untouched, "The burger itself, the cut of meat -- this was during times when people were closer to the farm -- it's still her own recipe, and that's why Hackney's burger is unique, we still use that same exact cuts that are a little bit unusual that no one else has. It has dark rye bread that we serve it on traditionally -- it also has a dark rye bun and a regular bun as well, that we make all of those ourselves. The dark rye recipe is Aunt Bebe's as well as the coleslaw. It's a great story", Hebson says, "All that came from Bebe cooking for her brothers."
Beverly
During World War II, most burger restaurants in Chicagoland were just turning out frozen Angus patties, and pre-made fries... unless you went to Top Notch Beefburgers.
The quaint burger stand originally opened on the 1800 block of W. 95th St in 1942. It was owned by John and Asanette Soulian, a couple who had immigrated to the US from Turkey in the early 1900's. In the mid-'50s Top Notch was doing well and had moved to its current location in Beverly.
The couple eventually passed down the Beverly location to Diran and his wife Lois when Diran returned from the Korean War. He had been stationed as a butcher/meat cutter near the Panama Canal. Diran was the primary cook in the Top Notch kitchen until he turned 80 years old. He proudly ran the business until he passed away in 2012. Although Diran is no longer around to supervise his beloved burger-making, his staff is committed to keeping his legacy alive. "He was the heart. He was called Speedy because even in his old age, he was quick, " says Jim Quigley, the long-time manager of Top Notch.
When it comes to their burger, Quigley is very open about the fact that the secret ingredient to the burgers, is cow leg meat, a part of the animal so undesirable to chefs, that most butchers don't sell it. But here it sits in one of Chicago's best burgers in the city. The burgers, which still come traditional preparations, have grown from the basics to include more modern creations. The burgers come in three sizes: 1/4lb, 1/2lb, and 3/4lb. They are made up of thin patties and are topped with grilled onions, American cheese, and served with pickles on the side. You can add lettuce, tomato, and mayo to make it a deluxe. All burgers include twice-fried Idaho potato fries.
Last location in Benton Harbor, MI
In 1954 Bresler's Ice Cream decided to get into the fast food business. The result was Henry's Hamburgers, a drive-in burger joint, one of the first of its kind, headquartered in Chicago. In 1956, Henry's, or as some old timers called it, "O'Henry's" was running 35 locations in and around the city and suburbs. By the '60s, Henry's expanded to over 200 restaurants nationwide, surpassing McDonald's, White Castle, Jack In the Box, and Wag's.
Henry's existed successfully throughout the early-'70s, until Bresler's went through corporate changes and Henry's Hamburgers slowly became a casualty of the company's refusal to update with current trends and company changes. Many also blame the failure to their inability to adapt to changes in the ever-evolving burger industry. Over the decade almost every location closed with the exception of one that still remains in Benton Harbor, MI.
Nonetheless, Henry's is a very tightly held memory to many Chicagoan's, be it as a customer or as an employee. As one former Henry's burger-flipper Cory Jucius said, "Henry's was the best because they allowed you to eat anything you wanted during your shift."
The famous burgers included Henry's special sauce, made of ketchup, mustard, pickle relish juice, and pickles. Henry's was also known for their crinkle cut-fries that were sold in 1/2lb, 3/4lb, and 1lb pound sizes and rich shakes and malts made from Bresler's Ice Cream.
Jucius went on to say that some of his best memories were at Henry's, "It was my first job, it was where I had my first kiss. All my friends would hang out there... I also dumped a girl there. I miss Henry's."
Evanston
In the mid-'90s, grunge music was at its climax; cigars were a trendy end to a meal for many; ostrich meat was being put on menus and was all the rage; and Rick Bayless won a James Beard Award for Topolobampo and Frontera Grill. Michigan Ave and River North were being invaded with chains like Rock Bottom Brewery, Bandera, and The Cheesecake Factory. Another important trend was that burgers were getting bigger. Literally. It was around this time that 1/2lb and full-pound patty burgers were becoming a new thing One of these burgers that quickly proved to surpass the others was the burger at Pete Miller's Steakhouse.
Although they are known best for their thick, bone-in steaks, live nightly jazz and stiff cocktails -- this Evanston staple also has a hidden gem on the bar menu, their prime cut burger. In 1995, right after Pete Miller's Steakhouse opened in Evanston, they promptly won the Chicago Tribune's Best Burger title. Since then, the popular steakhouse has had its burger make countless lists of 'Best Burgers in Chicago', even though it's located in Evanston.
True to its steakhouse origins, the diner can request the temperature of the burger. The burger is then made to order with your choice of cheese (blue cheese and crispy onions is a fan favorite). An added bonus is being able to order a variety of side dishes off of the dinner menu. According to Pete Miller's general manager, Terry Michels, the burger has been on the menu for almost 20 years and was concepted by the original owner of Pete Miller's, "Mr. Prescott." When questioned about its secret, Michels remains tightlipped, but does say, "It's a 10oz blend of sirloin and ground chuck. It's what makes it flavorful and juicy."
Most beloved diner burger: Au Cheval (2012-present)
West Loop
Exactly who has the best burger of the moment? Although there are strong cases to be made for such spots as Owen & Engine, Hot Chocolate, Charlatan, and Johnny's Grill, one burger always reigns king: the Au Cheval burger. Although some Au Cheval regulars opt to rotate in a fried bologna sandwich and fried chicken here and there, at the end of the day, the Au Cheval burger will always be the star.
The burger became such a success that owner, Brendan Sodikoff and Hogsalt Hospitality went ahead and opened a second location in Bucktown last summer, Small Cheval. Its comparability is widely debated, although Sodikoff says that the only difference is that Small Cheval's burger is a dollar smaller.
The burgers Sodikoff serves at the two locations are simple, but memorable. A not-so-secret-secret is that they always add an extra patty to your order (a single becomes a double, a double becomes a triple, etc.). The burger is composed of thin patties, Kraft American cheese, house-made Dijonnaise, onion, and pickle. For the ultimate sandwich, diners can add an egg and thick, belly-cut bacon. It was an instant recipe for success.
According to Sodikoff, the inspiration behind their staple was a "griddled classic American diner-style burger handled with care." The conception was very much based off of the trial and errors of Sodikoff's own burger preferences. Sodikoff says that the key to its success is its familiarity. "That's the beauty of it," he says. "It's classic ingredients executed with integrity. The greatest impact comes from executing familiar items exceptionally well."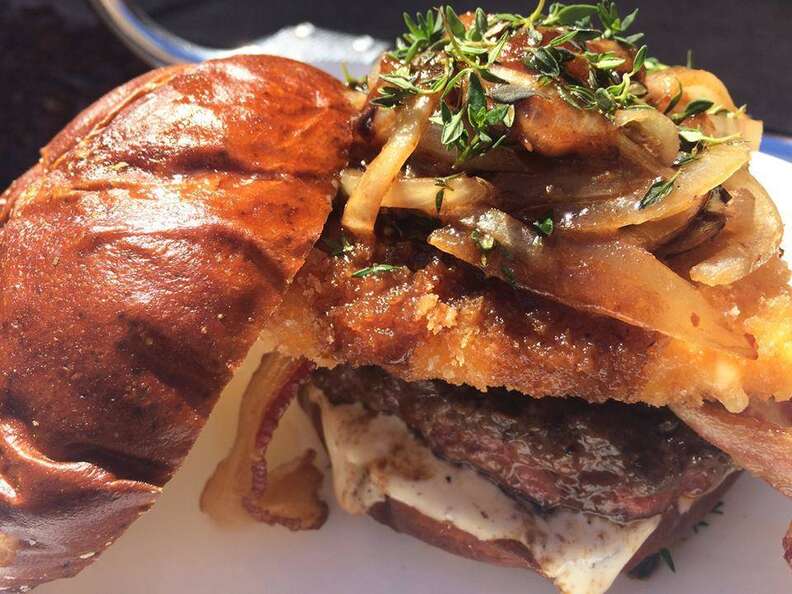 Avondale, Lincoln Park
Although many burgers have rotated on and off the menu since the opening, Kuma's mission statement has been simple: support your community, eat local, bang your head. Even though staff has changed and Kuma's has gone on to expand to three other locations, that mindset has held true throughout the years. In addition to having longevity, they also have been ranked by numerous media outlets, both locally and nationally as not only having the best burger in Chicago, but also in America.
The menu lists 18 thick, messy, 1/2lb burgers, with names like the "Slayer" (10oz patty on a bed of fries, chili, cherry pepper, caramelized onion, andouille sausage, shredded Jack cheese, green onion... "and anger"); the "Metallica" (bacon, blue cheese dressing, buffalo sauce, lettuce, tomato, and onion); and the "Mastodon" (bacon, BBQ sauce, sharp cheddar, and frizzled onions). The most popular item on the menu is the original Kuma's Burger, where the two thick patties are topped with bacon, sharp cheddar, a fried egg, lettuce, onion, and tomato. On a pretzel bun. Everything is on a pretzel bun.
They also feature local and hard to find craft beers (you won't find Budweiser or Miller Light on the menu), craft whiskey, loud metal music, long waits, and a no-bullshit attitude. Although many other burgers around Chicago have featured pulled pork, chorizo and other mouth-gaping concoctions (and even quasi-metal-themed burger concepts) have made their own mark on Chicago's burger scene, it's Kuma's that will always be one of Chicago's most legendary burger slingers.
West Loop & other locations
"Cheezborger! Cheezborger! Cheezborger. No Pepsi. Coke. No fries. Cheeps" is a well-known saying in these parts. The story behind Billy Goat Tavern, originally located at 1855 W. Madison is one of Chicago's most famous legends in the restaurant industry. The restaurant, originally named the Lincoln Tavern was purchased in 1934 Greek immigrant named William Sianis. With a convenient location, across from what was then known as the Chicago Stadium (now the United Center), the tavern easily became popular with local sports fan. It was a good place to get a stiff drink and eventually, a great burger.
There is a lot of lore attached to the Billy Goat Tavern. Sianis, an eccentric man who had acquired the nickname "Billy Goat" by accident when a goat fell off a passing truck and wandered inside the Lincoln Tavern. Sianis adopted the goat, grew a goatee, and was soon nicknamed "Billy Goat", thus changing the name of the bar to Billy Goat Tavern. It was with the nickname that another story took flight -- the long-standing curse Sianis placed on the Chicago Cubs when he cursed them in 1945 during game four of the World Series against the Detroit Tigers. Sianis brought his adopted goat, Murphy, to the game. The goat was eventually kicked out. Sianis was livid and proclaimed "Cubs, they ain't gonna win anymore." And they haven't...
Billy Goat Tavern also rocketed to fame in the '70s when Billy Murray and John Belushi would imitate the local restaurant on Saturday Night Live, portraying two cooks in a fictional burger restaurant. The pair would yell, "Cheezeborger Cheezeborger. No Fries. Cheeps." in a thick Greek accent. The catchphrase is synonymous with Bill Sianis.
The burger, which has been on the menu in one way, shape, or form since their opening, is simple, fresh, and delicious. According to Billy Goat customers, the double cheeseburger is the only way to go. The burgers are served on a Kaiser roll, and are accompanied by the best pickles in the city. Although Billy Goat himself is gone, the legacy is still run by his nephew Sam. Bill Sianis' ingenuity and drive not only made a local burger and a bar a local legend, but also a national one.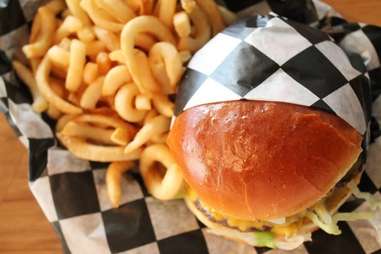 Logan Square
When it comes to business, Russ Grant has one simple philosophy, "Don't do what you don't know. Stick with what you do know." The owner of two of Logan Square's most popular neighborhood watering holes, The Boiler Room and Parts & Labor believes that motto has been the secret to his success through the years. Since its opening in 2013, Parts & Labor has become a name associated with the term "Good burger", and although the website touches briefly on its history, Grant tells a great story about the infamous Parts & Labor burger. A burger inspired by Grant's father, Bill Grant who owned a restaurant that stayed open for over 30 years in Mount Greenwood called Wonderburger.
According to Grant, Wonderburger opened on March 6, 1954 by his father, a WWII bomber pilot. After his father returned from the war, he felt he couldn't find much work that met his desires. After working for a man named "Moose" at a place called Superburger for about a year, Grant got an itch to open his own place and eventually found a location at 111th and Spaulding. Russ Grant says his father borrowed $1000 from his grandmother and rented a simple little building with a grill and a counter that surrounded the grill. His mother waited tables, his family would come work summers or even longer. It became a neighborhood staple. For a quarter, Wonderburger sold a burger with cheese, lettuce, tomato, onion and as Russ describes, a "Wondersauce." The burger was served alongside a basket of curly fries.
His brother, who eventually bought Wonderburger in 1980 and ran it until it closed in 1984. Although Russ says that the burger at Parts & Labor isn't exactly the same, he doesn't use the "Wondersauce", the burger is very much inspired by his father. Two patties on a burger, American cheese, mayo and lettuce, tomato, and raw onion. Served with curly fries. Grant says, "My dad always believed in paying a bit more and using good ingredients. Plus," he says, "it's in my DNA and I have to say, even though I own the place, I still bite into that burger and think, 'now that's a good goddamned burger."
Sign up here for our daily Chicago email and be the first to get all the food/drink/fun in town.