Courtesy of Gene & Judes
Courtesy of Gene & Judes
The Chicago hot dog is a part of our lore and history as a food-driven city. There aren't many other places that give hot dogs as much respect as we do. For many of the early hot dog vendors in Chicago, it was part of an American Dream -- and its roots were established during one of the most integral times in Chicago's history.
It was early May 1893 when the Chicago World's Fair, known more formally as the World's Columbian Exposition, opened to the public with 27 million visitors. This would be the fairest of fairs. It touted elaborate live-action exhibits like Buffalo Bill Cody's Wild West Stage Show featuring pygmies. There was also a Ferris wheel double the size of the current one at Navy Pier (it ran seemingly on hope and lots of crossed fingers). The city was constructed with architectural wonders made of cardboard that seem impossible even in today's modern-era. The World's Fair was also the place where a variety of brands were making their worldwide debut: Cracker Jack, Pabst Blue Ribbon, Quaker Oats, and, one of Chicago's most beloved, the Vienna Sausage Company. It was there, the company says that the hot dog made its debut in the Windy City.
For most of America (with the exception of New York), hot dogs aren't really a big deal. They are mostly for kids or served at baseball games, or informal BBQs. For most non-Chicagoans, a pork hot dog with mustard, ketchup, and onion will do the job. But for locals, a hot dog is beloved. It's a vague, but loyal canvas to decorate. Hot dogs are a part of who we are, they are part of our culinary history. Like it or not.
If you are from Chicago, you likely already know that there is a big difference between a regular old hot dog and what has evolved as our symbol of a hot dog, The Chicago Dog. The Chicago Dog has come to be the only way to really respectfully order a hot dog in the confines of Cook County. It is a frankfurter (usually a Vienna Beef or Red Hot Chicago dog), steamed, water-simmered, or boiled; on a poppy seed bun that is topped with, what hot dog lovers refer to as, The Magnificent Seven: good ol' yellow mustard, chopped raw white onions (also acceptable if grilled), neon green shades of pickle relish, a thin pale green dill pickle spear, a soft red tomato diced or sliced, a few well-hidden sport peppers and a dash of celery salt. The seven condiments built on the dog in a manner that, the minute it's unfolded, it has to be eaten, because the toppings ooze together, falling in plops on the wax paper it was wrapped in.
Although there are a variety of exceptions around the Magnificent Seven, cucumbers and green peppers are accepted (as is lettuce, this is known as the proverbial garden of toppings by hot dog historians). In reality, no one cares what bun you use, no one cares how the onions are prepared, you can leave off peppers and celery salt, and no one bats an eye, but once rule is universal when it comes to the Chicago Dog: no ketchup. It's a time-honored rule. Even though it isn't really known why.
If there was anyone to be named a Chicago hot dog historical expert, it would undoubtedly be Professor Richard Bowen of Loyola University Chicago. In 1983, Bowen co-wrote a book called, Hot Dog Chicago, along with his friend and colleague, Dick Fay. Between the two of them, they have consumed probably thousands of hot dogs in and around Chicago over nearly 25 years. When it comes to ketchup, Bowen has an explanation that is simple and logical, "We just don't do it. We just don't use it and that's just it. But I think it's because the Chicago hot dog has perfect culinary Feng Shui. All the primary tastes, including umami, salty, bitter, sweet, and sour are represented in perfect balance. When you add ketchup, it's overwhelmingly sweet. You already have the relish for that. And all of a sudden it's just too sweet. The Feng Shui goes out the window." Plus, who cares, he says, "The Chicago Hot Dog has always been engineered for adults -- even though kids eat them. It's not a kiddie dog, it's a grown up dog."
Throughout the years, the hot dog has become part of Chicago through street carts and mom-and-pop stands, primarily after the second World War. Visit any Chicago neighborhood and almost everyone can tell you the best local place to get a dog. Hot dogs are all around us and although most in the city are similar, there are a handful that stand apart from the rest.
Oldest Chicago Hot Dog
Niles, IL
There was a time when Fluky's was considered without a doubt to be the city's best hot dog. It boasted a Vienna dog with a natural casing, an over-sized poppy seed bun from Rosen's bakery and topped with the basics, grilled onions, tomato, peppers, and pickle. Some consider Fluky's the inventor of the Chicago Dog.

In 1929, a man named Abe Drexler opened a hot dog stand on Maxwell St at Halsted. It was an immediate hit. By the 1930s, the Drexler family had opened three more locations, a second at Roosevelt & Central park in 1932, a stand at Lincoln & Ogden in 1935 and another stand at Blackstone & 63rd St in 1936. Even though the country was in the depths of its biggest financial crises, Fluky's was able to grow, and Drexler was able to make a living thanks to an invention he called, "A Depression Sandwich." The "sandwich" was a frankfurter on a bun with mustard, pickle relish, onion, dill pickle, hot peppers, lettuce, and tomatoes served alongside French fries. It cost just five cents.

At a time when the nation was sinking, Fluky's kept their prices low enough to make sure many bellies were fed -- whether they had the nickel or not. By the World War II era, due to meat rationing, Fluky's was unable to get a proper supply and took a hit. All of its locations closed. It seemed for a while that Fluky's would no longer be again, and for almost 10 years, Drexler abandoned the hot dog business altogether, but in 1964 Fluky's re-opened its doors at 6740 N Western and within months, the beloved stand was back on the list of being one of Chicago's best hot dogs.

The next year, they opened a bigger location across the street -- this location seated around 100 diners. The humble stand went from just the basics -- a counter alongside with a few seats that faced out the windows and picnic tables -- to a glitzy chain reminiscent of a McDonald's.

These days, the one-time chain named for what was Abe Drexler's nickname is grammar school, is now just a stand again. The Drexler family still owns the last stand. This remaining location is located in Niles in a Walmart. Although it's still a staple, Fluky's reign supreme is over, but it will always be a beloved memory to the older generation of Chicagoans that fondly remember Abe Drexler and his commitment to family, the spirit of community, and for being the inventor of what has come to be known as the Chicago hot dog.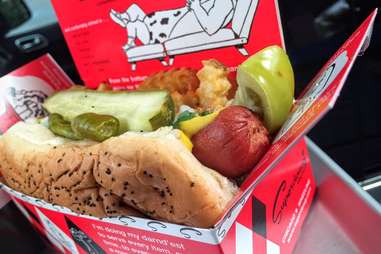 Most Famous Chicago Hot Dog
Jefferson Park
In 1948, Superdawg opened its doors on the corner of Milwaukee, Devon, and Nagle, and almost instantly became a Chicago phenomenon. Almost 70 years later, it's still thriving with a reputation for being one of Chicago's best hot dogs in the city. Located in Jefferson Park, Superdawg was founded by a returning WWII GI named Maurie Berman and his high school sweetie, then wife and the love of his life, Flaurie Berman. After returning from World War II, in 1947 Berman started school at Northwestern University where he was studying to be a CPA. Flaurie was a teacher at the time and because the newlyweds were on a similar schedule with summers off, they decided to open a business selling hot dogs from a roadside stand. Many other GI vets were using this model for employment, peddling hot dogs often alongside tamales. So Flaurie and Maurie brainstormed and bought a piece of land right on the corner of Milwaukee and Devon. To stand out, Maurie built a 20x12 building topped with two 12ft guy and gal hot dogs beckoning in passersby with a coy wink and a knowing smile as if to let on a secret.

During the end of the late 40s, the intersection where Superdawg was located was also where the streetcar line ended, so there was already a little built-in traffic. Teens, couples, and families could ride the streetcar for five cents and spend the afternoon by a forest preserve or a neighborhood pool and finish off a day at Superdawg. It was the perfect first or last stop before getting back on the cable car. At the time a Superdawg and drink cost 32 cents. Kids in the neighborhood would often stop by with a nickel and the Berman's would always figure something out. For the first three years, the couple were only open during the summertime. After Maurie graduated, the couple decided it was time to take the business to full-time, and over the years it too became sort of a different love of the Berman's life. It became their legacy.

In May of 2015, Maurie passed away at the age of 89. The business is now being helmed by Maurie's children, Lisa Drucker, along with her husband Don, and her brother, Scott, and his daughter Laura. Don and Lisa's kids also both work at Superdawg. Lisa's mother Flaurie, according to Lisa is still involved and is "very current and very sharp. She was there having dinner there just last night, at the age of 90."

According to Don, the secret to Superdawg's success is because "Maurie was very particular and paid attention to detail. He wouldn't compromise the quality of the product and he passed that along to us. He would always say it's always better to be good at one thing instead of a jack of all trades and not good at any of them." That being said, they have used the same vendors since 1948, and the menu today is the same as it was in May 1948 with very few additions. Lisa says, "We've been doing the same thing at the same place. The world has changed around us, but we haven't changed, we do the exact same thing."
The Modern-Era Hot Dog
Avondale
When Doug Sohn opened his "hot dog stand", Hot Doug's, he never expected it to reach such epic proportions. The self-proclaimed "Sausage Superstore and Encased Meat Emporium" was one of Chicago's most visited restaurants during the 10 years it was around. Inspired by hot dog stands of Chicago's yesteryear, the Avondale location boasted a rotating menu of hot dogs, sausages, bratwursts and with almost any type of meat you could feast your eyes on and think of -- it came to be known as an option for affordable food for foodies. It was the place where locals and tourists alike would wait sometimes up to an hour just to get in the door. Inside you'd find no-frills seating with chairs still warm from their previous inhabitants. You could also expect to find an excited gaggle of diners, sharing sausages and French fries. Camera-phones out and all muttering the native one-world language in Hot Doug's, "Mmmmm."

Although the menu boasted interesting sausages, it was also the place where you could always expect to get a good Chicago dog. "I'm born and raised in Chicago. I love hot dogs and sausages -- always did. Hot dogs, salami, corned beef -- pretty much any salt, fat and meat combination. It's my favorite food," Sohn says.

Sohn, a born and raised Chicagoan grew up with all the lore of hot dog stands as a kid. And a deep love and appreciation for what they meant to him. Over the years, as those stands became fewer and fewer, it became apparent to Sohn that although there were many places selling a hot dog, there very few places doing it well. "That concept was really the reason to do it and my goal was to sort of create the hot dog stands that I knew growing up, that I would frequent as a kid in Chicago." Sohn says, "It's what we all grew up on."

"Look at somewhere like Gene & Jude's. They have like three things on the menu and just a few toppings, but it's the place where your grandfather took your dad and your dad took you and it is the place, it's that scent, it's the memories, it's that particular aroma that we all identify with. It's that familiarity that every Chicagoan knows what goes on a Chicago Hot Dog and when it's done well, it tastes great. It's just this real, perfect balance of salty of sweet of fat of different textures -- salty, crunchy, tangy, soft warmness of the bun, it works well together and everyone can afford one."

Of course, much of Hot Doug's notoriety came from his other encased meats, but at the end of the day, the hot dog was his muse. "Part of the reason for opening the restaurant was that I knew that there were other sausages out there that did exist, but there was no 'one place' to get them. And I had to fill up the menu."

After 10 years of long lines and grueling work days, Sohn closed his doors at his brick and mortar spot. He did however start working in conjunction with Levy restaurants and the Chicago Cubs to resurrect his beloved sausages. Located at Platform 14 in the renovated Wrigley bleachers, the dogs and sausages are named after historic Cubs players. The obscure ones that Sohn gets to pick himself. The menu changes with each home series. Past menu items have included the "Champ Summers" (spicy polish sausage with Goose Island beer mustard and fried onions), The "Pete LaCock" (ribeye steak sausage with horseradish cream and blue cheese), or The "Bill Bonham" (atomic pork sausage with cherry marmalade and smoked gouda). It deserves to be pointed out that since Hot Doug's has set up shop, the Cubs have been having a good trajectory -- maybe all along, it will have come to be that all it took was one good hot dog to cancel out a cheeseburgers curse.
Hot Dog with the Most Attitude
Lakeview/Lincoln Park
Clark St has changed a lot since Wiener Circle opened its doors in 1983. A post office, a Blockbuster, a McDonald's, numerous bars -- all gone. The neighborhood that will always be popular with the young post-college crowd and for DePaul students, has had many businesses come and go. But one thing that has always stayed the same is the notoriety of a famed hot dog stand called the Weiner's Circle. For $3.10 you get a Vienna Red Hot and for $3.20 you can get a charred, Vienna hot dog. Both are served on a poppy seed bun and topped with The Magnificent Seven along with grilled onions.

Let's get down to business though, yes the hot dogs are great, but at Weiner's Circle, it's what comes with their hot dogs that have made them one of the most famous stands not only in Chicago, but in the country. Visitors can get, if wanted (and sometimes unwanted) a heaping side of poignant profanity and partial nudity (known as the chocolate shake by customers and workers), and sometimes a good instigation of a fight between customers. It's the one place where the most appropriate of girls, after a long night of drinking and maybe a Cubs game, might blame another girl for stealing her hot dog before insulting both the other girl and her mother, who may or may not be present. Where most establishments will kick out rowdy customers, workers at the Weiner's Circle will often encourage the customers. The x-rated, Ed Debevic's-like insults are part of popular culture that have even had a stint on Conan O'Brien among other media coverage.

The history behind the fodder between employees and customers goes back to the early '90s when owner Larry Gold was trying to get the attention of a patron, fresh off a night of drinking, whose order was up, and yelled, "Hey. Asshole." This set off the known-reputation of late-night abuse from the workers. Some people even pay for it by tipping. Most people know what they are in for upon stepping up to order, and during daytime hours, it's unlikely you will find the workers swearing or being inappropriate, especially when kids are around. It's a great place to get a quintessential Chicago Dog. It's a vulgar institution of greatness.
The Original Chicago Hot Dog
River Grove, IL
There is no hot dog stand more iconic in the Chicago-land area than Gene & Jude's. The stand enforces four simple rules that have been adapted by most Chicago hot dog stands. When it comes to their hot dogs: no seats, no ketchup, no pretense, no nonsense. It's a formula that's worked for them since the end of World War II-era Chicago. The history of the stand is a tale of getting back up, even if you do get yourself in a pickle.

In the summer of 1946, Chicago city worker Gene Mormino attended a Cubs game at Wrigley Field with some of his buddies. As he looked down at his encased frankfurter placed alone on a white bun, he couldn't help but think to himself that something was missing, and found that he couldn't get the loneliness of that little hot dog out of his mind. By the time he got home, he had already started to solve his own dilemma. He made a hot dog and topped it with relish, onion, hot peppers, and mustard, along with a pile of French fries -- a key component to what Gene felt was missing -- that extra dose of saltiness and crunch. He used his idea to open a small stand on Polk and Western and would be instrumental in putting The Chicago hot dog AND Maxwell St on the map. He served his hot dogs and fries along with tamales, which often accompanied hot dogs on many menus. This would later expand to pizza puffs, chicken sandwiches, hamburgers, ice cream, and more. Gene's hot dog stand was thriving, and all was well until 1949 when Gene lost the entire stand in a card game.

Not to be defeated, in 1950 Gene gathered enough money and re-opened the stand with the help of a friend and co-worker, Jude DeSantis as his business partner. Although the two men knew it as Gene & Jude's, it was affectionately known to customers as "River Road Hot Dogs." In its current location in River Grove, the stand has stayed family owned and is currently run by Gene's son.

Gene was pretty content with his original toppings, and ever since, it has been served the original way to those who want to get the full experience. The Magnificent Seven are reduced to the Magnificent Four: relish, onions, hot peppers, and mustard. The Vienna Beef dog is then piled with French fries on top.

It's a formula that has worked well for the business -- Gene & Jude's have been slinging Chicago hot dogs like this for decades, and it's a place that those who grew up in River Forest hold close to their heart and a place where Chicago hot dog lovers flock far and wide to -- and hopefully will continue to do so for generations.
The Most Authentic Chicago Hot Dog
Ravenswood
"You are about to have the best hot dog in town" is written on the west side of the tiny little hot dog stand named Byron's. That sign is no lie. On the east side of the stand, the words "THEE HOT DOG" are written. Many Chicagoan's will tell you that if you are going to eat only one Chicago hot dog and you want to understand what a Chicago hot dog is, then the dog for you is Byron's.

In 1975, Byron Kouris, a well-known restaurateur opened his first hot dogs stand at Sheridan and Irving Park. It was the quintessential hot dog stand. There are maybe a few stools and a small counter that faces outside. It's a walk-in-walk-out spot with some picnic tables outside. It's no frills, but it's a friendly environment. Having had success with a few other restaurants, the Lunch Pail and also Zephyr, Byron opened a few more hot dog outposts that maintained success, however only two still remain 40-something years later.

What makes Byron's stand out isn't the dog itself. As Rich Bowen points out, "There are two kinds of Vienna Beef Hot Dogs. There are the ones you can buy in the supermarket and they are skinless, they don't have a casing, they don't have a sheep intestine casing, and Byron uses those." Bowman says that if he used the one with the casing, the ones with the snap, it would be his favorite dog, "without question," but he stills considers Byron's Chicago's most authentic hot dog because of the toppings. "It's not just the Magnificent Seven: mustard, relish, onions, tomato slices, a pickle spear -- relish and celery salt and hot peppers. You can also get cucumber and lettuce and green pepper. So it's literally, the proverbial garden on a bun." The dogs come in three sizes: $3.10 gets an 1/8lb; $4.24 gets a 1/4lb Jumbo Dog; and for $5.54 a 1/2lb Dogzilla can be yours.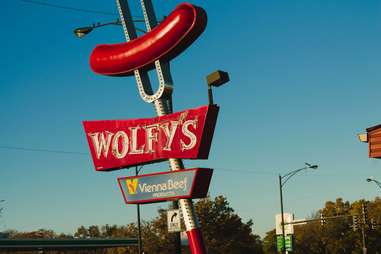 Best Hand-Me-Down Hot Dog
Lincolnwood, IL
It's hard to miss a place like Wolfy's. The shack is could be passed over if you blinked too long, thankfully there is a giant hotdog speared on a fork out front, which makes Wolfy's hard to miss. Not a real hot dog of course, although that would be awesome. But a big, old hot dog sculpture. Letters spell out a clumsily set spelling of "Wolfy's." At night, you can't miss the neon sign. Located on Peterson Ave at California, right on the border of the city and Lincolnwood, it's right within the boundaries of being properly labeled as a Chicago staple. Served with all the usual Magnificent Seven and perfect shoestring fries, one can't go wrong getting a char-dog at Wolfy's.

Although it's safe to say that Wolfy's is like many other Vienna char-dogs in the city, it's been a part of our hot dog history since it opened in 1967. At the time it was owned by Mickey Becker, who was rumored to be the brother-in-law of Abe Drexler, the owner of Fluky's and the originator of the Chicago hot dog. At its heyday, patrons would come in and be greeted with workers, mostly ladies, dressed in denim outfits, the ensemble topped off with red cowboy hats. Wolfy's is now owned by two brothers named Peter and Gus Romas. The Romas Brothers have kept the original signage, recipe, and concept and expanded by opening a second location in Northbrook.

The dog is modestly priced at $2.69 and includes The Magnificent Seven. For $1.30 more it can be made into a double. Due to its central location, it's a go-to for neighborhood residents, especially high school students from Mather High who have been scrounge together a few bucks to hit the stand up after class since it opened. Same goes for the local cops. Even though Becker is no longer the owner, those who have made Wolfy's a part of their life for years still continue to flock there.
Most Historic South Side "Red Hot"
Marquette Park
One thing that has yet to be clarified is the difference between a "Red Hot" and a "Hot Dog" -- simply put, there is no difference. A hot dog of any other name would smell as sweet. But, for all the places that tout the "Red Hot," Fat Johnnie's is the most notorious. Fat Johnnie's kind of looks like you'd expect it to look. Located at 72nd St & Western, the teeny tiny hot dog stand has served those who live locally and those who travel across the city to those in search of the perfect Chicago hot dog since May 12th, 1972.

It's a typical hot dog stand, a shack, more than anything, with a walk-up window and a small collection of picnic tables nearby. The sign outside of Fat Johnnie's proclaims that the place is "Fit for a King." Back when it opened, and life was a little less-PC, it also said, "And for queens, too." It's a place that for years only served David Berg beef hot dogs (now owned by Vienna). It's your typical South Side spot. Based on the menu, one would assume that "King" to look like Elvis, during the fat years.

Like many hot dog stands in the city, you can also grab an Italian beef sandwich, a tamale (Fat Johnnie's has a famous one known as the Mother-In-Law), pizza puffs, cheeseburger, chicken sandwich. Anything you can imagine. In terms of hot dogs, there is everything that can be thought of: a red hot, the chili dog, the cheese dog, the double dog, the super dog, the double cheese dog, and so forth. At the end of the day, the most popular item on Fat Johnnie's menu is The Mighty Dog, presumable named after one of Fat Johnnie's four-legged neighbors. In the early days of the stand, a mean, black dog used to live near property where the parking lot was and harass customers. The hot dogs were so good though, that even that mean old dog couldn't deter the fans of Fat Johnnie's.

The Mighty Dog is a legend inside the confines of Fat Johnnie's neighborhood and it's all-beef namesake has been named the "Best Hot Dog" by a variety of local and national publications and television shows. For $3, you get the Fat Johnnie of all Red Hots. Topped with The Magnificent Seven, the quarter pounder of encased meat is one of the most popular items on the menu. Fat Johnnies is a staple. An often visited spot for those catching a game at the baseball field formerly known as Comiskey Park. It's no frills, no ego and it's a damn good Chicago hot dog.
Most Famous Foot Long
Lakeview
Located at Belmont near Racine in Chicago's Lakeview neighborhood, Murphy's has been around since the mid-'80s. Murphy's is now around 30 years old, and it's one of Chicago's most beloved spots for hot dogs, cheddar burgers, and the best foot-long dog in the city. It's a bit of a hot dog emporium, as you sit and eat there is no shortage of hot dog memorabilia to look at as you chomp away. It's there you will find posters of Chicago encompassed in hot dogs and various other kitschy hot dog memorabilia on the wall -- some with a Japanese theme -- telling the tale of a bygone-era when William Murphy, the owner and namesake of Murphy's was tapped by a few Japanese moguls to bring the Chicago Dog overseas.

Over the years, residents have come and gone, but even among the youngest Lakeview residents, it's a popular spot to grab an early-afternoon hot dog or cheddar burger after a long night. Plus, a large demographic of customers are Cubs fans, which account for increased traffic during the spring and summer.

Owner, Bill Murphy lives right next door to the spot and has kept a hands on approach to his business. A model that has kept him growing strong ever since. Plus, 30-so years later, in Japan, his dog is still considered the model for the American hot dog by a Japanese restaurateur. Like many of his predecessors, his idea for a simple hot dog stand with strong neighborhood appeal has been a model that has supported his family since he opened his doors. The dogs are your quintessential Chicago dog. They are charred or grilled, topped with the Magnificent Seven.

The star of the menu is Murphy's foot-long Vienna Beef hot dog. It's 12in of greatness and easily the cities best mix of condiments and fixings. For $5.79, this foot-longer is worth every penny. Mr. Murphy's friends in Japan call this monster the "Big Murphy." It's best served besides hand-cut skin-on fries with a side of Merkts cheddar sauce and washed down with a triple thick milkshake.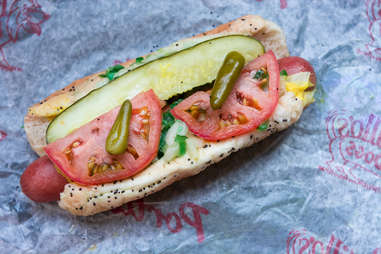 The Billion Dollar Hot Dog
Various locations
One thing is for sure, you haven't been to Chicago until you've been to Portillo's. It's the kind of place that, when someone moves out of state, Portillo's makes their list as one of the places they miss most in Chicago. Portillo's is legendary, and their hot dog is one that many locals hold very close to their heart. Ask around, and it's easy to find someone that will name Portillo's as hands-down, their favorite.

If you've grown up in the city or suburbs, chances are that you have a certain sort of love for Portillo's. It's a Chicago institution, and most of us are programmed to give it respect. From a standpoint, the Portillo's Chicago Dog is everything great about a hot dog. Vienna beef, the Magnificent Seven, wrapped in wax paper, the whole kit and caboodle. It's a great hot dog, but what makes this hot dog truly iconic is because this hot dog was a billion dollar idea. Literally.

In 1963, Dick Portillo opened his first restaurant, a hot dog stand called "The Dog House." He started, what would go on to be a food empire with $1,100.00. He took this money and invested in a 6x12 trailer with no running water. In the early days, he would run a 250ft hose from a neighboring building to clean and cook. Fifty-three years later his empire is still going strong. With only two locations in Chicago, Dick Portillo followed a formula that made him successful. He opened a string of locations in a circle around the city in the city's suburbs. Where other chains failed, Portillo took the idea to a whole new level by opening more of a food emporium. In addition to hot dogs, he added Barnelli's pastas, ribs, beef, and sausage sandwiches, the ability to buy beer, and famous Éclair cake, making it a multi-stop destination for those who want to experience the best of Chicago cuisine.

In 2014, Dick Portillo sold his chains, 33 in all, to a private equity group in Boston for one billion dollars, easily making Portillo's one of the most successful hot dog stands in history. Although Dick has moved on from day-to-day operations to consulting, his business model and formulas are still intact and the business continues to run with the same continuity that it did when Dick Portillo was at the helm.
Sign up here for our daily Chicago email and be the first to get all the food/drink/fun in town.
Carol Hilker is a food writer and former pastry chef based in Chicago. She is also the author of six cookbooks. Truth be told, up until this article, she always blobbed ketchup on her hot dogs. Follow her on Twitter @CarolHilker and on her website www.carolhilker.com.