From hosting the James Beard Foundation Awards and the NFL Draft to offering just enough teases of warmth and sunshine to remind us that living here doesn't have to suck, Chicago's had a pretty memorable May this year. But between all the excitement and glimpses of patio weather, several new restaurants have popped up, and we're here to give you the scoop.
Recommended Video
You've Been Waiting Your Whole Life to Face San Diego's The Kraken Burger
Rogers Park
At long last, the DePaul area's cult favorite late-night cookie shop expands north, allowing Loyola students (and other cookie-craving Far-North-Siders) to get in on a piece of the chocolate chip-studded action. Expect the same selection of cookies, brownies, and frozen desserts as the Lincoln Park location.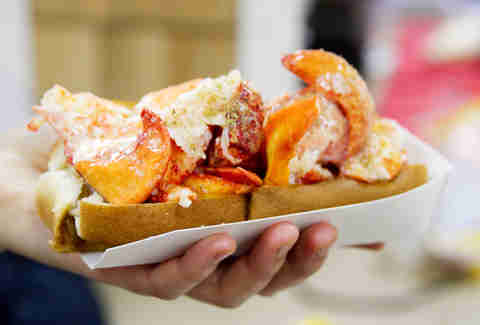 Loop
Enjoy a taste of New England by way of LaSalle St at this fast-casual seafood chain's first Midwest location. The modest storefront looks like part of an East Coast seafood shack, complete with tables, chairs, and paneling made of repurposed barn boards and a smattering of maritime décor, while the menu's packed with lobster rolls, crab rolls, clam chowder, a couple seafood combo platters, and fresh slices of pie from Chicago's own Bang Bang Pie.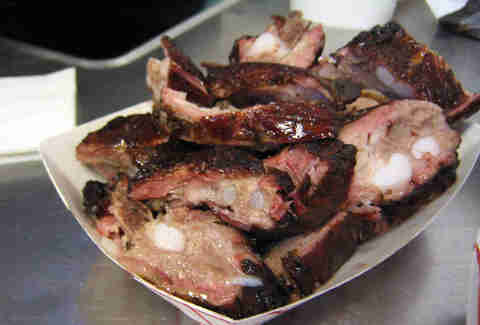 Bronzeville
After closing its original Bucktown location, Honey 1 reopens on the South Side with a bounty of saucy, smoked meats and veggie-based (not to be mistaken for "low-calorie") sides. The best part of the new digs? Being able to cop an intimate view of the glassed-in, hickory-burning smoker while you show a full slab of fall-off-the-bone ribs who's boss.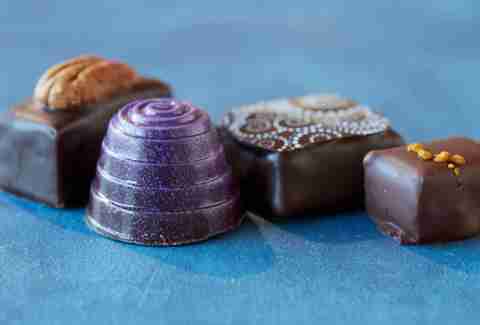 Old Town
This one's for you, chocoholics: anchored by baked goods created by Pastry Chef Gale Gand, La Colombe coffee, drinking chocolates, and more, this one-stop shop for chocolaty provisions positions itself as having "Chicago's largest collection of gourmet chocolate products." If a chocolate deficiency is what ails you, rest assured this spot has the cure.
Wicker Park
Taking over the former Small Bar space on Division, this beer-driven bar from the good people at Heisler Hospitality (Bar DeVille, Nightwood, Sportsmans Club) promises plenty of Indian-inspired eats -- like lamb dumplings, salt cod samosas, a chicken tikka kati roll, and buttered paneer -- as well as a dash of taxidermied decorations and a curated beer list.
West Loop
Littered with café lights, cheerful yellow flags and seating, and plenty of flora, this new sidewalk-only café from Element Collective (RM Champagne Salon, Leghorn Chicken, Kinmont) aims to be West Loop's hottest new al fresco oasis. In keeping with the space's seasonal theme, the café serves three varieties of boozy snow cones, oysters by the half and full dozen, refreshing salads and veggies, and an impressive selection of crudo -- all things fresh and best enjoyed outdoors.
River North
Billed as the third location in total (thus far) and the first in the Midwest, New York-based LDV Hospitality's modern Italian restaurant adds a touch of casual elegance -- and tons of comfy-looking tangerine-hued seating -- to the ground level of The Godfrey Hotel. Stop in to score Neapolitan pizzas, the restaurant's signature veal milanese, grilled octopus, and more, as well as traditional cocktails with a twist, like the strawberry cucumber Moscow Mule.
Lakeview
Spearheaded by Hogsalt vet Chef Matt Williams, the Chicago outpost of this Baltimore-based, Mexican-inspired concept arrives with an airy, wood-accented space flooded with natural light and rigged with ample patio space. Williams' menu includes plenty of favorites from the original spot, like Cheeseburger Tacos and Lobster Guacamole, as well as some brand-new and thematically on-point dishes spanning from Pork Belly Rebocado and Lamb French Dip Tacos to an array of spicy, smoky, and sweet cocktails prime for all-day sipping in the sunshine.
West Rogers Park
If you dig Mexican street-cart food, then you'll love the no-frills, made-to-order comestibles at this new North Side destination. The interior showcases exposed beams and brick and a food cart converted into a bar for utensils, napkins, and other odds and ends, while carne asada tacos, chicken flautas, elotes in a cup, and you-gotta'-try-'em, thick-cut mole fries shine on the menu.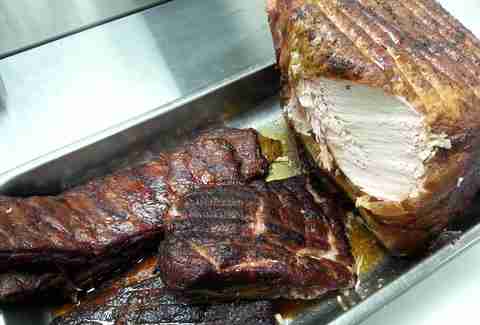 Logan Square
Memphis-style BBQ and Montreal's gravy-drenched magnum opus collide at this ingenious late-night (open 'til 4am Thursdays-Saturdays and 2am the rest of the week!) junk-food sanctuary on Milwaukee. In addition to various gut-busting takes on the eponymous mashup, you can score deep-fried Snickers bars, Mai Tai slushies, corn dog-esque "Q-dogs," and more at the Airstream-turned-ordering-counter.
Sign up here for our daily Chicago email and be the first to get all the food/drink/fun in town.