Back when you were a kid, your diet used to awesomely be made up of Pop-Tarts, s'mores, and dirt cups. But you're an adult now, which means you have to start eating adult things, like... adult Pop-Tarts and... adult s'mores and... adult dirt cups. Here to help, this list of 11 grown-up versions of the best stuff you housed as a kid.
S'MORES
Trenchermen (click here for address and info)
Your Cub Scout campfire days may be long gone, but you can still revel in the ooey-gooey, smoky sweetness of s'mores with Trenchermen's interpretation. The deconstructed 'mallow bomb comes with dark chocolate, popcorn ice cream, a house-made graham cracker & crumbles, and a torched marshmallow that smells and tastes just like the real deal.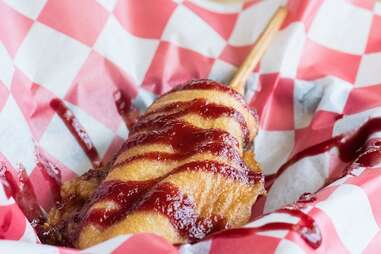 TWINKIES
Parts and Labor (click here for address and info)
At Parts and Labor, you can get a Twinkie just like your Grandma used to make it. And by "just like your Grandma used to make it", we mean totally not at all like she did: these guys're deep-fried, on a stick, and come with a drizzle of raspberry sauce.

DIRT CUPS
The Monarch (click here for address and info)
Remember how your Mom used to put your cup of dirt and worms into the oven, and out would come a cup of chocolate and gummy worms? And remember how, until you were 12, you legitimately thought that's how ovens worked? Well this'll remind you of all that: The Monarch's doing smooth and creamy bittersweet chocolate pudding crowned with espresso crumbles and chewy gummy worms.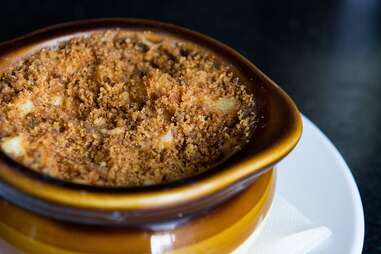 MAC 'N CHEESE
Smoke Daddy (click here for address and info)
How could the adult version of M 'n C ever top the strange, powdery wonder that is Easy Mac? Oven-bake it, breadcrumb-coat it, and serve it with a Smokin' Bloody Mary. Boom, better.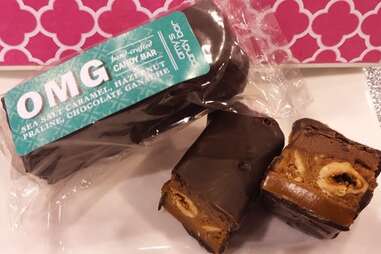 CANDY BARS
Amy's Candy Bar (click here for address and info)
Why wait? Grab a Snickers...-inspired artisan candy bar that's stacked with layer-after-rich-layer of sea salt caramel, hazelnut praline, and smooth milk chocolate ganache, and is hand-dipped in premium Belgian dark chocolate.

SLUSHIES
Parson's Chicken and Fish (click here for address and info)
These're just like the Slurpees you used to get at 7-Eleven, with one minor difference: booooooooze!!! Don't even think about it, just ask for the Negroni slushie with Letherbee gin, Luxardo Bitter, sweet vermouth, and a dash of fresh lemon juice.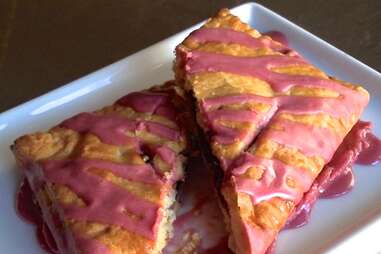 POP-TARTS
2 Sparrows (click here for address and info)
The ubiquitous toaster pastry gets way less ubiquitous with flavors like foie gras & cherry and blackberry & orange. Mmm... foie gras Pop-Tarts...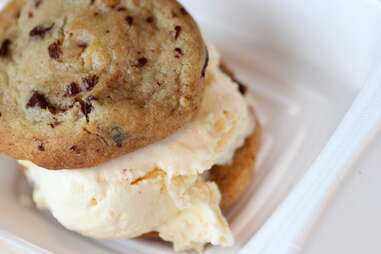 CHOCOLATE CHIP COOKIES
Insomnia Cookies (click here for address and info)
These are just like the ones Mom used to make... late-night after you came back from the bars and wanted them sandwiching Prairie Farms ice cream.

MOZZARELLA STICKS
Roots Pizza (click here for address and info)
Unlike the boxed, frozen mozz sticks of your youth, this pizza joint's mozzarella sticks are made from scratch (yes, even the cheese is house-made), coated in crispy garlic-herbed breadcrumbs, and served with marinara so you can get your dipping game on.

POPSICLES
Hoyt's (click here for address and info)
Chill out with Blood Orange or Piña Colada liquor-infused ice pops served in a glass of your choice of chilled Prosecco, Riesling, or sparkling wine at this riverfront restaurant. The pops probably won't dye your tongue a scary color, but who cares! They have alcohol in them!

FRENCH FRIES
Hot Doug's (click here for address and info)
'Member when fries were the ONLY side option in a Happy Meal (what's with these skinless apple slices?!)? Those were the days. These are the better days, though, cause now you can get your spuds fried in duck fat.
Kailley Lindman is a contributing writer for Thrillist Chicago, as well as a food blogger, bacon enthusiast, and devout user of the Oxford comma. Follow her at @KailleysKitchen.