It's been one of the most brutal Winters in recent history, but restaurant-and-bar-opening after glorious restaurant-and-bar-opening provided us with a donut-and-whiskey-filled silver lining. Here are our editors' picks for Chicago's 11 best Winter openings.
Leghorn (click here for address and deets)
Ukrainian Village
This itty-bitty BYOB fried chicken shack touting the tagline "make pickles, not war" offers food that hits every bit as heavy as its socially conscious sentiment. We can't imagine a world without tolerance or chicken-fried fries, and thanks to Leghorn, we don't have to. Pro tip for the ladies: pick up Leghorn-branded free birth control pills available at the counter, all day, every day during business hours.
Recommended Video
Mac & Cheese With Bell Pepper Bowls, Because Dishes Are the Worst
Chicago Distilling Company (click here for address and deets)
Logan Square
Its casual/cool interior and to-the-point cocktail menu make Chicago Distilling Company a "no duh" choice for this list. Select from a brief list of classic and modern cocktails that highlight their house vodka and 90-proof white whiskey (both available for retail, too), as well as a pared down list of wines and beers.
Green Street Smoked Meats (click here for address and deets)
West Loop
From fuss-free Frito pie to brisket, hot links, and chicken legs, Green Street has everything you could ever want from a BBQ joint -- and then some, like a 12,000lb oak wood-smoker and the smoky scent to match. They still don't accept reservations (and they've been packing the house consistently since they opened in early February), so fight the crowds if you're brave (or try off-hours if you're not).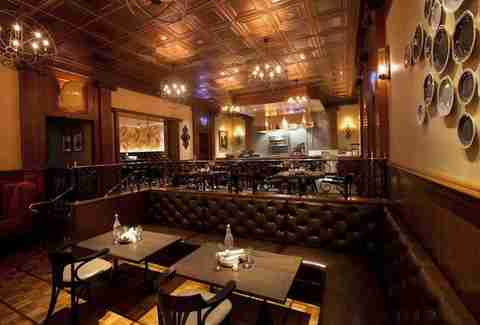 SideDoor (click here for address and deets)
River North
This inconspicuous gastropub from the people behind Lawry's will awesomely satiate you for lunch (Lawry's famous wedge salad, house-smoked pastrami sandwich...), dinner (lamb shank pie, glazed chicken wings...), and liquid dinner (Smoked Negroni cocktails), which is a thing.
Stan's Donuts (click here for address and deets)
Wicker Park
This donut and coffee shop sports a kitschy, retro vibe, and serves simple donuts with a creative edge. Think: Biscoff-stuffed, choco chip-covered "pockets", and twisted cinnamon pretzels -- all made with co-founder Rich Labriola's carefully crafted fermentation starter. The seating area, cozy atmosphere, and free Wi-Fi make it a great place to kick back with a cup of Joe and a donut and get some work done (read: stalk people you hate on Facebook and take BuzzFeed quizzes).

East Room (click here for address and deets)
Logan Square
The same folks who brought you Parts and Labor (see below) and The Boiler Room recently opened this industrially charged bar along the Milwaukee Ave main drag. Go for eclectic music and projector screen shows, craft cocktails, and cheap beer any and every night of the week.
Compass Bar (click here for address and deets)
Lincoln Park
Their wood-fired pizzas are getting some solid buzz, but it's Compass Bar's selection of 180 beers that gives it an '11 Best Winter Openings' nod. Pair a crispy pizza topped with braised pork shoulder, BBQ sauce, caramelized onions, and three types of cheese with Cajun fried potatoes, and literally any beer on the planet. And by "literally" we mean "figuratively".
Logan Hardware Arcade Bar (click here for address and deets)
Logan Square
And on the seventh day, God created an 85-seat arcade bar. In Logan Square. That's stacked with more than 25 fully restored vintage pinball machines (including a signed edition of Star Trek: The Next Generation), 45 video games, and nearly 20 beers on tap. And, because God is awesome, you can play all of the games at their original prices.
Links Taproom (click here for address and deets)
Wicker Park
Sadly not a bar filled with magic swords and heart containers, Links Taproom is instead the spot to go for some way-under-the-radar Tyranena Chief BlackHawk Porter, "buried alive" fries (topped with Italian sausage, bacon, cheddar, giardiniera & green onions), and the Duck Your Face sausage: a duck truffle link loaded with duck confit, pistachio, orange zest, and truffle aioli.
Parts and Labor (click here for address and deets)
Logan Square
Parts and Labor is all about deep-fried-everything (giardiniera and Twinkies and pickles, oh my!) and simple, well-constructed burgers that have a bit of pickle in every bite. And since we know you're aggressively cheap, tell 'em to "make it a $10 combo, Brokim Noah", with a burger, a side, and a boozy bev of your choosing.
Bottlefork (click here for address and deets)
River North
This American kitchen and bar colors outside the lines with menu items like "popcorn" sweetbreads, a "bag of chips" with vinegar and a fried egg, and an ice cream sundae topped with beer foam. Oh, and don't miss the "Bill Brasky", which comes with Journeyman rye, moonshine, Buffalo Trace bourbon, Bank Note Scotch, Hammer & Tongs vermouth, orange bitters, and a vintage playing card frozen in a large ice cube. Boosh.
Kailley Lindman is a contributing writer for Thrillist Chicago, as well as a food blogger, bacon enthusiast, and devout user of the Oxford comma. Follow her at @KailleysKitchen.