Everyone knows Chicago loves hot dogs -- as long as they have no ketchup on them. You may have also heard it's a city that enjoys its drinking. So it's only natural that you should embark on a crawl that combines the two, taking you to seven great spots serving up assorted takes on the classic Chi-dog, while scoring a drink at (or near) each one. Some notes: this schedule is meant for a Saturday. Also, while all the joints recommended serve an excellent dog, this isn't meant to be a comprehensive tour of the very best in Chicago. A few institutions (Gene & Jude's, Superdawg) missed the cut due to geographic concerns. Because you're being a responsible citizen and doing this whole thing via public transit! (Okay, there might be a cab in the mix.)
10am
The dog: Even though it's Saturday and you're not commuting, you're starting your day with a char-dog with everything at Gold Coast Dogs (222 S Riverside Plaza; 312.258.8585) in Union Station, sporting some of the neon-iest relish you'll encounter.
The drink: Old Style in a plastic cup from the Snuggery (222 S Riverside Plaza, 312.441.9334), just across the food court area. Snag a table and enjoy them together. Sneer at any strangers judging you for drinking at 10am.
10:40am
The dog: Walk up Canal St and hang a right on Madison until you hit Wells, then hang a left and you'll see Westminster Hot Dog (11 N Wells St, 312.445.9514), which makes its own specialty sausages, but you're staying on-theme and getting another Chicago-style dog (courtesy of Red Hot Chicago). If you MUST be different, you have permission to opt for spicy brown mustard.
The drink: It should be 11-ish by the time you've eaten your dog, so mosey on over to Stocks & Blondes (40 N Wells, 312.372.3725) right when it opens. Make like a trader and knock back a whiskey shot.
11:30am
The dog: Head one block East to LaSalle and hang a left, walk then North across the river until you get to Ontario, and, more importantly, see Portillo's Hot Dogs (100 W Ontario St; 312.587.8910). Yes, they're a chain, but they're a chain for a reason, as they knock out a textbook Chicago dog as well as just about anyone.
The drink: You're in luck! Portillo's serves beer, so get yourself an icy goblet of something cold. BONUS POINTS: It might not mix well with the beer, but down a cake shake, too, because, CAKE SHAKE!
12:15pm
The dog: Hope you dressed at least semi-classy, because you're going to the Four Seasons! Continue East to State and make a left until you get to Delaware. Make a right and you'll soon hit the luxury hotel where you'll find Allium (120 W Delaware Pl, 312.799.4900), and a Chicago dog with "homemade everything". Yes, it's $14 bucks. But it's damn good. And classy!
The drink: Their chef collabs with brewers on specialty draft offerings for the restaurant, so get whatever's on tap.

1:30pm
The dog: Head back to Chicago Ave and catch the bus heading West until you get to Phil's Last Stand (2258 W Chicago Ave, 773.245.3787), where your impeccably prepared char-dog will come with a side of fresh-cut fries. Up the ante with a cup of Merkts cheddar, because you haven't done enough damage today.
The drink: Backtrack just a bit on Chicago to Tuman's (2159 W Chicago Ave, 773.782.1400), and knock back a Founder's All Day IPA. Because it's terribly appropriate.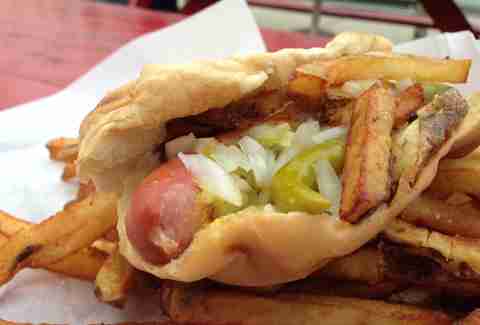 2:30pm
The dog: Head West and catch the... Western Ave bus for a quick trip North to Redhot Ranch (2072 N Western Ave, 773.772.6020) whose "Depression dogs" come simply dressed (just mustard, onion, relish & peppers) and wrapped with a bunch of fresh-cut fries, just like Phil's. Skip the cheese here, though -- these fries are a show-stopper on their own.
The drink: Head North on Western to Quencher's Saloon (2401 N Western Ave; 773.276.9730), arguably the oldest serious craft beer bar in Chicago. But time is running low, so you're doing a shot of Malort.

3:30pm
The dog: Just splurge and get a cab here, because you have to get to Hot Doug's (3324 N California; 773.279.9550) before it closes at 4p. The line will tell you all you need to know about the wonders that await (assuming you haven't experienced them already). And while the specialty sausages never fail to amaze, their Chicago dog never disappoints (more people should get on board with the grilled onions).
The drink: Seriously? Go home and enjoy your food coma already. Or better yet, if you want extra credit, take the Addison bus back over to Lakeview and rage all night until you end your evening fighting the angry mob for... another hot dog (!) at the Wiener's Circle (2622 N Clark St, 773.477.7444).