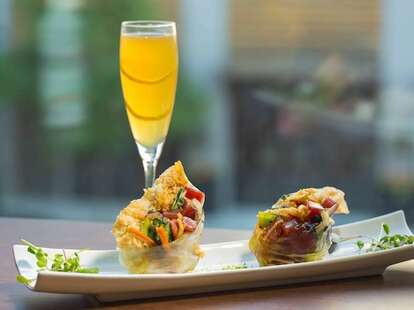 Chicago's food scene's come a long way since farm-to-table involved layovers at the processing plant and the microwave. To celebrate how awesome we've become at being deliciously conscientious, we partnered up with Bolthouse Farms to spotlight nine of Chi's best f-to-t spots.
Gallery Bar: Gallery Bar's keeping it cultured with a farm-to-art-exhibit approach: they tap farmer's markets and Indiana & Wisco farms for Asian-influenced street cuisine from veal chorizo egg rolls to salmon chili, and have a constantly rotating roster of buyable local art. Their beer cocktails are no joke either -- if you ever wanted to know if Chain Breaker IPA and gin went together, here's your chance. Hit up Gallery Bar now through Wed, Nov 20, and walk away with a free bottle of Bolthouse Farms juice -- follow this map to get the goods.

*While supplies last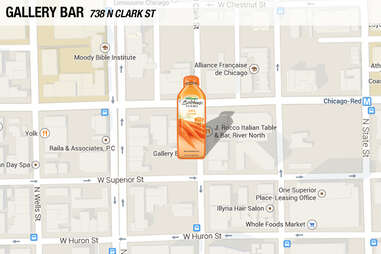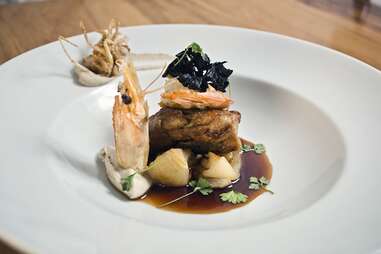 Longman & Eagle: It's farm-to-table-to-bed at Longman & Eagle, where they're plating fresh regional American fare like wild boar sloppy joes and Slagel Family Farm lamb tartare, and offering six reasonably priced "vibrant urban enclaves" in the upstairs hotel, the most convenient place possible to wait out your sustainable-food coma.
Prasino: Prasino is Greek for "green", which plays out in food/drinks sourced from local farmers, ranchers, vintners, and brewers who place freshness next to Godliness. The menu runs the hunger gamut from pretzel croissant french toast to pork belly & scallop tacos, which is American for "full".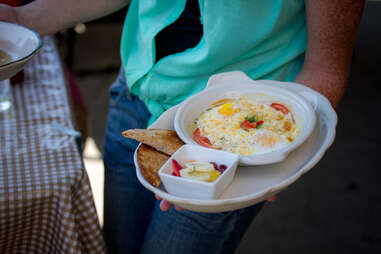 Grange Hall Burger Joint: Farmers work up quite an appetite after waking up to vintage alarm clocks (roosters) and tending to the land. Thank god you don't have to tend anything to hit their "Farmer's Breakfast," which includes creamy sausage gravy and farm-style bacon.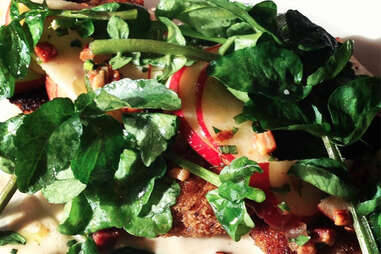 Perennial Virant: Sourcing from as many farms as Perennial Virant does, you might start to lose count. Put it down on the menu, thought Chef Paul Virant, so you can remember exactly where those cheese fritters you're inhaling came from. (Answer: they don't come from very far at all.)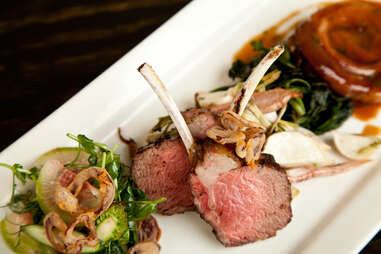 Browntrout: Some couples go on their honeymoon in New Zealand, catch and cook-up a brown trout with English peas, walnuts, shallots and potatoes with fresh mint, then think, we should do this same thing back at home. Actually no couples do that, except Sean and Nadia Sanders, who now do it on the daily at their New American outpost.
Local Root: These guys talk the talk, and walk the walk. Or actually they drive the walk (even the local-est farm isn't that close), heading out on field trips to partner farms, distilleries and vineyards to ensure quality control is not just a Jurassic 5 album.
Homestead: These Home-boys set up a 1,000-square foot garden -- plus two massive vertical hanging gardens -- out on their second-floor patio, just feet away from the table where you'll be eating. Don't even think about trying to out-fresh them.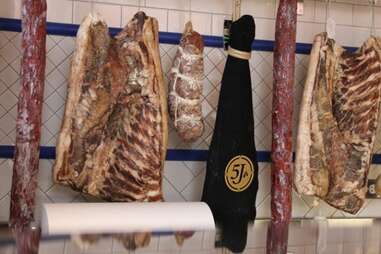 Publican Quality Meats: Remember the good 'ole days of traditional whole animal butchery? Probably not, but Publican sure does, and that's why they're stocking local, organic meat arriving intact and available to purchase whole or part-by-part (and we're talking every part).