Rachel Brown Kulp
Rachel Brown Kulp
Pretty much everything is better when it's secret: handshakes, bars, tree houses where yucky boys are never, ever allowed to enter. Most of all: supper clubs, because dinner is a lot more exciting when you don't know what's on the menu or if Bill Murray will be there (probably not, but you can never rule it out entirely). Feel the thrill with this insider guide to Chicago's underground dining scene.

Sunday Dinner Club
When: Five to 10 times per month
Where: In a space above Honey Butter Fried Chicken
Why you should join: Members of Sunday Dinner Club were the first to taste Honey Butter Fried Chicken, a happy accident that came about when a tray of honey-buttered corn cakes spilled onto a plate of fried chicken at one of their dinners. The entire thing is referral-only (which makes it hard to get into), but once you're in, you'll have access to so much awesome... including an upcoming Cassoulet Dinner Series, which mixes French casseroles with confit duck legs, garlic sausage, and smoked bacon.
How to join: Find someone who's already a member, then click here.
Dinner Lab
When: One or two times a month
Where: According to Dinner Lab, "dinners are held in unique spaces that exist for only 24 hours."
Why you should join: Started in New Orleans, Dinner Lab hosted 18 people for its first dinner and chose a former brothel as the setting for its second. Since then, it has expanded to 31 cities, which probably means it's doing something right. After purchasing an annual membership ($175), diners will be emailed when an upcoming dinner is available, and can then score tickets (averaging $65 per person). A previous dinner had Chef Danny Espinoza (Mexique) preparing dishes such as fried chicken with spicy maple, cilantro grits, and pickled carrots.
How to join: Sign up here.
Open Circuit
When: According to Open Circuit, "several times a month across Chicago," with two dinners currently planned for January
Where: It's a secret, duh. The location is released one week prior to the event.
Why you should join: Open Circuit aims to offer the high-end dining experience in a supper club setting, preparing 12-course meals that look downright stunning. Chef Jacob Demars has worked at Elizabeth, Trencherman, and Juno, so don't expect any sliders or flatbreads on the menu. Also, it's BYOB.
How to join: Check out upcoming dinners here.

Godspeed Chicago
When: Once or twice a month
Where: Double-secret locations around town
Why you should join: Part supper club and part private tour, Godspeed is all about secrecy. After confirming a reservation, attendees receive a meeting time and location. From there, transportation, entertainment, drinks, and dinner are all included, as small groups jet around the city over a span of four to five hours. Along the way, they'll meet interesting people and discover oft-overlooked locations as the guide shares historical facts and tells tales of hustlers, swindlers, jokesters, and other noteworthy characters. This one is definitely for those looking for something a bit more adventurous.
How to join: Sign up here.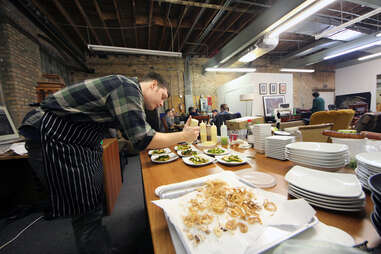 Goose and Fox
When: Once or twice a month
Where: It's a secret. Locations are revealed the day before dinner.
Why you should join: Goose and Fox is inspired by good whiskey and rock 'n' roll music, so if you like those things -- along with eating food -- then you will probably fit in at dinner. The seasonal menu is chef-driven, and features local, organic ingredients in dishes such as duck with golden beets, pear, and peach. Each BYOB dinner costs $65-$100 per person and includes 8-10 courses,. Guests are encouraged to have fun, drink, and participate in plating and running the food. However, juggling knives is not encouraged.
How to join: Book reservations here.
The STEW Supper Club
When: Once a month
Where: Mostly at Sauce and Bread Kitchen, as well as other locations
Why you should join: Located on the northern side of Edgewater, Sauce and Bread Kitchen whips up tasty, accessible dishes using local ingredients during the five or six hours a day that it's open. The eatery actually stemmed from the success of Crumb Chicago bakery and Co-op Sauce, and now offers monthly dinners after hours. Dinners are BYOB, and since there's a bakery on-site, you can expect some top-notch bread and pastries.
How to join: Subscribe to the mailing list here.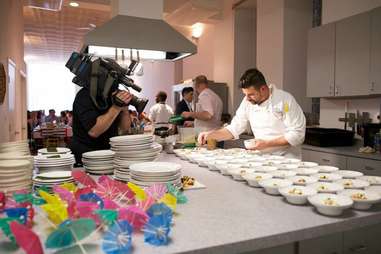 Yo Soy Underground Supper
When: Once or twice a month
Where: Ssssshhhhh. Location is emailed the day of dinner.
Why you should join: A traveling, Mexican-influenced feast, Yo Soy Underground Supper hosts dinners at interesting locations all over town. Attendees can not only expect live music and good company, but also great food -- which is nearly as integral to a memorable night out as seeing a chainsaw-juggling clown. Hotshot chef Brian Riggenbach (from Food Network's Chopped) whips things up in the kitchen, so expect the unexpected. (The unexpected does not include chicken nuggets.)
How to join: Grab a seat here.
From Good Stock
When: Seasonally, during the fall
Where: At Land and Sea Department's Garfield Park studio space
Why you should join: Land and Sea Department is behind some of the buzziest spots in town, including Lost Lake, Parson's Chicken & Fish, and Longman & Eagle. The From Good Stock supper club was conceived by director of operations Elana Green, and pairs art, design, and music with talented chefs. However, interested diners will have to jump on available reservations, because dinners are offered seasonally and there were only three in 2015 (one each in October, November, and December).
How to join: Subscribe to the email list here.
Place Invaders
When: Once in a blue moon
Where: What's the password?
Why you should join: Place Invaders started in New York City by putting together seasonal, five-course dinners offered with bottomless cocktails and wine. Admittedly, this sounds just like many other supper clubs out there, but Place Invaders differentiated itself by taking over some truly captivating residences, including a '50s-era penthouse, a graffiti-adorned studio, and an opium-den-inspired condo that was used to shoot a Notorious B.I.G. music video.
How to join: Sign up for upcoming dinners here. Next one is on Valentine's Day.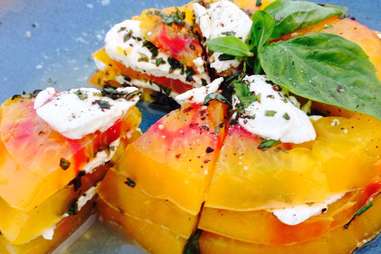 Ginger and Soul Supper Club
When: "On a handful of evenings throughout the year."
Where: Western suburbs
Why you should join: Believe it or not, people actually live in the western suburbs, and they also enjoy going out for dinner. We know, shocking. Armed with this invaluable knowledge, the folks behind Ginger and Soul Supper Club set out to organize intimate dinners paired with premium wine (meaning that it doesn't come from a big box). Diners can also expect four or five courses per dinner, locally sourced ingredients, and a philanthropic angle, since part of the proceeds are used to fund Ginger and Soul's Kids that Cook Club.
How to join: Sign up here.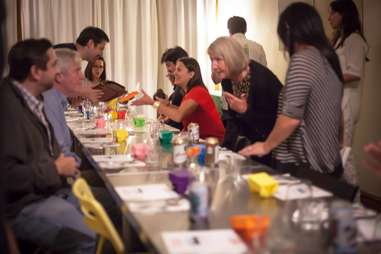 Sobremesa Supper Club
When: We can't tell
Where: A top-secret home in Pilsen
Why you should join: At Sobremesa Supper Club, public enemy No. 1 is pretentiousness. Well, actually No. 1 is roving packs of hungry wolves, but after that it's definitely pretentiousness. Chef Gabriel Moya knows his way around Latin American flavors, and has worked at restaurants all over New York City. At Calyer, he received Bib Gourmand recognition from Michelin. However, there's nothing fancy-schmancy about his meals, which are fun, accessible, and held in an inviting Pilsen home.
How to join: Email Sobremesa through the contact address on their website.
The Underground Social
When: Our lips are sealed
Where: Secret locations
Why you should join: If you're of the curious sort, this supper club might be for you. There isn't much information available, but The Underground Social keeps groups to about 30, includes cocktails and passed appetizers, and sticks to themes such as "Garden Party" and "Chinese Chopsticks." Stay tuned to their Instagram.
How to join: Sign up here.

Trout Kitchen
When: Every two weeks or so
Where: At the former Browntrout location, 4111 N. Lincoln Ave
Why you should join: Admittedly, Trout Kitchen is more of a pop-up than a supper club. But, much like a pile of hay and Donald Trump's hair, there's not a huge difference. Chef Sean Sanders and crew are still crafting excellent, locally sourced meals, but now they're doing it every two weeks or so in the former Browntrout space. Different menus focus on a specific theme, such as noodle night, which featured porcini-mushroom ramen and an ice cream sundae with chocolate noodles. Grab some friends and hop in for dinner.
How to join: Keep an eye open for upcoming dinners on Twitter and Trout Kitchen's website.
Sign up here for our daily Chicago email and be the first to get all the food/drink/fun in town.
Raf regularly hosts a secret supper club at his apartment, but it's so secret that he's the only one who attends. Ask him for an invite: @RafFoSho.