Sean Cooley
Sean Cooley
Navigating Chicago's Chinatown can be as confusing as playing Zelda without a map, which's why you should always navigate Chinatown with... a map. Here's our definitive guide to eating in Chinatown, with nine spots all mapped (!) out at the bottom.

What you're getting: Dry chili chicken
Lao Sze Chuan is the flagship eatery in restaurateur Tony Hu's empire, having expanded to franchises in Uptown, Downers Grove, and Connecticut (?). Chinatown's many "Lao" restaurants belong to Hu, and each offers up a take on a different region of Chinese food including Lao Sze Chuan, which tackles the tongue-numbing spiciness of Szechwan dishes and provides a good mainstream entry-point for starters like the dry chili chicken, along with boiled beef and Tony's three chili chicken.

What you're getting: Soup dumplings
No matter what entree you're eyeing (sweet and sour spare ribs, tea-smoked duck), be sure to lead off with an order of soup dumplings (xiaolongbao). Filled with pork and hot broth, you can either eat it in a soup spoon (gently letting the contents stream out), OR you can pop it in your mouth like a tasty pork gusher.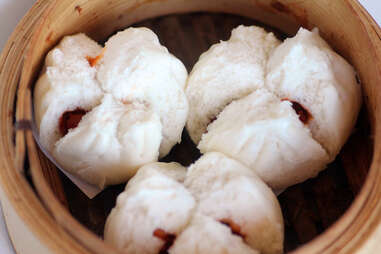 What you're getting: BBQ pork buns
This is the go-to den of dim sum in the area. Now, before you go making a shload of impulse buys from the passing dining room carts, put in an order for the sweet and fatty steamed BBQ pork buns, as well as the sui mai rolls (shrimp, pork, and mushrooms in a wonton wrapper). Done? Okay, now back to a shload of impulse buying.

What you're getting: Bao tacos
Blending modernized Cantonese, Hong Kong, and other Asian styles of cooking, the tucked-away spot on 23rd St is worth seeking out. Their pork pot stickers are gigantic, the hot and sour soup is supremely satisfying, and a new special -- the bao tacos, which you fill with stir-fried beef (extra fatty, because it's typically reserved for hot pots), bean sprouts, and veggies -- adds to the eclectic menu.

What you're getting: Salt and pepper chicken wings
One of Tony Hu's "non-Lao" spots, Sweet Station is a Cantonese diner with a good spread of ingredients for hot pot cooking (essentially Chinese fondue, except with boiling water instead of cheese) and's got tables with built-in stoves to boot. The stand-out, though, is in the apps section of the menu; in particular, the salt and pepper chicken wings, which've been marinated in garlic soy, fried, seasoned, and blanketed with jalapeños.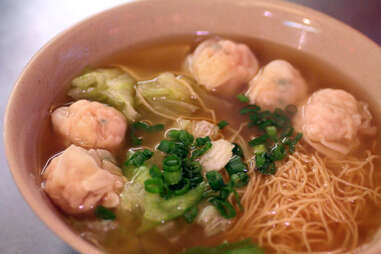 What you're getting: Shrimp wonton soup
Good for breakfast, lunch, or late-night munchies (they're open until 5am on weekends), this cafe can accommodate both your laptop and a flaming mini-wok. The dumplings in the wonton soup are -- like Bubba's pant pockets -- loaded with shrimp and floated in a broth with onions, cabbage, and rice noodles.
What you're getting: Baked buns
For quick, cheap eats, look to grab some buns, hun, at this family-owned, Chinatown staple. They're fluffy on the outside and gooey on the inside with sweet (custard, coconut) or savory (barbecue pork, ham & cheese, curry beef) fillings.
What you're getting: Chairman Mao's favorite pork belly
Served up by a waitstaff in Chinese military uniforms, Lao Hunan's plentiful pork options -- whether stewed, fried, roasted, or smoked -- are tasty enough to make you reconsider this whole "democracy" thing. The fatty pork belly, a noted favorite of founding father of the People's Republic Mao Zedong, gives a good balance of sweet and spicy, mixed with peppers and scallions. Other specialties include twice-cooked sliced duck, dry chili fish, and Hunan chili in black bean sauce.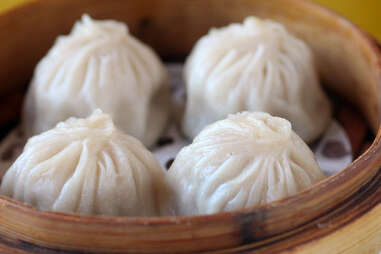 What you're getting: Crab dumplings
Up on the second floor by Chinatown square, this dim sum banquet hall specializes in seafood -- if you couldn't tell by the 50-gallon tanks of king crab, crawfish, and red snapper in the entrance. The bamboo steamers provide hefty portions, most notably in the xiaolongbao -- soupy dumplings with crab meat.
Sean Cooley is Thrillist's Chicago Editor and he has caught a Hylian Loach in The Legend of Zelda: Ocarina of Time. Follow him @SeanCooley.