Confirmed: Chicago's New Taco Bell Will Be a Big Boozy Fiesta
Chicago's new Taco Bell is going to serve booze. We repeat: Taco Bell. Booze. Soon.
Taco Bell has officially announced that it will indeed offer beer, wine, and alcohol-spiked frozen slushie drinks at its new urban concept store coming to the city's Wicker Park neighborhood, as we reported last month after getting our hands on internal documents detailing the plans. Translation: You'll soon be able to wash down those Doritos Locos tacos will a few Coronas, or a big sugary tequila slushie drink. Um, muchas gracias!
Here's the scoop: When it opens sometime this summer, this badass new T-Bell at 1439 N. Milwaukee Ave will be the first of its kind in the United States, featuring not only alcohol, but also a unique, urban design specific to the neighborhood as well as a new approach to purveying all those Chalupas and Crunchwraps -- like serving food in open-face baskets, for example.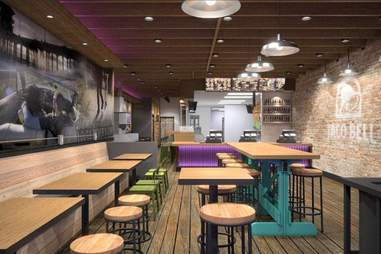 Courtesy of Taco Bell

So far, Taco Bell hasn't announced specifically what the beverage menu will be like, but as we previously reported, you can likely expect things like "Twisted Freezes," or frozen drinks with vodka, tequila, or rum, as well as two draft beer options and wine, which will all come in new cups that will distinguish the booze from the not-booze.
After seeing successful launches in places like Tokyo and the U.K., the company said it carefully chose Wicker Park for the urban concept due to the neighborhood's growth and demographics. And while Taco Bell hasn't said anything about similar locations popping up across the country, it does't seem like that's too far off...
Tony Merevick is Cities News Editor at Thrillist and loves a good spiked slushie. Send tips to news@thrillist.com and follow him on Twitter @tonymerevick.