5 delectable ways to get your Easter brunch fix in Chi
Chicago We know not everyone is Catholic, but we also know that everyone definitely loves brunch, which's why we put together this list of Chi's five best Easter brunching options, including one with an Easter-themed petting zoo. And yeah, we know we just told you about the best brunches in all of Chi on Tuesday. We like brunch. Sue us (but not really, we're very poor writers).
Sunda, 9am-2pm: Grab your peeps (the non-sugar-coated variety) and pay a visit to River North's premier Asian-fusion restaurant for an unforgettable East-meets-West-style Easter affair. They're doing an East-only a la carte menu with 1) tempura French toast with fresh berries, brown sugar-glazed bananas, and whipped cream, 2) a salmon wrap, and 3) petite NY steak and eggs. ALSO: you can get a 32oz Sumo Mary cocktail (in all its garnished glory).

Continue Reading
The Drake, 9:30am-3pm; $95/person: Dine on elaborate, Easter-only dishes like Nutella-stuffed French toast and pan-seared striped bass in the hotel's Gold Ball Room. Once you've had enough brunching, hit the Drake Room, and they'll let you take pictures with an/the/but-probably-an Easter bunny.

Sixteen, 11am-2:30pm; $148/person: For a fine-dining-meets-barnyard Easter party, look no further than Sixteen. A gourmet spread and complimentary Champagne will satisfy adults, while a petting zoo teeming with ducks, chicks, and other small farm animals will satisfy... also adults! What, you don't like ducks and baby chicks?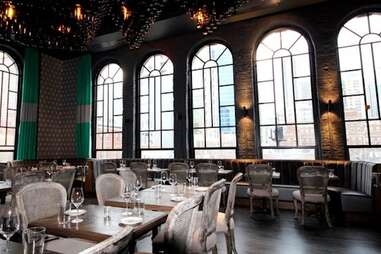 The Boarding House, noon-8pm; $44/person: Join The Boarding House for a convivial three-course Easter fete suited for the whole family. Choose between four different first-course options (really two though: pea soup with bacon/onion jam or a fried egg with lentils, chicharron, and chimichurri sauce), four mains ranging from skate wing to grilled pork blade steak, and end the meal with a full-on Easter dessert celebration. And for an extra $24: wine pairings!


Gemini Bistro, 10:30am-3:30pm: This Lincoln Park dining establishment loses its usual dinner-only MO to host an Easter bunny-approved Easter brunch. Sink a fork into oatmeal-crusted brioche French toast, and your teeth into that too, but also a fried lake perch sandwich. Oh, and try the Brunch Punch with rum, orange juice, pineapple juice, and grenadine. And by "try", we mean "drink all of".