Food & Drink
Sponsored By

The Essential Grubhub Meals for Surviving Winter in Chicago
Sponsored By

Founded in Chicago in 2004, Grubhub has become as integral to the fabric of local life as the stitching on your fraying '85 Bears sweater. Notably, the food delivery site has evolved into your most potent weapon against Old Man Winter's savage cruelties -- we're not just talking about pizza or Chinese, either (though you can obviously order those). From fancy date-night restaurants to the trendiest burger joints and even breweries, Grubhub's lineup runs deep. To stretch your order even further, the company just unveiled Grubhub+, a brand new membership program that offers unlimited free delivery, 10% cashback, and exclusive rewards (think VIP access to local events) every time you place an order… for just $9.99 a month. To celebrate all the new perks, we rounded up the Grubhub dishes that deliver a demonstrative improvement to Chicago's dreariest season in an instant -- so you can get to ordering.
Courtesy of Grubhub
When you can't wait in line in the cold to get into some fancy burger joint…
Crank up your stereo and feast on a Neurosis burger from Kuma's Corner
Not all burgers are made equal. Some of the best require waiting in line outside, which, except in rare cases, is not advisable in winter. But not Kuma's. Fifteen years since opening its first location at Belmont and Francisco, Kuma's is rocking as hard as ever with a stout assemblage of massive burgers at its now-five-strong locations across Chicago and Indianapolis. While the namesake Kuma Burger remains the most popular, the Neurosis has long been a favorite of ours thanks to the flavorful beef patty topped with cheddar, Swiss, caramelized onions, sautéed mushrooms, horseradish mayo, lettuce, tomato, and red onion. (You can also sub in a veggie patty or chicken right in the app.) If you find yourself missing the same volume of ear-piercing heavy metal that accompanies any in-person Kuma's visit, just crank up your home stereo to 11 and warn the neighbors.
When you come home at 3am from the party and you need delivery…
Hit up Taqueria El Ranchito and order a burrito suizo dinner at all hours of the night
When the night has finally wound down and you find yourself back at your apartment, hungry, there's only one place that delivers tacos 24/7. It's called Taqueria El Ranchito, and it's here to serve you no matter how wild the night gets. In addition to your standard taco fare, they offer an absurdly diverse menu including breakfast and Mexican pizza, but the burrito suizo dinner is one of its more reliable offerings. Choose from steak, pork, or chicken (or get crazy with beef tongue or steamed goat) wrapped up with beans, cheese, sour cream, onions, lettuce, tomato, and cilantro, topped with ranchera sauce and melted cheese and served with a side of rice and beans. Should you take down this whole entree, you'll either be ready for bed or ready to rage for another 24 hours straight… depending on how you party. (And the dish will be saved in the Grubhub app for easy reordering on your next late night.)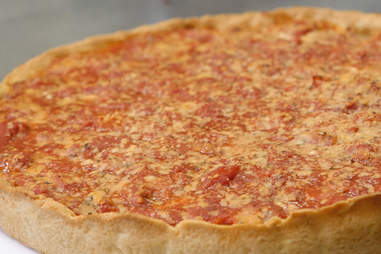 Courtesy of Grubhub
When you're hosting out-of-towners who want deep-dish but it's too cold to fight crowds of tourists…
Order the quintessential deep-dish pie from Lou Malnati's Pizzeria
When you're hosting out-of-towners, they practically demand you take them to get a deep-dish pie the minute they step off the L from O'Hare. That said, crowds of tourists are pretty much guaranteed at Chicago's more well known haunts,, but if you want to sample the best without any of the BS, Lou Malnati's is still pretty damn tough to beat. As one of the deep-dish OGs, now with 56 locations sprawling across Chicagoland, Lou's offers a terrific introduction for deep-dish newbies thanks to its signature flaky, buttery crust; California vine-ripened tomatoes; and fresh mozzarella sourced from the same Wisconsin farm for more than four decades. Order the Malnati Chicago Classic with Lou's exclusive sausage blend if you want to make everyone happy -- and you'll even find your way closer to redeeming some of your Grubhub Perks on your next pie. (If that next pie is a thin crust from
Piece Pizza
, your secret is safe with us.)
When you want to pretend it's 80 degrees out and you're in a T-shirt strolling the French Quarter during Mardi Gras…
Cure your FOMO with some New Orleans-style gumbo from Ina Mae Tavern
Chicagoans are famous for braving 40-degree temperatures in shorts and flip flops, but when winter turns really nasty, even the most hearty polar bear types are forced to throw on the parka. But that shouldn't stop us from dreaming of warmer days, particularly those in New Orleans. Harness that free-wheeling Mardi Gras spirit with the help of James Beard Award semi-finalist (and NOLA native) chef Brian Jupiter, whose hip Wicker Park culinary hotspot Ina Mae Tavern & Packaged Goods is serving up a taste of the Big Easy seven days a week. The authentic Creole and Cajun menu items are far too numerous to list, but you can't go wrong with the classic New Orleans Gumbo Ya-Ya packed with shrimp, chicken, Andouille sausage, okra, and crab, served on top of steamed rice with a dollop of potato salad. It'll add some sun to your outlook on life immediately.
When you want a fancy meal but don't want to get slush on your fancy clothes…
Order lobster ravioli from RPM Italian and dine under the blankets
Few things ruin a night out on the town faster than, after spending 45 minutes dolling yourself up, getting splashed with slush from an oncoming bus. But, sometimes, ordering Chinese on the couch isn't going to cut it. Save your relationship and minimize wardrobe risk by recreating a nice dinner out at home, leaving the fancy part to a reliable restaurant like RPM Italian. They've got everything you need for a romantic evening in, such as chilled oysters, filet mignon, and delicious Italian fare including Maine lobster ravioli with spinach pasta and chili flakes -- and you can have it all in your favorite sweatpants.
Courtesy of Grubhub
When you want ramen but don't want polar vortex winds whipping you in the face…
Dial up some kimchi and fried chicken ramen from Ramen-San and leave the puffy parka at home
Like a roaring fireplace or a mug of hot chocolate, there's something about a nice hot bowl of ramen on a cold winter day that just clicks. Instead of battling the elements to achieve the payoff slurp akin to a windswept vista at the top of a strenuous Alpine trek, skip to the front of the line with a few clicks of the old internet machine. Ramen-San will redefine your preconceptions of what a ramen night at home can mean, where you can replace your old college packets with gorgeous bowls of mouthwatering Asian culinary excellence. Few ramen dishes are as flat-out stunning as Ramen-San's kimchi and fried chicken ramen, which is an absolute must for snapping you out of your winter doldrums in a hurry.
When it's too cold to eat in the park but you want to channel those vibes anyway…
Order a truffle BLT from The Fat Shallot and dream of spring days to come
In summer, there are few things better than grabbing a sandwich from your favorite local deli and eating it in the park overlooking the water. Such a move is easy from the brick-and-mortar location of one of Chicago's most popular food trucks, The Fat Shallot, located just a short walk from leafy Lincoln Park. In winter, however, trying to hunt down a food truck location or eat outdoors is a task that obviously becomes significantly less appealing. Yet hope springs eternal, especially when accompanied by a truffle BLT sandwich from The Fat Shallot. All of their sandwiches are excellent, but this one goes next-level with crispy bacon, arugula, avocado, tomato, and truffle aioli on thick-cut challah. Keep the vibe going with a side of truffle fries and remember that warmer weather is just around the corner.
Courtesy of Grubhub
When you offered to host game night and realized you were out of beer…
Order a 12-pack of Daisy Cutter from Half Acre
Scientific fact: a party isn't really a party without beer. Thankfully, if you find yourself hosting with no beer in the fridge, you can order ice-cold craft beer straight from the source of one of
Chicago's best breweries
. While you might be tempted to head out to Half Acre's taproom to quench your wintry thirst, why bother when they'll bring the brew right to you? Order four- or 12-pack cans of that Chicago outdoor summer drinking go-to, Daisy Cutter, to get the party off on the right foot -- and to bring a little sunshine indoors. If you wanted to throw in a few burritos and pickles from their kitchen, your friends will likely thank you.
When you want to surprise your SO with breakfast in bed (but it's too cold to get out of bed)...
Order a haystack breakfast from Diner Grill
Few things score serious points with your SO like waking them up with a complete breakfast on a Saturday morning. Diner Grill is one of Chicago's most iconic old-school diners, open since 1937 and serving grub 24/7. While it's clearly not the most romantic restaurant in the city, it gets the job done with a standout assortment of classic breakfast items which you can split, including the Haystack breakfast with two eggs, two sausage patties, hash browns, biscuits, and gravy. You may be tempted to order the popular late-night
eating challenge
dish called The Slinger (a whole mess of food including hamburger patties and eggs covered in chili), but trust us: That's going to kill the mood.
Courtesy of Grubhub
When it's review time and you want to impress your boss…
Order the dealer's choice from Stan's Donuts for your team at the office
Picture this: You've bundled up, dealt with the whipping winds around the buildings, waited in line for a new Ventra card, only to show up at work empty handed in the donut department and learn it's review time. First step: Remember not to panic. Second step: Take out your phone and locate Stan's Donuts on Grubhub. With everything from chocolate cake donuts to the more traditional glazed variety, their amount of choices can be overwhelming. And who has the time to ask all their annoying (er, "amazing") coworkers what they want? Leave the hard decisions to the professionals and order the "dealer's choice" of either a dozen or half-dozen donuts that the fine folks at Stan's will select for you based on their "Standards", "Specialties", and "Dough Boy's Best" categories. Then, utilize Grubhub's pick-up feature to grab those sweet bites in a hurry. Once that's handled, you can get back to focusing on what you do best at the office: scrolling Instagram and waiting for spring.
When your power lunch is canceled because of a blizzard…
Order pastrami sandwiches from Manny's Cafeteria & Delicatessen and call into the meeting from home
From Presidents Obama and Clinton to local mayors and governors, anyone who's anyone in the local political scene has dined at Manny's. The old-school Jewish deli has been a local institution for more than 75 years, and today the fourth-generation family-owned business continues to serve as a vital meeting ground for local politicos and business types. So if inclement weather puts a dent in the plans for your latest work summit on South Jefferson Street, it might be time to clean out the "home office" and order up some pastrami sandwiches from Manny's. (Pro-tip: You can even place an entire catering order right in the Grubhub app.) The beef pastrami is the stuff of local legend, which you can also get as part of their popular corned beef and pastrami combo or as a Rueben grilled with Swiss, sauerkraut, and Thousand Island dressing. Whichever way you go, make sure you order yours like a boss.
When you need a date night but the weather won't cooperate…
Order the cheese and chocolate fondue from Geja's Café
Few things kill the mood quite like bad weather. When you need a date night in a hurry and the weather is threatening to freeze your relationship in its tracks, it's time to turn to one of Chicago's
most romantic restaurants
for an assist. Geja's cheese and chocolate fondue has long been rescuing couples from mid-winter slumps, but now you can recreate the mood at home with a few candles and a little flamenco music. Pre-order in advance so the delivery guy will be there before your stomachs start rumbling, then start with the cheese fondue of imported Gruyère blended with white wine and cherry brandy as you dip apples, broccoli, and (of course) bread. Then, finish the night with the decadent chocolate fondue complete with fruit, Rice Krispies Treats, and marshmallows for dipping. So yeah, it's kind of like camping. No tent assembly required.
Jay Gentile is an award-winning freelance journalist specializing in travel, food & drink, culture, events, and entertainment stories. In addition to Thrillist, you can find his work in The Washington Post, The Guardian, CNN Travel, Chicago Tribune, Lonely Planet, VICE, Outside Magazine, and more. Follow @thejaygentile.