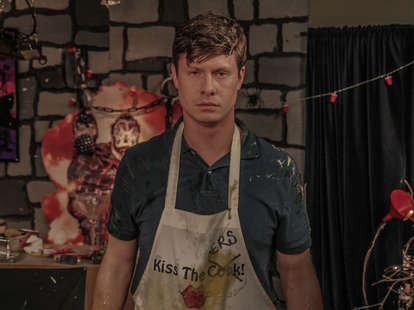 Courtesy of Comedy Central
Nostalgic for that four-year vacation called 'college'? Us too, which is why we're bringing back College Week. Double-sink all of this week's college goodness, all week, right here.
When it comes to Evanston pride, native son Anders Holm of Workaholics fame reps the northern suburb harder than anyone else these days (even Vedder!). So we turned control of our college town best-of guide to the mighty wizard himself to hand-pick the best greasy goodness the city has to offer. Until Evanston opens up a Burweedo shop, these seven Ders-approved junk-food spots will easily tide you over.
Best hot dog
Mustard's Last Stand (address and info)
1613 Central St
A word from Ders: "Lurking in the shadows of Northwestern's football stadium, this establishment is a real throwback."
If you were to abandon your own Wildcat tailgate grill in favor of a Chicago-style dog from Mustard's Last Stand, no one would judge you. With 40+ years in business, the hot dog stand rates high on nostalgia and has the Vienna beef bona fides to show for it.
Best fried chicken
The Chicken Shack (address and info)
1925 N Ridge Ave
A word from Ders: "Get a box of bits or a whole damn chicken. It's legit. And the RC Cola machine is a nice touch. Bring quarters."
For as long as we've been singing the praises of Chicago's best fried chicken (that's not even in Chicago), Anders has been on to it from the get-go. Rightfully so too, because the birds are served crackled and crisp, primed for a hit of hot sauce or honey BBQ. Don't skip out on the biscuits or fried shrimp either.
Best burger
Bill's Drive-In (address and info)
120 Asbury Ave
A word from Ders: "Just the realist of real. Upgrade your life here."
Just over the Chicago border, this lunch counter features menu items that'd be mainstays at a drive-in: dogs, chilli, fries, and shakes. But the burger is the centerpiece; it's a beautifully basic (but not too #basic) thin beef patty that can be tripled up along with grilled onions, cheese, mustard, and pickles.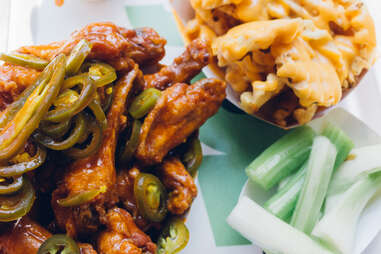 Best wings
Buffalo Joe's (address and info)
812 Clark St, 1841 Howard St, 2000 Green Bay Rd
A word from Ders: "You can't fuck with these wings. Go double order of suicide and you'll be good. Waffle-cut cheddar fries -- unreal."
If you live or die by ranch dressing, you've found your wing joint in Buffalo Joe's. An order of sweet/buttery/spicy suicide wings with chopped jalapeños and cheese fries will make you as happy as Pat Fitzgerald after another non-conference smack down.

Best pizza
Carmen's (address and info)
817 University Pl
A word from Ders: "A heavy-duty Chicago-style pizza from an Evanston chain."
While Giordano's is about as official as it gets, the edge for Northwestern pizza dominance goes to Carmen's. Mitigate pan pizza wait time by ordering ahead and take full advantage of half-price pie nights on Mondays and Tuesdays.
Best gyro
Cross-Rhodes (address and info)
913 Chicago Ave
A word from Ders: "Get the gyro plate. There's secret fries underneath."
Come to the unassuming Greek diner for caramelized beef and lamb carved from the spit, but stay for the double-fried, steakhouse-style Maria fries topped with a lemon white wine vinaigrette and feta cheese.

Best diner food
Sarkis Cafe (address and info)
2632 Gross Point Rd
A word from Ders: "Best place to go at 6am if you've been out all night. Get the Loretta sandwich. Some hash browns. A Sunkist. Game over."
Sure, you could attempt to redeem a disaster of a night the next morning with a Disaster Special omelet (Armenian sausage, cheese, green peppers) or you could just own up to your bad decisions, cure that hangover with Sarkis' signature French bread sandwich and live your life Loretta-full instead of regrettable.

Catch Anders Holm on Workaholics and follow him on Twitter @ders808.
Sign up here for our daily Chicago email and be the first to get all the food/drink/fun in town.
Sean Cooley is Thrillist's senior editor and he does not associate with people who are dirty brown water trash. Follow him on Twitter @SeanCooley.