Just a few years ago Evanston was a culinary stick in the mud, thanks to the regressive liquor laws in the birthplace of the Women's Christian Temperance Union, and the fact that college kids are, well, not the most discriminating diners. Yet today the suburb has a booming scene including farm-to-table restaurants, new Asian food spots, and even a few honest-to-goodness craft beer and cocktail spots. Here are our favorites from all over Evanston's scene. If you're tempted to complain that some old place you loved as a student isn't on the list... trust us, nothing you ate at 1am after a frat party was as good as you remember.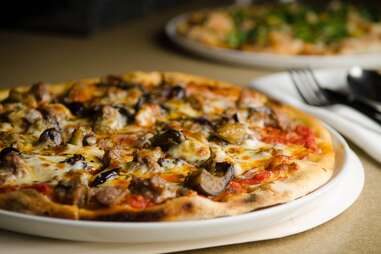 I thought it was a law that every college town had to have a great, old-time pizza joint, but Evanston is largely chains-ville for pizza. What they do have, though, is a first-rate, wood-fired Neapolitan pizza place in Union, a funky-hip spot attached to the Space performing... space. It has also spawned a spinoff, Union Squared, devoted to another regional pizza style -- Detroit's.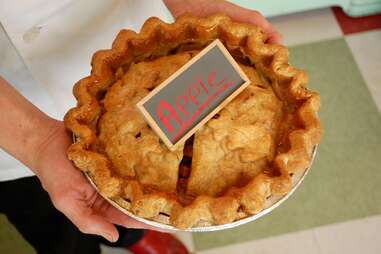 The city's beloved (but very tiny) pie shop, Hoosier Mama, went to the burbs to find more space, opening this cafe with Dollop Coffee. The star attraction is the peerlessly flaky-crusted dessert pies, but there are also savory pies, biscuit sandwiches, scones, and more.
Evanston finally got a contemporary, farm-to-table, small plate-ery in the form of this place from Amy Morton (of Morton's) and Chef Nicole Pederson. More than that, it got a homey clubhouse that feels like it wants to give you a hug the moment you walk in.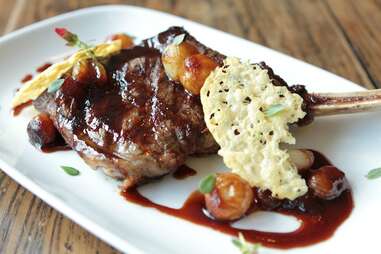 And speaking of farm-to-table spots, a bunch have arrived in Evanston in Found's wake, including an Evanston branch of River North's excellent, rustic, restaurant-tavern, where 'local' means both the food on the plate and the beers in the three glasses next to your plate.
Evanston was a wilderness shrouded in myth and legend until Eddie Lakin put it on the map with his old-school burger joint. He did it by going back to the basics -- fresh-ground burger patties, fresh-cut fries, real shakes made on a Mixmaster -- while sprinkling in some more avant-garde items like lobster fries and Speculoos shakes.
Evanston's first craft cocktail bar sits on the Chicago border, as if it might have to make a dash at any moment. That just adds to the speakeasy atmosphere here, which ranges from well-made classic cocktails like an excellent Manhattan or the whiskey flip, to Tiki exotica like the scorpion bowl. There's a food menu, but it's more snacks (bacon-wrapped dates, charcuterie) than a meal.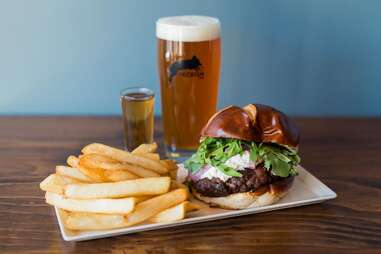 Just a couple of doors from Ward Eight, and like it, a place that gives Evanstonians something their city neighbors have had for a long time. That is, a temple of porky delights, from charcuterie platters and bacon-fat popcorn to start, to global comfort food like lamb tacos and roasted pork belly with mashed potatoes. Nice patio for the summer months, too.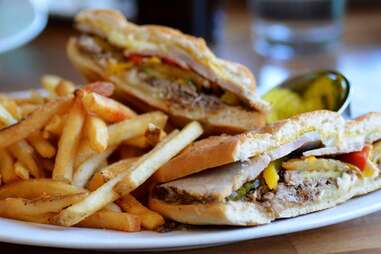 Looking for a place that Mom and Dad will find comfortable on a game day, but at the same time, meets the demands of your refined palate? Down the street from Ryan Field, this is your choice -- the food includes barbecue and Neapolitan pizza, while the Midwestern craft beer list is well-curated and includes some Evanston brews. The only hitch? A thousand other people had the same idea that day.
Chicken Shack's take on fried chicken is elementally simple -- salt and pepper, fry it, and serve with tangy barbecue sauce -- and the result is terrific, some of the top fried chicken in the Chicagoland area. Summer bonus: they'll even deliver it to you at Evanston beach.
The space that once held the notorious Keg bar is now a gleaming white coffeeshop and bakery. The in-house baked goods like croissants and pastries are very good; the breakfast and lunch items are not as impressive, but it's brand new, give it a chance.
Jamaican food is like a cross between the spiciest Indian food you can think of and the comfiness of Thanksgiving dinner. This Jamaican joint (and its friendly owner) dish up a full range of things from its tiny buffet line kitchen, including jerk chicken, savory oxtail stew, and blazingly hot curry goat.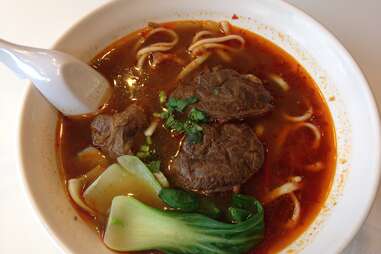 Lots of brightly modern Asian cafes seem to be springing up in Evanston, but this one is a rarity not only for Evanston but the city as a whole -- serving Taiwanese dishes (get the beef noodle soup) as well as the more common Korean and Chinese comfort dishes.
Sign up here for our daily Chicago email and be the first to get all the food/drink/fun in town.