We don't mean to alarm you, but there are only 14 weeks left until the start of winter. So you can make the most of 'em, we've created a sort of "Fall Eating Challenge", wherein we give you one must-eat Chicago food for every weekend between now and the next polar vortex. Eat 'em in order, or out of order, or ALL AT THE SAME TIME -- either way, you should be able to hibernate well into spring.
Recommended Video
Where the Wild Things Grow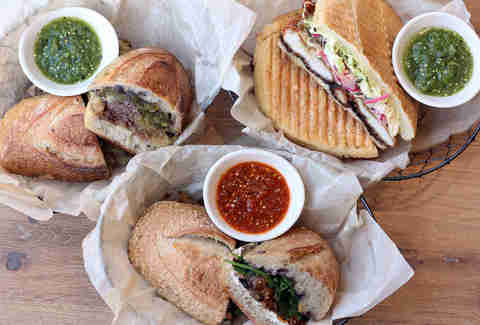 September 12-14: Tortas
Back-to-back next weekend's Lakeview Taco Fest by getting tortas this weekend in Wicker Park at Rick Bayless' new XOCO location. The Pepito's got braised short ribs, caramelized onions, and jack cheese, and the location's got its own guacamole bar.
September 26-28: Bratwurst
Oktoberfest in Chicago means three things: bratwurst, Bavarian pretzels, and lacy lederhosen. Take in as many as you can of the first (this should help), or hit the Oktoberfest Chicago bash at St. Alphonsus Church for all three AT THE SAME TIME. Bonus: hitting the latter counts as attending church for that week/month/year.
October 3-5: Umami Burgers
If you've never had a burger with soy sauce-style Umami Master Sauce, you maybe aren't actually even alive right now. Find out for sure at famed California chain Umami Burger, which's opening its first Chicago location in Wicker Park. Cue the line.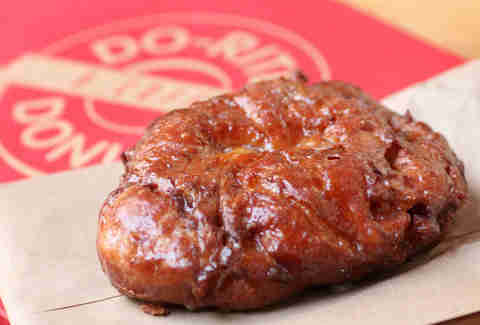 October 10-12: Apple fritters
If you had to put a soundtrack to the changing of the seasons in Chicago, it would probably either be 1) the sound of leaves crushing beneath your feet, or 2) the sound you make when biting into a Michigan apple or cranberry orange fritter at Do-Rite Donuts. Let's throw our support in the 2) column, shall we?
October 17-19: Wings
How the hell have we gone seven weeks into the NFL season without mentioning wings? Correct such an egregious oversight at the Korean-flavored Crisp, aka the No. 1 wings spot in the city.
October 24-26: Lobster rolls
Here's something you probably didn't know: lobsters are less active when the temperature drops, which means lobstering stops almost completely when half the US is polar vortexed. Here's something you probably did know: this means you're gonna need to load up on lobster before it's too late. Get your fix at one of two Downtown Da Lobsta locations, where you can do your lobster roll Greek-style with feta, Indian with mango chutney, or American (read: with bacon).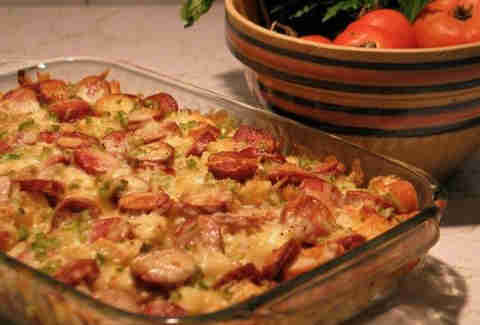 October 31-November 2: Casserole
Instead of overdosing on Twix this Halloween weekend, get your fill of something more substantial (like, way more substantial) at Chicago's one-and-only casserole café. And at Johnny Casserole, The Big Grabowski with kielbasa and sauerkraut is calling your name.
November 7-9: Sushi
You're about to hit the Mount Rushmore of food holidays, give your stomach a mild break with Toro Sushi's Oh My God Roll, packed with an unholy combination of shrimp tempura, kami salad, unagi, cream cheese, mayo, cucumber, and avocado. OK, a very mild break.
November 14-16: Chicago-style sandwiches
Start your hibernation early by heading to Bronzeville institution Southtown Subs for the Jim Shoe: roast beef, corned beef, and gyro meat, all on one sub. Plus lettuce, tomato, mustard, mayo, cheese, and tzatziki. Cholesterol test optional.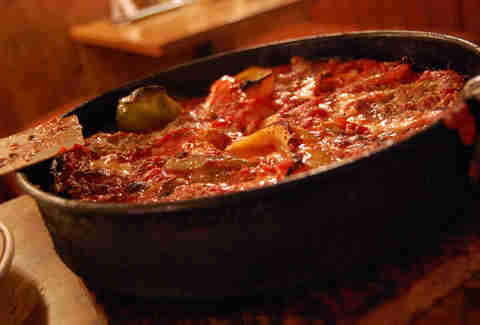 November 21-23: Deep-dish pizza
Chicago deep dish sometimes gets a bad rap (we're looking at you, Daily Show), but Burt's Place in Morton Grove more than makes up for it. Bail on Pizzeria Uno and impress your in-town Thanksgiving week in-laws with some real Chicago deep dish.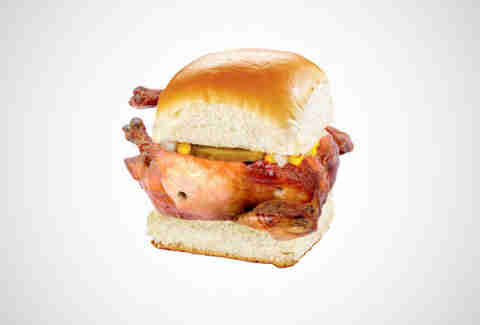 November 28-30: Turkey
Now that Thanksgiving is over, you won't be cooking for quite some time. Luckily, you can still get your turkey fix on the cheap thanks to White Castle's recent experimentation with the cranberry turkey slider, now available in select locations. For real.
December 5-7: Bagels
After a heavy eating weekend, it's time for something light...ish so do it up with the BLT Bagel Sandwich with garlic aioli at Wicker Park's new Piece-operated Brobagel, where you can also get a pizza bagel (or just head next door to Piece for the real thing).
December 12-14: Chicken & waffles
Take a break from your frenetic holiday shopping (or continue to delay your frenetic holiday shopping) at Chicken Shop at Soho House, the West Loop's newest branch of the exclusive, members-only hotel. And what could be more exclusive than chicken and waffles? Sounds about right.
Sign up here for our daily Chicago email and be the first to get all the food/drink/fun in town.
Jay Gentile is the publisher of Chicago INNERVIEW Magazine and a Chicago-based freelance writer who likes to plan his meals well in advance. Follow him on Twitter.