Fried chicken and donut wars: 12 openings to look forward to this Fall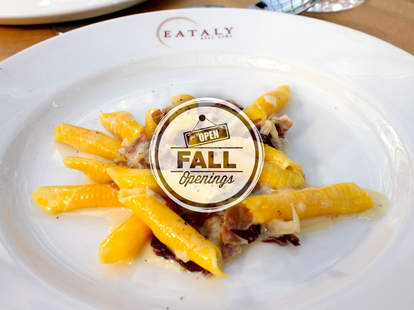 This Fall in Chicago is going to be different, and not just because you won't get to watch Lovie Smith comically mismanage time-outs and challenge flags from the sidelines (though you may get to watch Marc Trestman do it) -- it's also because there will be a bunch of new places you need to eat and drink. Check out the ones we're most excited about.
Name: Honey Butter Fried Chicken
Opening in: Late August
Why You Should Care: Having emerged from an underground Sunday dinner club to become occasional pop-up market darlings, the cooks behind this 60-seat fast-casual restaurant (with a backyard patio) in Avondale will be slathering honey butter on... waitforit... fried chicken, along with seasonal sides and down-home desserts.
Boldface Communications Group
Name: Chop Shop and The 1st Ward
Opening in: Early September
Why You Should Care: The multi-tiered Wicker Park venue will house a bar, a restaurant helmed by Joshua Marrelli (Urban Union), plus a deli and butcher shop (you better believe they're grinding their burgers in-house), and an attached event space named The 1st Ward that'll house live music.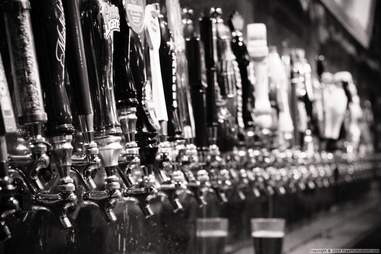 Name: Harding Tavern
Opening in: Late September
Why You Should Care: This vintage tavern in Logan Square pays tribute to the original Warren G The Harding Theatre from the '60s (the long-lost sister theater to the Congress) with an extensive craft beer list and late-night grub.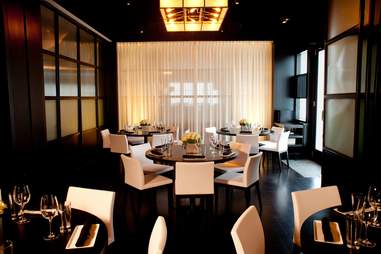 Name: RPM Steak
Opening in: Early October
Why You Should Care: This contemporary steakhouse in River North is the work of the Melman brothers and the Rancics (the same group that brought you RPM Italian, above). While they aren't necessarily looking to repeat the Italian flavors of their predecessor, don't be surprised if the beloved meatballs make an appearance somewhere.
Name: Moxee
Opening in: Early October
Why You Should Care:Microbrewing makes its way to University Village with this 120-seat barnwood brewhouse sporting an outdoor patio, smokehouse pastrami, and awesomely named in-house brewing operation Mad Mouse which's turning out beers that will only be available on the premises.
Name: The Radler and D.A.S.
Opening in: Late September
Why You Should Care: Logan Square gets itself a German beer hall brought to you by a couple of proteges of Paul Virant; expect plenty of house-made, locally sourced Bavarian-style encased meats as well as an aged beer program. For those seeking more exclusivity, D.A.S. will be a smaller, more intimate tasting menu-driven concept.
Mercadito Hospitality
Name: Tippling Hall
Opening in: Early November
Why You Should Care: Coming off the success of their kegged cocktail program at Tavernita, the Tippling Bros. (Paul Tanguay and Tad Carducci) are opening a beer hall (though don't think they'll forget about cocktails) that could house Vikings with its long communal tables, while appealing to late-night revelers/crazy early-risers with global comfort food available until 5a on weekends.
Name: Eataly
Opening in: Mid-November
Why You Should Care: IT'S A-ME, MARIO… Batali. The celeb chef takes over the former Texas de Brazil to build out 63,000sqft that'll include six full-service restaurants, an on-site brewery with a beer tasting room, a cooking school with event space, and enough tasty Italian groceries to convince Nonna you're eating well.
Name: The Promontory
Opening in: Late Fall
Why You Should Care: Built from reclaimed materials from Hyde Park's Piccadilly Theater, this is the latest concept from the Longman & Eagle team, looking to continue its hot streak after ruling the Summer with Parson's Chicken & Fish.
Name: Old Crow Smokehouse
Opening in: Late Fall
Why You Should Care: Taking over two storefronts on Clark Street (including the former Chen's space) in the BBQ hub of Wrigleyville, the owners of John Barleycorn and Moe's Cantina are looking to carve a new niche with this Asian barbecue- and whiskey-focused bar. Maybe there will be some actual excitement in Wrigleyville this Fall.
Name: Stan's Donuts
Opening in: Late Fall
Why You Should Care: You may tell your grandchildren one day about the Great Donut Takeover of 2013, as Labriola Bakery is teaming with South Cali's old-fashioned Stan's Donuts to open a 20-seat shop in Wicker Park's six corners, across from Glazed & Infused's takeout window.
Name: NICO
Opening in: December
Why You Should Care: Paul Kahan's latest project at the Thompson Chicago Hotel in Gold Coast (yes, it's named for the Velvet Underground-collabing songstress) will be in good hands with Erling Wu-Bower moving over from Avec to man the kitchen, which'll be turning out a seafood-studded Italian menu. And that doesn't even cover dessert, which'll be under the purview of star pastry chef Amanda Rockman (Balena, L20).