13 Chicago Chefs Pick Their Last Meal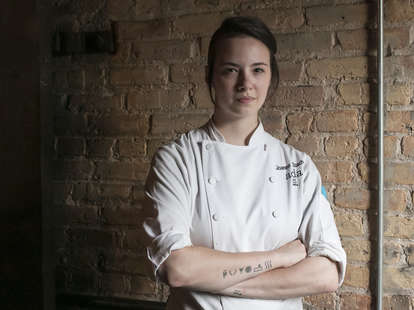 If today were your last day on earth, certainly the most looming concern that'd be on your brain is what would be your very last meal? We pose this macabre question to a handful of Chicago chefs, and the responses range from nostalgically tender to irreverently funny, over-the-top, humble, and even a bit unoriginal. Whether it's a multi-course, wine-soaked feast, a re-creation of mom's home cooking, a big bowl of fatty pork and noodles, or a pastrami sandwich wolfed down in the company of President Obama, these 13 chefs all plan on being well-fed if they have any say in the matter.
Where she'd eat: San Soo Gab San
Who she'd dine with: Anthony Bourdain
What she'd order: Tteokguk (Korean beef & rice cake soup) with rice and kimchi, in an homage to her childhood. "This has been my ultimate comfort food since I was a kid," she says. "It's a Korean tradition to eat this soup on New Year's day, but it was my mother's go-to meal. I still order this from my neighborhood Korean BBQ (San Soo Gab San) almost weekly."
Thai Dang, chef/owner of the forthcoming HaiSous
Where he'd eat: Mirai, at the chef's table
Who he'd dine with: His wife and business partner, Danielle Dang
What'd he'd order: Some highly specific a la carte items followed by omakase. A la carte highlights include:
- Spicy mono -- octopus that "still has some bite," "perfectly" cooked rice, and balanced sauces without too much heat
- Shrimp togarashi -- tail-on shrimp with sticky, sweet, umami-rich sauce with an order of rice;
- Hand-rolled unagi/eel -- sushi chef Jun San warms the eel then torches the skin, piles it on sushi rice with fresh grated wasabi, wraps it in seaweed, and hands it to you to be devoured
"I don't know if it's the act of the interaction making it more enjoyable or the fact that the eel is perfectly warmed up, smoky, sweet and savory sauce on the perfectly balance sushi rice, but it's so special," Dang says. Omakase would depend on the chef, but an absolute must would be the uni. "He knows we love it nigiri style," he adds.
Where he'd eat: Kai Zan
Who he'd dine with: His wife and son, "because they're the most important things in my world, period. And sharing a thoughtful meal with them is the ultimate expression of sharing love, which is ultimately at the backbone of any memorable meal. The food is just the medium," he says.
What he'd order: Omakase. "The idea of connecting with a chef's intention and vision via omakase is so beautiful, raw and temporary -- one of the many, yet few, ways in which we can still be surprised in our day to day," he says. "So, so fun."
Where he'd eat: His home kitchen
Who he'd dine with: His family
What he'd have: A home-cooked meal inspired by his grandmother -- perhaps the marinated Korean short ribs with sesame chimichurri and crispy shallots that's now a fixture on the menu at bellyQ. "She lived on an apple orchard about two hours from Seoul and was an exceptional cook," he says. "My mom and grandmother inspired me and my mom was actually the first person to assign me a formal kitchen duty -- roasting sesame seeds and grinding them in a mortar and pestle -- so my last meal would definitely have to be a family recipe."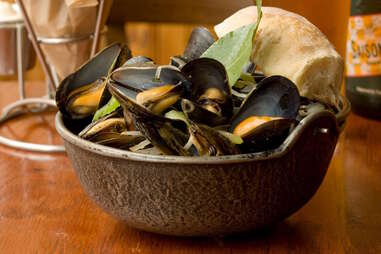 Where he'd eat: Hopleaf
Who he'd share it with: His wife and past and current kitchen colleagues
What he'd order: Toasted Nueske's ham sandwich with mussels and a glass of Brasserie Dupont Avec les Bons Voeux
Why: "I have amazing memories of eating and drinking at Hopleaf since their opening," he says. "Their menu has always been geared toward the palate of chefs and cooks, and I've hung out there with more colleagues over the years than I can count."
Where she'd eat: Ramen Misoya
Who she'd dine with: Her girlfriend Ronnie
What she'd order: Kyoto-style shiro miso spicy ramen topped with three (yes, three) pieces of grilled pork belly and a miso-poached egg. "I know people in Chicago have a tendency to fight for their claims of who has the best whatever it may be, but trust me, this is hands down the best ramen in Chicago," she says. "Plus, I think we can all agree the best way to go out is to be full to the brim of fatty pork broth and noodles."
Where he'd eat: Eleven City Diner
Who he'd dine with: His family
What he'd order: Pastrami on rye sandwich. "My mother Addie Mae Smith, a Southern, chicken-and-dumpling-making kind of woman, started feeding me this sandwich at a very young age from a deli in Miami while we were visiting from North Florida," he says. "The flavors of the rye bread and the savory, sweet, salty flavor of the pastrami and the mustard -- Mom took my palate to another place and taught me about a different culture. I still love this sandwich, and I adore the Rubin family... who continue to love and feed my four kids."
Jovanis Bouargoub, chef/owner, Chop
Where he'd eat: His "beloved" Manny's Deli
Who he'd dine with: President Barack Obama, with whom he would discuss his world views.
What he'd order: The Chazzer, "which is hands down, the best corned beef sandwich in the city," he says. It comprises corned beef and pastrami piled high on rye with cole slaw, Muenster cheese, and a side of Thousand Island dressing. He and Mr. President would finish with a slice of pie, because why not?
Sean Murray, executive chef, Allium
Where he'd eat: Grace. A Chicagoan for only a few months, Murray says his deathbed meal would be his most memorable since moving here.
Who he'd dine with: His best friend, Jason. "If it's the last meal, there will be a lot of reminiscing, and I have known Jason forever. We have lots and lots of stories, both good and bad from over the years."
What he'd order: The Fauna Tasting Menu, because "why not go out with a bang?" he says. "It's not just a meal, but an incredible experience as well."
Where he'd eat: Le Bouchon, because when facing the "great dirt nap" Manion says he'd remain a sucker for the classics.
Who he'd dine with: His wife Nicole, his parents, and his dog
What he'd order: A lot, washed down with a "very large amount of very expensive wine." Said meal might include:
- A "wee slice" of foie gras torchon;
- Soupe à l'oignon gratinee;
- Salad Lyonnaise;
- A toss-up between off-menu sweet and sour sweetbreads with braised cabbage ("Oliver knows what I'm talking about," he says), or sautéed rabbit livers done the old-school way in mustard sauce;
- Cote de boeuf, medium-rare, au poivre with brandy mustard cream, sliced and served on top of their frites. Yes, that's two mustardy dishes in a row;
- Profiteroles with vanilla ice cream;
- Finally, a double espresso and a cigarette. "I quit smoking some time ago, but I'm apparently dying shortly after this, so what the hell," he says.
Where she'd eat: Green City Market
Who she'd dine with: Her family and the many market vendors who've been around since Floriole started 10 years ago
What she'd order: Pizzas at Nomad, grilled cheese from Gayle's, fruit smoothies from Seedling Fruit, and pastries from Verzenay, to name a few. "I have great memories of our early days at the Green City Market and would love to spend my last day and eat my last meal there," Holl says. "I can't think of a place that has a better selection of seasonal fruit and veggies and ready to eat food too."
Where he'd eat: His home kitchen
Who he'd dine with: His four brothers
What he'd have: A home-cooked ode to the food his mom used to make, starting with velvety fondue dip with chili and kidney beans. For the entrée, he'd make beef brisket braised in barbecue sauce with braised green beans with tomatoes and fried onions, corn on the cob, and mashed potatoes. For dessert, he'd make buckeyes, or chocolate covered peanut butter and rice crispy balls. "Mom's cooking was good, honest Midwest food, but she also had five hyperactive boys to feed three times per day," he says.
Where he'd eat: Alinea
Who he'd dine with: His wife and his mother
What he'd order: Lamb 86 -- the famous dish made up of 86 individual components -- and not just because it's tasty and visually stunning. "For me, it is not only important to eat a delicious last meal, but to also have a memorable experience that will stick with me," he says. "The Lamb 86 from Alinea tastes like absolute heaven -- a (work of art) even. Being able to eat a dish where I can taste the passion from the chef in every bite would be a worthy last meal."
Sign up here for our daily Chicago email and be the first to get all the food/drink/fun in town.
Maggie Hennessy is a freelance food and drink writer whose last meal on earth would be spaghetti and meat sauce. Follow her till the bitter end on Twitter @edible_words.