You're on the hunt for a spot for a friend's birthday dinner, when a familiar fine-dining restaurant description catches your eye: a sleek, wood-accented spot boasting an elevated shared-plates menu, anchored by seasonal ingredients cooked over a wood-fired grill. A killer house-made cocktail list and knowledgeable yet unpretentious staff. Perfect, right?
"But," you wonder, proverbial finger trembling over the "confirm reservation" key, "will I feel under-dressed in jeans?"
Following suit with America's overarching restaurant trend, that last portion of the scenario is likely what you least identify with nowadays. A certain come-as-you-are attitude has overtaken Chicago's fine-dining scene, as places find more ways to appeal to what the flannel-cloaked, food-savvy masses consider "an occasion." But as dress codes and service styles loosen and dishware gets ever-more charmingly mismatched, one might wonder how did we get here.
Now the channel that Chipotle carved out is not only the fastest-growing in the foodservice industry for five years running, it's evolving quicker than smartphones.
In the leaner, post-recession days of 2008, a budding fast-casual segment seized on a cash-strapped generation, offering them higher-quality food and better service in sleeker spaces free from the bolted-down plastic furniture and jaundiced lighting of traditional fast-food joints. What emerged was not quite fast-food, not quite full-service -- a new restaurant category where patrons queue up for high-quality, minimally processed food made before their eyes in an open kitchen that reflects the restaurant's ownership over its ingredients and process. With sleek decor and warm, engaged servers who often bring out the meal, fast casual wants diners to know that they care as much about ambience and hospitality as food with a story.
Fast forward eight years, and the channel that Chipotle carved out is not only the fastest-growing in the foodservice industry for five years running (according to Chicago-based Technomic), but it's also evolving quicker than smartphones. Under labels like "fast casual 2.0," "fresh casual" and "fast fine," next-generation restaurant concepts are promising far higher levels of food quality, chicness, and hospitality than the outdated 1.0 model -- albeit at slightly higher price points. In the process, they're blurring the line that separates full service more than ever.
"There's obviously an evolution happening," says David Rekhson, principal and founder of DineAmic Group (Siena Tavern, Prime & Provisions). "I think there were more extremes back in the day. Before people were doing more sustainable, better food in a less expensive environment, either you'd eat at home or go out. Now, there are so many options... for $20 or $30, instead of $100, where consumers can still feel like they're at an interesting place with good service and a quality food product.'"
Many of the city's buzzier openings of late all fit this bill of serious food and drink in more denim-friendly digs. From Bar Siena, DineAmic Group's part table-service Italian restaurant, part doughnut takeout window; to Boeufhaus, the gourmet deli by day, sleek full-service meat temple by night; to Rick Bayless' Baja-style newcomer Leña Brava and conjoined brewpub Cruz Blanca, with a queue-up ordering routine that, in the past, would've only been reserved for burrito bowls.
This notion of dressed-down finer dining is seemingly permeating every facet of eating in Chicago. Supermarkets have added higher-end service components, from sushi counters to wine bars. Food halls pack bar bites, retail, and multi-course fine dining into a single locale; while stadiums and airports are snagging lauded restaurant brands like Big Star, Lillie's Q, and Tocco. For those who like their occasion meals home cooked, braised short ribs and seafood risotto are as easy as opening a refrigerated box full of pre-measured ingredients and following a set of near fuckup-proof cooking instructions.
Jeans and a hoodie: the new suit and tie
Chef/restaurateur Rick Bayless chalks this better food movement up in part to the so-called Food Network effect: younger generations raised on food TV understand and appreciate food and its origins much more than the diners of 30 years ago. And as they age and their disposable incomes rise, "they're choosing to spend their money on interesting, quality food on a regular basis," he says.
But as those same food-loving penny pinchers have recovered from '08 and are spending more on better food, why hasn't formality made a comeback in dining?
Many of the city's buzziest openings of late all fit this bill of serious food and drink in more denim-friendly digs.
"Even though consumers like that fine-dining quality, they don't like stuffiness anymore," says Technomic consumer insights director Kelly Weikel. "So what we're seeing in fine dining is a more casual, no longer white-tablecloth approach, even though they still call themselves fine dining."
The rise of coworking spaces and tech-forward startups with more lax work-from-home policies -- where Google Hangout is as close as some get to a meeting room -- are undoubtedly contributing to the casual-chic zeitgeist. Brendan Sodikoff, founder of Hogsalt Hospitality -- whose famed burger at haute diner Au Cheval spun off a more casual sibling joint, Small Cheval, where patrons grab a buzzer awaiting their made-to-order burger -- says it's simply a matter of formal dining evolving with people's lifestyles.
"Food follows the way people live," Sodikoff says. "It's not necessarily as structured as far as attire, expectations, or what it means to have a formal night out and what that looks like anymore. There are plenty of people with tremendous jobs working from home who go out for a nice dinner in jeans and a hoodie. It's a different time from when that might have been a suit-and-tie individual."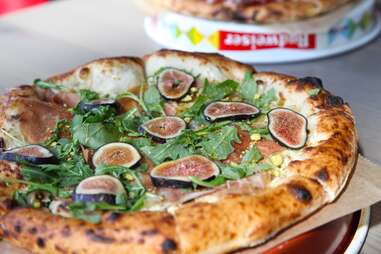 The rise of the hybrids
One of the more interesting phenomena born of this movement is the emergence of one-size-fits-all dining. Higher-pedigree restaurants are incorporating fast-casual elements during at least a portion of the day, so you can shovel in a house-cured ham and artisanal mustard sandwich on house-made bread in tasteful sweatpants ("they're joggers!") at lunch, then throw on a blazer and come back for cocktails and elevated small plates at dinner time.
Some of this has to do with location. When DineAmic Group opened the full-service Bar Siena at Green and Randolph in the West Loop last summer, the group was after a much more casual, neighborhoody vibe than the more formal steakhouse Prime & Provisions, which it opened on the northern edge of the Loop last May, which draws suited walk-ins from the financial district.
"There's already a lot of fine dining and higher price points in the West Loop, but given the presence, foot traffic, and feel of the corner, we wanted do something a little more casual," Rekhson says.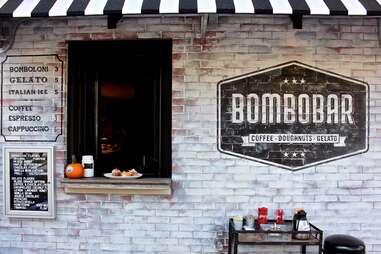 Hence the open kitchen with mosaic tile pizza oven, and the bar as the focal point of the multi-level Bar Siena -- which is as much intended for first dates and business dinners as hungover Sunday brunch. Bar Siena's hybrid element is a walk-up window adjacent to the restaurant. Bombobar, which sells hot, fried-to-order Italian filled donuts and gelato, is doubling as an informal focus group for the restaurant.
"Bombobar is something we'd like to do more of, so we wanted to [test it in] a more fast-casual environment," Rekhson says. "Whatever Bombobar turns into, at the very least it's getting exposure among people who'd normally be at Bar Siena eating and drinking."
Mary Nguyen Aregoni, co-owner with her sister Theresa Nguyen and their mother Mama Suu of Vietnamese counter-service spot Saigon Sisters (and recently opened fast-casual Thai joint Bang Chop) also took a hybrid approach to make the most of its location on a quiet stretch of W Lake St.
The signature banh mi, along with pho, stir fries, and fried rice at lunch give way to more elevated plates like grilled confit octopus with cuttlefish ink rice and lamb tenderloin with oyster sauce and French breakfast radishes for dinner service.
"I didn't like idea of having banh mi all day, for example, because I'm not going to maximize my average check that way," Aregoni says. "I needed to add a chef and create a more interesting menu and sit-down service to draw people in. It's out of the way, not on a main strip."
Casting a wider net
For independent restaurant owners stepping into an increasingly expensive, competitive environment, being everything to everyone is a matter of economics.
"For a lot of places opening up, as much as the chef, restaurateur, or front-of-house person aspires to white tablecloth, they simply can't afford what it really takes to do that right now," says Brian Ahern, co-owner and executive chef of meat-centric Boeufhaus in the Ukrainian Village. "There are so many talented young chefs venturing out on their own or trying to, being [both fast casual and fine dining] comes out of necessity as much as wanting to deviate from the norm."
Boeufhaus slings gourmet sandwiches from its butcher counter during lunch before morphing into a low-lit, full-service steak joint at dinner, with entrees running up to $62 to match a serious list of curated wines from the team at Red & White wine shop. Though co-owners Ahern and Jamie Finnegan both came from traditional fine-dining backgrounds, they deliberately sought a more "convivial" concept that straddles casual and high end.
"Part of it is your philosophy, in addition to physical location and demographics, which tells you about what kind of place you're supposed to be," says Finnegan. "But now [opening a restaurant] is such a major investment of time and money that you also have to really maximize your opportunity."
Ahern echoes this: "There's a practicality to the thought of, 'we're here, the lights and stoves are on, and we're prepping for dinner, so let's hire two more people and cook lunch while we're at it," he says.
The shift in ambience doesn't stop patrons from asking if they can get pastrami on rye during dinner service even though the butcher counter is dark. The same goes for Aregoni, who frequently tells confused Saigon Sisters patrons wanting banh mi to come back at lunch or go to the French Market location. But both restaurants welcome the stronger following they've developed as a result of customers' familiarity with their more casual counterparts.
The new high bar
Sure, competition is tighter than just-washed jeggings, and people's expectations of food quality are sky high, but it's still a damn good time to open a fine-dining restaurant.
Technomic is forecasting a second straight year of solid growth for the category. Last year, fine-dining beat out all other full-service categories in unit growth, up 5.1 percent, and it's on track for 3.9 percent unit growth in 2016. (By comparison, fast casual grew 8.2 percent last year, and is up 7.8 percent in 2016).
And while chefs like Bayless peg Chicago diners as inherently more casual and less showy than their coastal big-city counterparts, the dressing-down of fine dining isn't unique to Chicago or even the Midwest. Everywhere from New York to San Francisco, Philly and St. Louis are seeing the results of the muddying of the fast/fine waters -- as famed chefs like Jose Garces (Amada in NYC, Rural Society in DC and Chicago), Top Chef's Kevin Sbraga (The Fat Ham in Philadelphia), Michelin-starred David Kinch (Manresa, The Bywater in the Bay Area), James Beard Award-winning Gerard Craft (Taste, Pastaria and the newly launched Sardella in St. Louis) put their brands behind more casual concepts.
Meanwhile, the fine-dining 2.0s keep coming to the Windy City. Stephanie Izard (Girl & the Goat, Little Goat Diner) plans to add a carryout window to Duck Duck Goat, her full-service spot with creative Chinese fare. World-class chef Grant Achatz is getting a taste of casual fine with Roister, a lively West Loop spot with an open kitchen and seriously good fried chicken. The forthcoming two-story, dual-concept Smyth & the Loyalist brings two full-service restaurant personalities under one roof -- a come-as-you-are neighborhood tavern downstairs; and an intimate, tasting menu-only restaurant upstairs that the owners liken to what fine-dining would be like in their home.
Does that mean the next logical iteration of fine-dining in Chicago eating in chefs' homes? (Less overhead!) Or perhaps an ever-roving dinner party? Will fast-casual strike back by bringing humane caviar and foie gras to counter-service?
As Sodikoff points out, the big remaining differentiator between fine and casual dining will always be the level of service.
"Today, if you open a restaurant and serve wonderful classic cocktails, who cares? Or farm to table meat, game and produce, who cares?" he says. "Everyone does that. The difference now between casual and more formal is your level of generosity with people."
And as long as restaurants keep on upping the emotional ante on dining out, we'll keep showing up in our Canadian tuxedos to live it, because going out to eat is far more than a meal away from home.
"If I give you a piece of chocolate out in the garage and tell you it's the best in world, you might not believe me," says Sodikoff. "But if I give you that same piece of chocolate in a 16th century palatial environment under a $4,000 chandelier, you'll say it was the best chocolate in the world. And that's real. You feel differently about it because there's more to dining than what you put in your mouth. It's the experience around you and making it a special occasion." Sign up here for our daily Chicago email and be the first to get all the food/drink/fun in town.
Maggie Hennessy is a freelance food + drink writer who has enough denim for a week's worth of Canadian tuxedos. Follow her latest musings on Twitter + Instagram (@edible_words) and at MaggieHennessy.com.