Food Carts Are Finally Legal in Chicago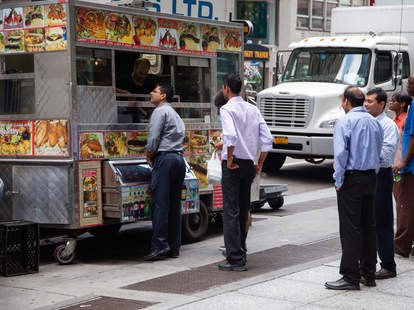 <a href="http://www.shutterstock.com/gallery-92898p1.html?cr=00&amp;pl=edit-00">Kaesler Media</a> / <a href="http://www.shutterstock.com/editorial?cr=00&amp;pl=edit-00">Shutterstock.com</a>
With food carts on practically every corner in some places, NYC's endless smorgasbord of street food has often been used to make Chicago feel inferior. But that's all about to change. Finally.
After decades of prohibiting such street eats, the Chicago City Council approved an ordinance Thursday allowing food carts to legally operate by obtaining a license. Currently, the law bans vendors from selling cooked foods like hot dogs and tacos, but countless food cart vendors have served such meals anyway and risked arrest, according to a report by NBC Chicago.
The ordinance is a significant first step toward better food cart regulation in the city, but as a report by Eater points out, vendors will continue to face big restrictions. For example, all food sold on food carts must be prepared in a commercial kitchen approved by the health department and come fully wrapped or packaged, according to the report. But just think about all the post-drinking grub that'll likely pop up in Wicker Park, near Wrigley, and in other busy entertainment districts. It's about freaking time.
Advocates said allowing legal food carts could create as many as 6,400 new jobs and even bring in up to $8.5 million in sales-taxes for the city on top of revenue from the license fees, according to the NBC report. The ordinance, which was proposed by Ald. Roberto Maldonado (26th Ward) and Ald. Willie Cochran (20th Ward), will take effect in 30 days. Seems like the Halal Guys won't have to stick with brick-and-mortar stores in Chicago after all.
Sign up here for our daily Thrillist email, and get your fix of the best in food/drink/fun.
Tony Merevick is Cities News Editor at Thrillist and wishes this happened years ago when he still lived there. Send news tips to news@thrillist.com and follow him on Twitter @tonymerevick.