Since Chicago FINALLY began issuing on-board cooking licenses to food trucks, the floodgates have opened for fresh curbside eats satiating everyone from cubicle-dwelling worker bees to hungry barflies (who may or may not be drinking to forget their cubicle). As food trucks jockey for parking to offer up goodness like smoky BBQ, handmade pot pies, and fried chicken, you'll only have to jockey with other customers in line at these top-tier trucks.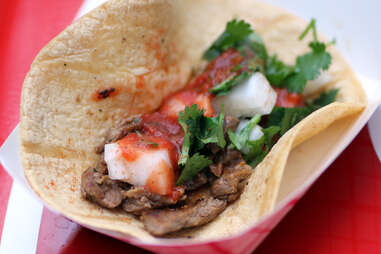 The Salsa Truck
Where to Find It:West Loop, The Loop
Dish to Get: The carne asada taco serves as a fine canvas on which to paint any of the truck's ten signature salsa including roasted tomatillo, sweet habanero, and serrano & pineapple. After being the first licensed truck to cook on-board, Dan Salls has opened up a food truck hub called The Garage in the West Loop.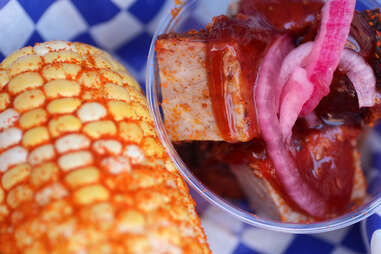 Husky Hog BBQ
Where to Find It:River North, West Loop
Dish to Get: This meaty BBQ truck serves up both applewood-smoked pulled chicken and bacon baked beans, but the burnt ends are true beef candy that usually sells out within the first 20 customers, so queue (!) up early.
Beavers Coffee and Donuts
Where to Find It:River North, The Loop, Hyde Park
Dish to Get: As if milkshakes weren't already delicious enough as-is, wait until you find out what happens when you take four scoops of Bobtail ice cream mixed with mini buttermilk donuts, and top it with whipped cream, chocolate, and caramel sauce. The answer is diabetes... but BEFORE that, the answer is amazing.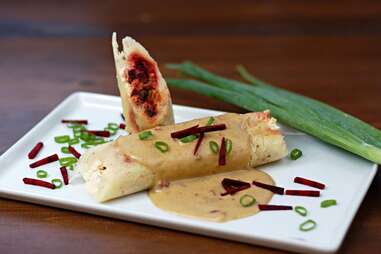 Tamale Spaceship
Where to Find It:River North, West Loop, The Loop
Dish to Get: Even though the driver of this tamale-touting eatery is dressed like a luchador, you won't have to worry about Rey Mysterio hitting you with a hurricanrana, so rest easy and order up the Rajas con Queso filled with fire-roasted poblanos, panela cheese, and tomato-jalapeno sauce.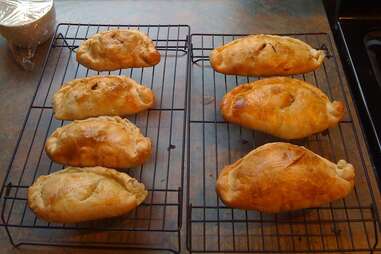 Bridgeport Pasty
Where to Find It:West Loop, Bridgeport, Hyde Park
Dish to Get: Slinging pies from a modified Mini Cooper, these pasties are not the nipple covers you may or may not be accustomed to -- they're a delightfully filling handheld British pastry creation. The chicken pot pie, filled classically with peas & carrots, is a way better marriage than Forrest & Jenny.
The Fat Shallot
Where to Find It:Goose Island, River North, The Loop, Hyde Park
Dish to Get: A riff on Chicago's onion-based name origins and helmed by a Tru vet, this truck satisfies with its pretzel-bunned griddled salami sandwich topped with pickled red onions, fried egg, and a smoky BBQ sauce. Try pairing it with some with cheesy giardiniera fries, because why not?
The Slide Ride
Where to Find It:River North, The Loop, Hyde Park
Dish to Get: The Slide Ride girls aim to please, with a spread of sliders that are somehow even more awesome than Jerry O'Connell, including an Angus cheddar burger topped with brown sugar bacon and caramelized onions that will make it worth sacking up.
The Roost
Where to Find It:River North, The Loop, Hyde Park
Dish to Get: Carolina comfort food rolls into town (well, through town -- they're already here) with tremendous sides like buttermilk biscuits, mashed sweet potatoes, and seasonal cobbler, but the star of the show is undoubtedly their crispy, spicy fried chicken.