Get Some Free M Burger Tomorrow to Celebrate Its 5th Birthday!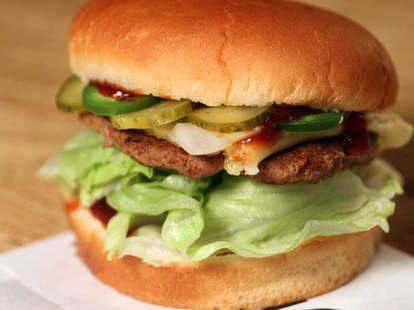 In a big, greasy, delicious celebration of its 5th birthday, Chicago's very own M Burger has announced it will be slinging free burgers (with any purchase) at all of its five locations on Wednesday, March 18th.
The mini-chain by Lettuce Entertain You, known for its not-so-secret Secret Menu and monthly rotating milkshake offerings, will give you any one free hamburger, cheeseburger, signature M Burger, or even a special burger from that Secret Menu. The only catch is that you have to buy something, like an order of fries, and you're limited to one burger per person, in-store only. But basically, we think it's a great opportunity to go all-out and get some cheese fries, try something on the Secret Menu, or even get a shake (this month they've got Grasshopper and Minty Leprechauns) with the cash you're not spending on the burger.
Now that's how you celebrate a birthday!
Tony Merevick is Cities News Editor at Thrillist and used to order off M Burger's secret menu when he lived in Chicago all the time. Send news tips to him at tony@thrillist.com and follow him on Twitter @tonymerevick.