With Breaking Bad leaving a hole on your insides (we still can't listen to Badfinger without falling apart), you can now fill that gap and become whole again courtesy of Glazed & Infused's brand-spankin'-new Autumn lineup. First up: this Quadruple Chocolate doughnut smothered in so much chocolaty deliciousness (glaze, chocolate shavings, white chocolate morsels) you'll swear you just swam a lap with Augustus Gloop and the Oompa Loompas. Or maybe did some meth.
Recommended Video
You Can Now Get Artisanal Twinkies Delivered to Your Door in NYC
If you're looking for a caramel apple not being peddled by a carnival worker with questionable hygeine, this apple doughnut is drenched in caramel before being topped with peanuts.
A first glance, the ginger old-fashioned may seem tame, but each bite delivers a wallop of ginger spice (the root, not the kid in high school that was nicknamed "firebush") tempered by a coating of G&I's signature vanilla bean glaze.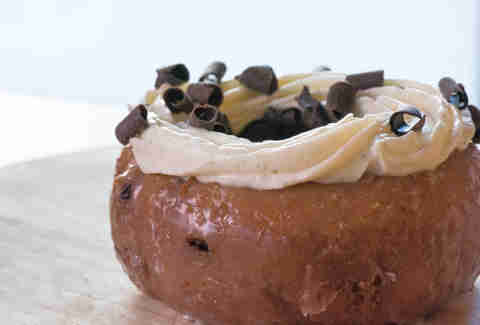 This pumpkin cheesecake specimen ups the ante (and your cholesterol) with a thick swirl of cream cheese frosting and some shaved chocolate on top.
Finally, you have the peach fritter wild card. This peachy bomb harkens back to the now-waning peach season, letting the taste of deep-fried Summer linger well into the Autumn months. Just beware of hungry Presidents of the United States of America.
Previous Venue
Next Venue
Venue Description
1. Glazed & Infused
939 W Armitage Ave, Chicago, IL 60614
Glazed & Infused is a doughnut-and-dessert eatery with locations in a few places around the city -- and they're serving up treats like the Maple Bacon Long John with maple frosting and a strip of candied bacon. CANDIED. BACON.