Fill up on Glazed's Fall doughnut lineup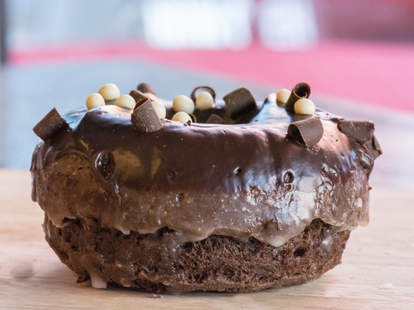 With Breaking Bad leaving a hole on your insides (we still can't listen to Badfinger without falling apart), you can now fill that gap and become whole again courtesy of Glazed & Infused's brand-spankin'-new Autumn lineup. First up: this Quadruple Chocolate doughnut smothered in so much chocolaty deliciousness (glaze, chocolate shavings, white chocolate morsels) you'll swear you just swam a lap with Augustus Gloop and the Oompa Loompas. Or maybe did some meth.
If you're looking for a caramel apple not being peddled by a carnival worker with questionable hygeine, this apple doughnut is drenched in caramel before being topped with peanuts.
A first glance, the ginger old-fashioned may seem tame, but each bite delivers a wallop of ginger spice (the root, not the kid in high school that was nicknamed "firebush") tempered by a coating of G&I's signature vanilla bean glaze.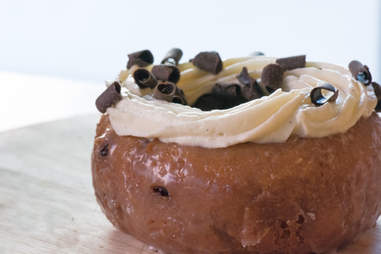 This pumpkin cheesecake specimen ups the ante (and your cholesterol) with a thick swirl of cream cheese frosting and some shaved chocolate on top.
Finally, you have the peach fritter wild card. This peachy bomb harkens back to the now-waning peach season, letting the taste of deep-fried Summer linger well into the Autumn months. Just beware of hungry Presidents of the United States of America.