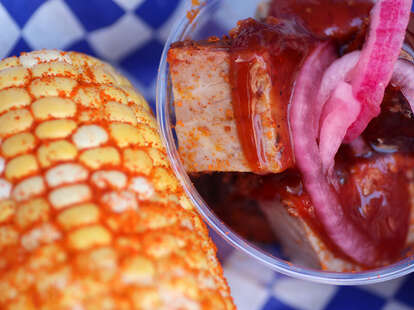 Sitting at your desk wishing someone would show up with a brisket sandwich does not make you fat. Maybe just a bit husky (right, Mom?). The Husky Hog embraces the term typically reserved for fat-kid jeans, because you won't give a damn about your failing metabolism after tasting the BBQ classics aboard this mobile meatery. Take the burnt ends, which the owner calls "beef candy", a hot commodity on the menu that sells out if you're not there early, here served with pickled red onions and a side of paprika-and-Parm corn that's also done time in the on-board smoker.
In the wake of trucks attaining licenses to cook on board, such as The Salsa Truck, The Fat Shallot, and Jerk, Husky Hog can whip up freshly deep-fried hush puppies or shoestring fries seasoned with brown sugar. You can find the truck's whereabouts on Twitter and Facebook.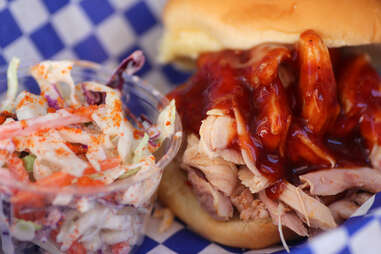 The citrus-brined shredded chicken is smoked with applewood and charcoal, served with their house BBQ sauce that's like Keith Urban in that it's a disgrace to music it has a "little bit of everything": some heat, sweetness, and acid.
If pig's more your game (cut to Kermit nodding slowly), the pulled pork has been hit with apple juice and hot sauce prior to being smoked and making its way into a basket with country mustard potato salad (cut to horrified Kermit).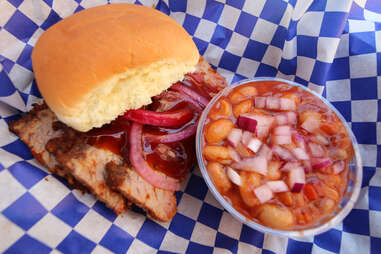 Their dry-rubbed beef brisket sandwich, meanwhile, is awaiting your taste buds alongside a tub of baked beans made with Amish bacon -- the kind that believes cameras steal souls (um… sorry about the photo).