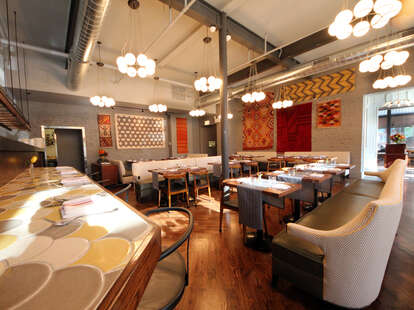 From the same Chef of the Year who brought you Yusho and Billy Sunday, A10 is a new Chef of the Year-caliber drop in Hyde Park's academic hub -- the first of two openings from the team (a scaled-down version of Yusho will open next year).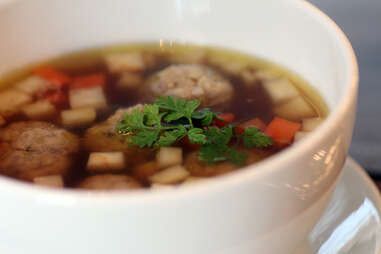 The hands-down best small plate (err... bowl?), this meatball soup comes with pork/chicken meatballs that are matzah-ish in consistency, and come with cubed winter vegetables and pasta.
This Pekin duck entrée uses alllllll the parts of the mallard with sliced breast meat, a cabbage roll with confit leg and thigh, and an au jus sauce made with the bones.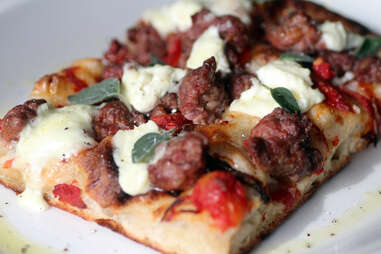 Their wood-fired pizza oven's located in an open kitchen, giving you a hungry-pizza-eater's view of the firing of Roman-style squares topped w/ Barese sausage, smoked tomato, sage, and Robiola cheese.
The second wing of the 112-seat space is a bar and lounge with exposed brick, a U-shaped bar, and a pair of sliding library ladders that hang over the bar, where they're used as glassware shelves.
The beverage program features on-tap cocktails, so you don't have to wait for someone to annoyingly make your gin & tonic. Plus, there's a bevy of wines and non-tapped cocktails, like the Vin de Maison, an aperitif made with season herbs, fruit, and wine.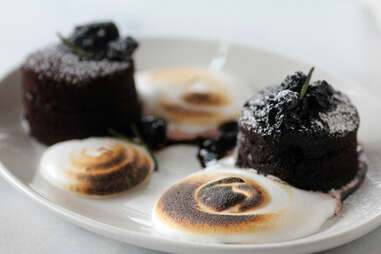 Oh, and dude, don't skip dessert: cannoli soft-serve, creme brulee, and this Venezuelan chocolate Bouchon cake.