The Michelin-lauded team behind Longman & Eagle -- and more recently, the Pilsen beer hall Dusek's -- has added another South Side gem to its delicious stable with The Promontory, which shares Dusek's formula of packing an innovative restaurant, bar, and performance space across its two floors.
The main event here, however, is the lineup of wood-burning hearths that centerpiece the open kitchen, upon which they'll be scorching spreads of meat, seafood, and virtually everything else on the menu.
Recommended Video
Thrillist's Best (and the Rest): The Truth Behind the Saddest Cookbook Ever
Here they are in action, made of cast iron, and fueled with either oak & cherry wood, or mesquite charcoal. And now, a first look at the food & drinks that'll be passing through them on the way to the tables:
Snack-size goodness includes hearth-roasted feta (w/ marinated olives, charred baby pepper, and a baguette), as well as caramel-roasted nuts and a Kalbi short rib.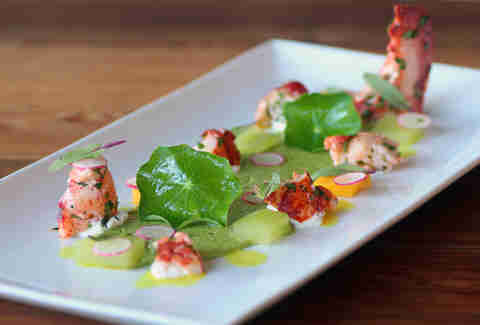 This chilled Maine lobster salad is sitting on avocado puree w/ mangos, cucumber, and pickled radishes.
Put off eating your 100,000th side of French fries by scoring this Mediterranean-style grilled lamb burger, which comes with a side of chickpea fries with a light, polenta-ish texture.
The seared black bass comes with house-made ricotta cannelloni. 
You won't have to brave a coal mine to get this Appalachian favorite, the Kentucky Burgoo (pork collar, quail, and rabbit sausage in a stewed tomato broth).
Digging into the historic section of the menu, the veal osso buco is roasted bone marrow, milk, and thyme-braised loin chops sided by stuffed-rice balls packing black truffles.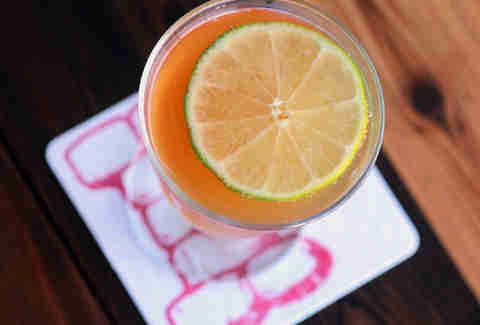 One of four batch cocktails -- on tap for super-quick service -- is the house daiquiri, blending rum, anejo, house sugar, and lime. The drink menu itself is conveniently displayed as a grid, where you pick your spirit (rum/ gin/ whiskey/ tequila) and your preferred preparation (carbonated/ shaken/ stirred) to create your own custom cocktail, all of which are the same price.
The hearth even plays into cocktails like the Promontory Paloma, whose tequila, lime, and mint are balanced with a freshly charred slice of grapefruit.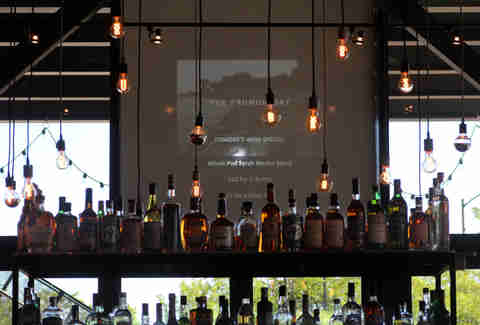 Naturally, there's also 20 beers and a globe-spanning wine list available, and the bar itself allows easy access to the outdoor patio spaces w/ retractable glass walls. Looking to the future, an upstairs music venue with a dedicated bar all to itself is set to open in the coming months. 
Sean Cooley is Thrillist's Chicago Editor and he will fight for the right to party. Follow him @SeanCooley.