Proving Evanston can export more than just self-absorbed journalists and slightly above-average football teams, Edzo's is giving Chicagoans one less reason to take the Purple Line north, now that it's taken its burger craftsmanship and '70s greasy spoon vibe down to Lincoln Avenue

Burger patties are made from house-ground chuck, then pressed and griddled to the point that you'll have no trouble taking down this classic double with American, though if your driver took you all the way in from Winnetka, you can throw on fancy extras like bleu cheese, a fried egg, or giardiniera.

Fresh-cut, skin-on, twice-cooked French fries don't necessarily need extra fancying up (again, unless you came in from Winnetka), but that doesn't stop them from serving them nine different ways, including this baked potato-style loaded beast

Or for something a little hotter, try them Buffalo-sauced with hunks of bleu and destined-to-be-ignored celery

Lock in that food coma with hand-dipped "$5 shakes" that actually cost $4, come in flavors like banana, maple & Nutella, and'll provide you with extra padding to protect against those annoying Northwestern-ly winds.
Recommended Video
This Nacho Mountain Destroys All Other Nachos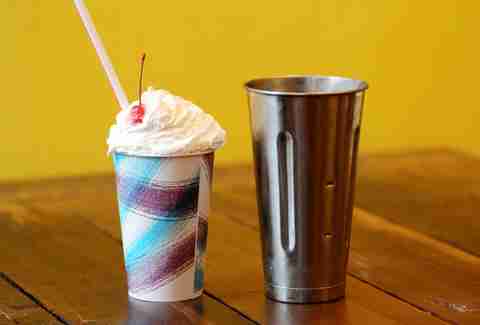 Previous Venue
Next Venue
Venue Description
1. Edzo's Burger Shop
1571 Sherman Ave, Evanston, IL 60201
Edzo isn't the name of a creepy clown but of an awesome burger joint with a serious '70s vibe. The patties are made from house-ground chuck that's pressed, griddled, then topped with extras like fried egg or giardiniera relish. The menu includes elevated French fry options -- order them "Crazy" to get a topping of chili, cheese, and chopped onion or "Angry" with four kinds of spices. Edzo's is also known for its milkshakes, which are made the old-fashioned way -- on a slow-mixing spindle machine -- to yield an extra-smooth and creamy texture.