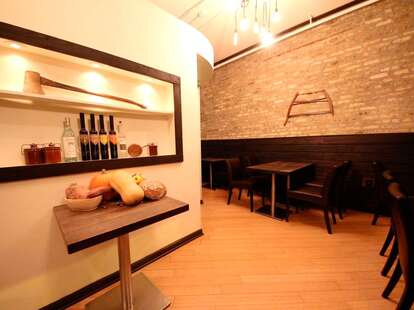 Though it would also be a boring but semi-practical answer to the question "What three things would you take to a desert island?", Table, Donkey, and Stick's actually named for a Brothers Grimm tale, appropriate given the "Alpine inn" approach to the menu and decor, which includes vintage axes, saws, and copper pots dotting the brick walls of the former Bonsoiree space
Start with a bevy of "Meat Snacks", from pork rillettes and smoked venison loin to pheasant galantine and schweinekopf, a German way of saying pig's head. Such a sexy, poetic language.
The meat fun continues with roasted bacon perched atop polenta with pickled peppers and black trumpet mushrooms
Roasted sunchokes come with memories of the 1993 NBA Finals as well as squash butter and a pepita vinaigrette
For main events, this veal sauerbraten is served over braised red cabbage, bubespitzle (a southern German pasta), and gingersnaps (Your mama's hair is so red...)
Batch cocktails stay on-theme with the Manhattanhorn (a play on a Manhattan made with white Armagnac), or opt for a flight of three different brandies, which -- if selected as the three things you'd take to a desert island -- would likely make you the ass.