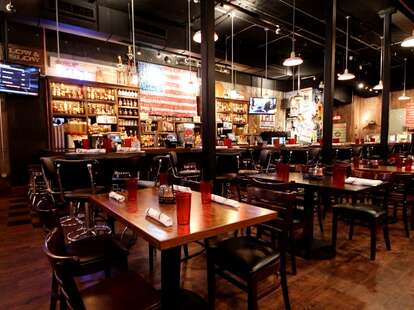 Because country comebacks shouldn't just revolve around Taylor Swift telling off every dude she's ever dated, the Melman Bros have brought back Bub City from its '90s heyday, outfitting the new incarnation with a massive beer can American flag behind the bar, a central stage that'll feature a constant flow of country music talent, and posters touting acts from Willie Nelson to people not named Willie Nelson.
The menu's appropriately BBQ-centric, from this massive bone-in short rib (which actually looks kinda long), to platters of smoky burnt ends, to a four-person pork shoulder feast that includes four sides like sweet potato fluff or crispy collard greens
If red meat isn't your thing, wait -- really? REALLY? Fine, but you're still expected to keep things comfortably unhealthy by ordering this pile of buttermilk fried chicken looming over a side of Alabama white lightning sauce, or hit the shellfish bar for some oysters and blue crab claws.
They're also deep on whiskey with more than 125 selections, plus creations like the Whiskey Tango (George Dickel Tennessee Whisky, sweet tea, 'n lemon) or the pre-frozen Mexican Firing Squad, made with tequila, pomegranate, lime, and Angostura bitters, one of the few varieties that has yet to inspire a Taylor Swift song.