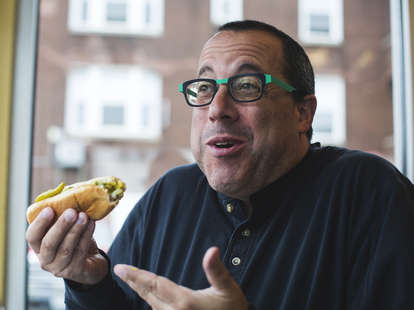 It's now been a little over two years since Doug Sohn packed up his tongs and closed Hot Doug's, Chicago's favorite sausage shop. The longing pain has lessened. Maybe it's the Cubs ending an unfathomably long World Series drought, maybe it's global warming making Chicago winters more bearable, or maybe it's that rumors of Doug Sohn's retirement have been greatly exaggerated.
Hot dog fans know that Doug Sohn hasn't really been able to stay out of the encased meats game entirely. Despite the fact that he no longer has a restaurant of his own, he has collaborated with a whole bunch of Chicago eateries, most notably Blaze Pizza and a little-known sports venue called Wrigley Field. Much like James Murphy of LCD Soundsystem, Doug has been unable to retire whole-hog, and in doing so, has teased Chicago's sausage lovers into believing he'll make a return. Sohn was gracious enough to chat with us about his plans for the future, his collaborations, and why he hasn't really and truly been able to retire.
Oh, and spoiler alert: Sohn isn't going to be opening another restaurant anytime soon. Sorry.
First of all, how does it feel to be the LCD Soundsystem of encased meats? Do you think that comes with any kind of reputation?
Doug Sohn: My first thought is: couldn't you have picked a band that I really like (the Buzzcocks, The Clash, Taylor Swift)? I realize that none of these make sense as an analogy, I just like them more. Having said that, I'm completely humbled by the love and well wishes I've experienced since closing Hot Doug's. It's an awesome feeling. As for reputation, I've been called much worse.
Well, do you like the Pixies? Or maybe Jay-Z? I feel like the analogy works there, kinda-sorta. Do you think that closing Hot Doug's gave you the chance to appreciate the love Chicago has for you more fully?
Sohn: Apparently you were never actually at Hot Doug's [Note: I totally was, probably more times than was healthy]. Not a huge Pixies or Jay-Z fan. And, to be honest, I'm forgetting what the analogy is. I never shaved my head, so a Britney Spears analogy probably isn't right. Maybe more like Starland Vocal Band - you know, one hit and then a beloved "Where are they now?"
As for the love, I absolutely never took it for granted. As a matter of fact, and I'm not kidding about this, I truly thought that every day I opened the restaurant was going to be the day that no one showed up. The restaurant business is an extremely humbling business. I felt incredibly fortunate that Hot Doug's lasted as long as it did. The kind words and continued recognition still continue to amaze me. It's an overwhelming feeling.
It seems like you can't stay away from making and cooking up sausages through the pop-ups and collaborations you do, so why not open up a new restaurant?
Sohn: Why don't I want to open a new restaurant? Really? Apparently you've never worked in one. Firstly, there have only been about three or four pop-ups/takeovers in the past two years, so apparently I've been pretty good about staying away. But, most importantly, my work on these has been significantly less involved than running the restaurant, and I didn't have to do it again the next day and the next day and... I was just able to chat with customers and friends and didn't have the burden of staffing, prepping, inventory, etc., all the things that I don't miss about owning a restaurant.
What would I have to bribe you with to convince you to open a new restaurant regardless?
Sohn: While I don't know you personally, I feel confident that you do not have what it takes to bribe me. If your name rhymed with Shmom Shmiketts and the bribe was ownership of a certain Chicago baseball team, well... I would think about it.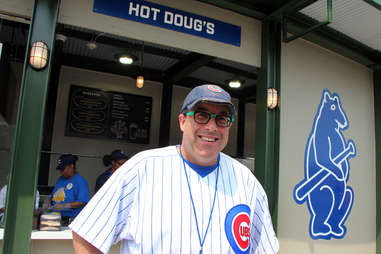 Speaking of the Cubs, Hot Doug's has been in Wrigley Field for two year, the Cubs made the NLCS and then won the whole thing. It can't be a coincidence, can it?
Sohn: Coincidence? Seriously? That's what the kids call "crazy talk!" There's an obvious cause-and-effect situation going on here. I defy anyone to prove otherwise!
Has collaborating with places like Piece and Wrigley Field offered a kind of middle ground between the time commitments of running your own place and being truly retired, or does it just make you miss owning your own place that much more?
Sohn: The former. There are certain aspects of owning Hot Doug's that I genuinely miss. Seeing and chatting with customers, the relationships/friendships I had with purveyors, easy access to the food, the paycheck. It's the other 80% that I do not miss. Owning any small business is physically and mentally draining. And as you get older, it's that much harder.
The collaborations provide a great creative outlet. The percentage of fun vs. work is definitely in my favor! The relative lack of day-to-day responsibility is incredibly desirable.
Very recently, you, along with the owners of Honey Butter Fried Chicken, put together A Taste for Change, a food tasting to promote justice and opportunities for impoverished communities in Chicago and beyond. Is this your way of giving back to the city you love in the best way you know how?
Sohn: Exactly. I do love Chicago. It's been my home for virtually all of my life and I still get excited visiting neighborhoods and Downtown. It certainly has its issues, but I feel confident that these are absolutely solvable.
One of the perks of having some type of notoriety, besides being able to clout one of the "penalty box" tables at Publican, is the ability to translate that into community good. Working with the Shriver Center (the organization behind A Taste for Change) or the Intonation Music Workshop (Intonation) is simply the right thing to do. There is no question that I feel a responsibility to pass on the good fortune that I was so lucky to receive from Hot Doug's. I ask very little of people: Don't litter, and do help those who are less fortunate than you.
Have you been to Hot "G" Dog yet? How does it feel to have your former chefs carrying the torch, at least somewhat?
Sohn: I have not been to Hot "G" Dog. I will say that I wish everyone there the best of luck and success. I know firsthand how tough a business it is.
What do you spend most of your time doing? Do you have any exciting projects in the pipeline that Chicago sausage lovers should be aware of?
Sohn: Most of my time is spent going to Cubs games, traveling, spending time with friends, cooking (I truly enjoy getting back into the kitchen - at home!), reading, writing, rarely having to be anywhere at a certain time. It's incredibly liberating and I highly recommend it to everyone.
I've also been trying to stave off the panic that will inevitably come with needing to provide an income. So far, that's going pretty well. The bourbon helps.
So, how do you take your bourbon?
Sohn: To clarify, I like Scotch, neat, in the winter, and bourbon, on the rocks, in the summer. Having said that, I'm also not a stickler to this rule. I'm happy to have a nice single malt on a toasty summer morning... I mean, evening.
Sign up here for our daily Chicago email and be the first to get all the food/drink/fun in town.
Sam Greszes is a Chicago-based writer who will buy you a shot of Malort whether you want one or not. Follow him @SamGreszeseses for scattered thoughts on cocktails, sports, and
Sonic Adventure 2
.