Tim Flores and Genie Kwon

| Photo by Garrett Sweet
Tim Flores and Genie Kwon

| Photo by Garrett Sweet
Genie Kwon, one-half of the husband-and-wife duo behind the modern Filipino cafe Kasama, didn't plan on opening her dream restaurant smack-dab in the middle of a global pandemic. Yet, as it happened, the timing was strangely ideal.
"We closed on the building at the end of February and passed inspection the day before the first citywide shutdown," says Kwon, recalling those bizarre few weeks last spring when she and fellow chef-owner Tim Flores found themselves in a uniquely precarious position. "If we had opened sooner it would have been pre-pandemic and we would have to totally redo everything we just put in place. And if we took longer to open, I don't think we would have gotten any funding, let alone a bank trusting us to buy a restaurant."
The industry darlings—both Kwon and Flores spent time working as chefs at GT Fish & Oyster before signing onto Oriole's opening roster—scrambled to overhaul their rollout plan. In an effort to downshift from their original concept of a bustling cafe by day and high-end date night destination by night, the pair converted their sleek handmade ceramic plates into an equally eye-catching glazed tile backsplash, ditched the dining room furniture, doubled down on patio construction, and, most importantly, shifted their culinary focus from evening refinement to all-day grab-and-go.
"Making everything to-go friendly, that was a huge thing," Kwon explains. "Coming from fine dining, everybody eats everything immediately—half the deliciousness is in the temperature. Now, every time we put a new dish on the menu we'll literally let it sit for an hour or two to see what happens. It was hard but it allowed us to be a little more creative, forced us to troubleshoot differently and adapt. In the end, it was kind of a silver lining."
Kwon's lemonade-out-of-lemons mentality dates all the way back to the Korean-American chef's unlikely foray into professional cooking. She grew up on the East Coast and entered Boston University as a biochemistry major before realizing a life of lab work wasn't for her. Kwon subsequently dropped out of school and paid the bills by working at a law firm, unsure as to what lay ahead. Then on a whim she applied to the culinary program at Newbury college—Kwon had always loved cooking but didn't see it as a realistic career—and was surprised to receive a scholarship.
"It was like, if I'm going to turn my life upside down, at least it's not going to cost as much as college," she says. "I haven't looked back, really."
As a student Kwon sharpened her pastry skills, going on to work at a handful of esteemed outposts in Boston and New York before making her home in the Windy City. And while she excelled in each of her positions, the aspiration to helm an establishment of her own design only grew. Kwon found a kindred spirit in the similarly driven Flores, a born-and-bred Chicagoan who hails from a tight-knit Filipino family.
"As a pastry chef, I knew I wanted to do breakfast," she explains. "My husband is a savory chef. He wanted to do dishes that people who might not have had Filipino food before could later recognize on a menu at any mom and pop place. That's where Kasama came from—in Tagalog, it means 'together' or 'including.' It was fitting because we were fusing these two different concepts."
The hunt to find a property that could satisfy a confection-fueled daytime cafe and a destination dinner spot spanned more than two years. Finding a space large enough to fit the equipment for both purposes alone was a challenge. When the Ukrainian Village neighborhood joint the Winchester vacated its corner plot in late 2018 after a rocky four years in business, the stars aligned yet again.
"We actually drove past every day during that time because we lived nearby," says Kwon. "Tim would always say, 'I'd love to open our restaurant in there, it would be so amazing.' Then everything came full circle and we were able to purchase it."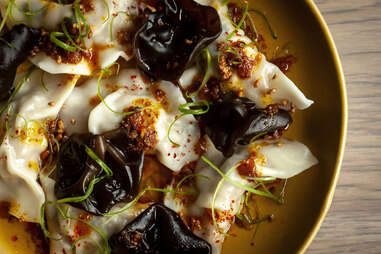 As they say in real estate, "location, location, location." The adage proved true for Kwon and Flores from day one. Not only were they able to make good use of their investment by moving into a newly installed studio apartment above the restaurant, but increased COVID mandates transformed the largely residential strip into a hotbed of hungry work-from-homers in desperate need for daily sustenance. They sold out of food on opening day.
"Before we opened, people would see us out front working on the patio and they would stop and say, 'We're so excited something is coming in here,'" Kwon says. "The neighborhood has carried us this whole time. There are so many people we know by name, we know their families and we see them growing up. I don't think we would've made it this far if it weren't for them coming in every single day for coffee and pastries."
The sheer number of sweet and savory pastries on display is reason enough to visit and keep visiting. It's all delicious, from decadent ube and huckleberry Basque cakes to buttery cranberry-orange brioche, plump Kouign-Amann laced with fragrant cardamom, and flaky hand pies stuffed with velvety fruit compote. But it's the ham and cheese danish that steals the show. Shaped like an eclair to facilitate on-the-go snacking, the oblong indulgence cradles a river of creamy raclette fondue topped with a generous mound of freshly-shaved Serrano ham and finished with a delicate black pepper caramel.
"It's what I always wished a ham and cheese croissant would be," notes Kwon.
Flores runs the show on the far side of the long, low service counter, whipping up an ever-changing menu of approachable yet precise homestyle enticements prepared with top-of-the-line ingredients. Soulful mains like grilled chicken thigh adobo and Paksiw na Pata, a succulent braised pork shank glazed in a mustard sauce spiked with a liver-based Filipino condiment called Mang Tomas, accompany lighter options like lumpia Shanghai doused in sweet chili sauce and a game-changing egg sandwich layered with housemade Longanisa sausage to keep the streamlined open kitchen buzzing from dawn until dusk. Each thoughtful component acts as a tasty introduction to Flores' cultural heritage.
"Tim has been doing versions of dishes that he grew up with, but if there's an ingredient that he likes or wants to experiment with, he'll definitely incorporate other things," says Kwon. "He's trying to make it a little more mainstream, a little more elevated so it can be paired with wine and things like that, but without offending tradition."
Despite Kasama's storybook success, the fractured state of her beloved industry looms heavy in Kwon's mind.
"For us, it's been hard to celebrate because when we were opening, all of our friends were losing their jobs or their restaurants were closing or they were in disputes with landlords and didn't know if they were going to stay open," she says. "And even with all that, everyone has been so supportive. It's been a bit overwhelming because you just want everybody to be able to get through it, especially when the people closest to you are struggling so much."
The circumstances of the past year have understandably pushed thoughts of the future onto the backburner for Kwon and Flores. Like so many restaurateurs, they're fixated on the here and now, finding joy in every detail that propels them from simply surviving to thriving against ample odds.
"Our goal this entire time has been to keep everybody healthy and employed and, knock on wood, nobody has gotten sick and we managed to keep everybody on. We know how fortunate we are and the fact that we're still open is beyond anything for us," she says. "In terms of the big picture, it would be amazing if a year from now, everybody who came in knew what lumpia was and what longanisa. We're definitely making progress."
Meredith Heil is a former freelancer, former-former Staff Writer, and current Senior Cities Editor at Thrillist. When she comes back like Jordan, wearin' the 4-5, it ain't to play games with you.