Staking its claim on the late Socca's Mediterranean turf, American bistro Hutch is ditching all that Euro-ness (along with Starsky) for a menu more in tune with native palates. Case in point: this massive bone-in, garlic-rubbed ribeye. But what's your best route for navigating the fresh menu? Glad you asked! You're about to find out -- time to order like a boss.
1. Nab a patio seat
While the cork ceilings for noise reduction and tufted leather booth seating are nice and all, doing it right means scoring a seat on the sidewalk patio so that lowly pedestrians will eye your feasting with great jealousy.
2. Order the New Fashioned
A slightly sweeter take on the classic, thanks to some Rocky Mountain peach whiskey. Combine it with the orange & cherry, and that's basically three servings of fruit.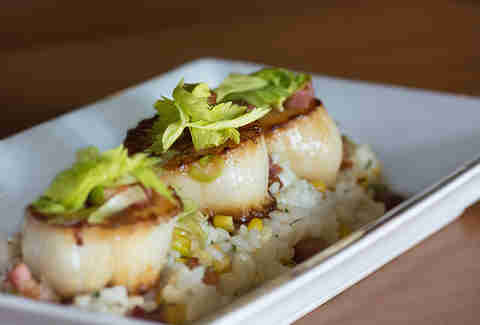 3. Order the sea scallops
This sharable (if you must) shellfish starter is perched mightily atop a bed of corn, crispy leeks, and pork belly (best bed ever), and garnished with bright celery leaves for color/fiber.
4. Order the pork chop
Steak is a perfectly reasonable call for the centerpiece of your meal, but the best bet for a bone-in cut of meat is this double-cut pork chop with creamy cheddar polenta and grilled apple, mercifully sparing you any Peter Brady "porkchops and applesauce" renditions.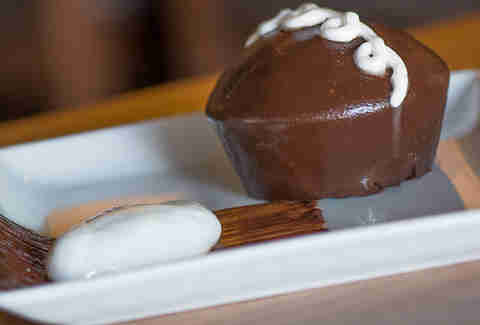 5. Finish with the Chocolate Ding Cake
Hutch's take on a Hostess classic is filled with cream, but not drama like Twinkies. When you're through with your lunchbox nostalgia, graduate to a grown-up dessert: the beer float with dulce de leche gelato and porter. If anyone questions your double dessert, remember -- you're the boss.