Taste the most lauded ice cream from THE Ohio state
Not only do you have Jeni's number, but you now know where she keeps her ice cream (how do you like THAT, Tommy Tutone?). The Columbus-based creamery, with a dozen shops in Ohio and Tennessee, has opened its first in Illinois with a smorgasbord of unique flavors, as well as frozen yogurt (if you must), sorbet, and crunchy sundae accoutrements, not to mention freshly pressed waffle cones ready for a scoop of salty caramel.
When it comes to Jeni's expansive list of flavors, expect the unexpected (though maybe not as unexpected as some of these): there's velvety chocolate ice cream spiked with cayenne, whiskey-laced vanilla with pecans, and a house-shucked sweet corn with black raspberries.
In addition to straight-up scoops, there's a collection of gourmet ice cream sandwiches like this sweet-meets-savory salty caramel sammie with almond macarons and smoked almonds. Other varieties include orchid vanilla, oatmeal cream, and chocolate hazelnut.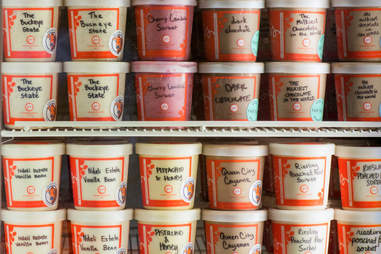 To help you get over the pain of finishing your ice cream, look to their glistening clear-front freezer stocked with hand-labeled pints ripe for the pickin', including The Milkiest Chocolate in the World, which we previously believed to be Jason "White Chocolate" Williams.
These containers are not marked for carry-out, but you can always try -- 11a-11p, seven days a week.