When the sun sets on December 21st (probably sometime right after lunch), it'll officially be the start of the longest night of the year... and what we like to call the "Best Night of Your Life". Why? Because you'll be spending it enjoying the fun-est nightlife the city has to offer, thanks to our recommendations on everything from the bestest happy hours, to the most epic dive bars, to today's contribution: nine of Chicago's raddest spots for late-ass eating and drinking. Check out the picks below, and make sure to map out the perfect evening with our itinerary builder.
Dimo's Pizza
Wicker Park and Wrigleyville
There's no better way to soak up booze 'til 2a than late-night pizza late-night pizza topped with mac 'n cheese. Which they have at Dimo's.
Recommended Video
Send Foodz: New York City Wine & Food Festival
Carol's Pub
Uptown
If you love cold brewskis and country music, head to this Uptown gem for all the $3 cans of Hamm's and George Strait songs you can shake a cattle prod to. The late-night crowd hits its peak around 230a, and doesn't really slow 'til the cows come home (possibly with you).
The Hangge Uppe
Near North
This late-night fun house includes two all-request DJs, three dance floors, and five themed, full-service bars split between two floors. Our advice? Hit Lou Malnati's Gold Coast for a late pizza dinner, then make the one block trek to dance off all those deliciously cheesy calories.
Pick Me Up Café
Lakeview
With almost around-the-clock hours of operation on the weekends, this is the perfect joint for post-bar noshing. Get the Special Pizzadilla (yup, a pizza/quesadilla hybrid), take a nap, and then come back for a hangover-curing Eggs Benedict breakfast.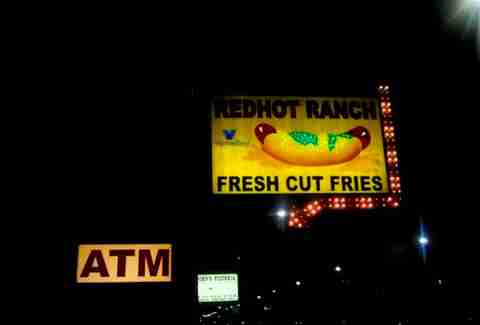 Redhot Ranch
Logan Square
After a long night of shooting Malort at Quencher's Saloon, all your night needs to round things out is a juicy, Chicago-style dog and a heap of hand-cut fries. Get yours at this glorified wiener shack in Bucktown, which's open 'til 5a (!) on Fri/Sat. Just make sure you bring your booze jacket when the weather's cold, 'cause it's outdoor seating or bust.
L'Patron Tacos
Logan Square
Ditch those regrettable Taco Bell splurges in favor of quality, made-from-scratch Mexican grub at this tiny, open-'til-4a-on-the-weekends Logan Square eatery. Try one of their signature gringos with al pastor/Chihuahua cheese in a tortilla with a side of rice and beans, or $2 carne asada tacos.
Stout Barrel House
River North
This Downtown beer hall is open hours beyond its neighborhood counterparts, and cooks up elevated comfort-fare like 'animal fries' with white and yellow cheddar, bacon & short rib, until 3a. If you're still hungry after some on-site munching and closing time is drawing near, buy yourself a to-go pack of 30 Stout Sliders.
Kingston Mines
Lincoln Park
Where great barbecue and blues music meet, you'll find this legendary, laid-back, late-night landmark. Grab a basket of juicy ribs to gnaw on, a pack of friends to converse with, and enjoy it all, plus music, 'til the doors close at 4a.
Diner Grill
Lakeview
Ideal for carnivores and masochistic eaters, roll up to this burger joint 'til midnight for one unforgettable post-drinking challenge: The Slinger. The Man v. Food-esque burger comes with two beef patties, two fried eggs, cheese, hash browns, onions, chili, a side of toast, and a commemorative certificate if you somehow manage to make that burger your bitch.