Because Chicago can't go three months without a bacon-related food festival, we found ourselves back at Lincoln Hall this year for another edition of the Bacon Takedown. It's a simple concept: a batch of home cooks are each given 15lbs of bacon (which sounds like a prize in itself), then they get to cook whatever they want in a no-holds-barred public taste-test, with the winners scoring a year's worth of pig candy. Here's what they came up with...
 
1. Candied habanero bacon
Yucatán slow-cooked pork, habanero candied bacon, pickled red onion coleslaw, 'nuff said.
2. Bacon fat chocolate-covered praline
Watch your back Fannie May, your turtles have nothing on this chocolate-covered, bacon pecan praline.
3. Bacon apple jam
This bad boy is made up of apples, bacon, honey whiskey, maple syrup, chili powder, brown sugar, ground mustard, and ground ginger. Phew! We promise it takes a lot less time to enjoy than to list the awesome ingredients inside it.
4. Bacon creampuff
They put the bacon in the dough, they put the bacon in the cream, you put the whole thing in your mouth.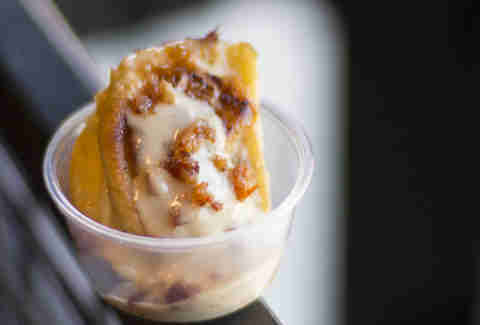 5. Bacon fried ravioli
A spicy shrimp & bacon fried ravioli w/ Parmesan and ricotta cheese alongside bacon-sweated onions with a bacon Alfredo sauce.
6. Bacon, pear, and blue cheese macaroni w/ caramelized onions
Sweet, savory, and comforting, this mac 'n cheese takes the cake... or should we say bacon!? Yes. We should.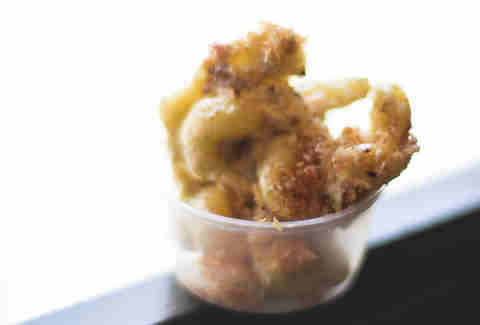 7. Bacon pineapple mac 'n cheese
Aloha! Packed with bacon and pineapple, this one-upped childhood favorite boasts a surprise pork rind crumb topping.
8. Brotein shakes
"Move out of the way bro, I'm in the zone and need a fix of banana bacon protein shake before I hit the gym."
9. Chicken and waffles (and bacon)
This is Chicken and Waffles 2.0 -- deep-fried chicken and deep-fried bacon coming together on top of a (non deep-fried!) fluffy blini.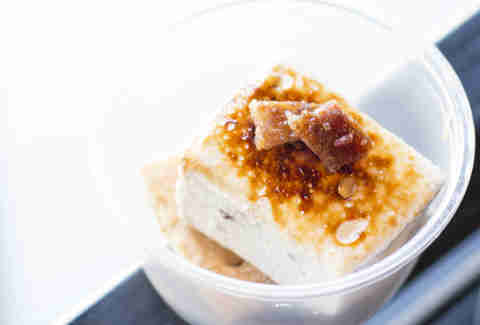 10. Maple bacon marshmallows
How do you make s'mores even better? Oh yeah, sans chocolate, and plus bacon.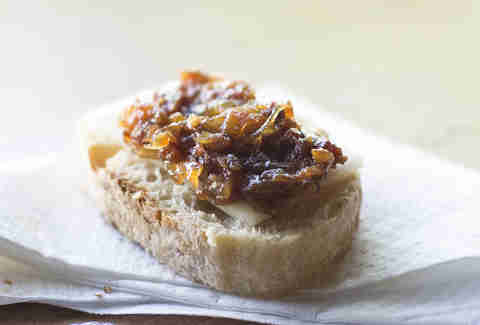 11. Maple bourbon bacon jam
You won't get a buzz from eating this jam... other than the food buzz from how freaking delicious it is.
12. Polar Pig
Bacon ice cream covered in a caramel Magic Shell. It's simple, it's sweet, it's delicious.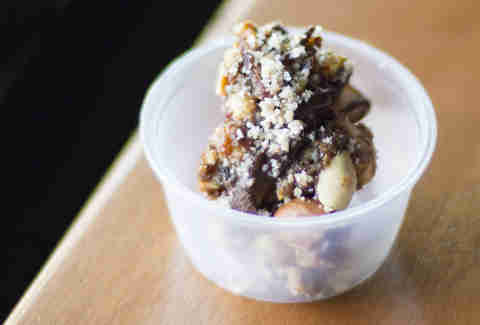 13. Porkind bars
You've never had a Kind bar like this before -- just swap out the boring stuff and replace it with sweet, sweet bacon.
14. Pumpkin ravioli
A thick ravioli doused in a sage carbonara sauce made with egg, bacon, and Parmesan, with pine nuts as a garnish.
15. Sausage and cream cheese-stuffed jalapeños wrapped in bacon
Without the bacon heroically holding this cheese/sausage-stuffed pepper together, it might just burst. 
16. Sloppy Drunken Pig
Made especially for beer lovers, this number features a savory beer & bacon Sloppy Joe resting atop a beer, cheese, and bacon biscuit.
17. Sopa de elote
Five alarm warning! Tread lightly when having a chip full of this corn soup, made w/ roasted poblano peppers, roasted corn, and cheese.
Sign up here for our daily Chicago email and be the first to get all the food/drink/fun in town.
Jim Vondruska is a Chicago-based writer and photographer. Follow him on Instagram @doomsdayrobot.