Sponsored By
San Pellegrino
Kailley Lindman/Thrillist
For some people, making dinner plans in Lincoln Park means figuring out which DePaul bar has a wing special that night. But for those who like a little more variety, there's this guide to the best bites to be had in the neighborhood.
<em>1578 N Clybourn Ave</em><br />
Conveniently located steps from the North/Clybourn red line stop, this laid-back resto has everything a quintessential burger joint should: a build-your-own burger option for people who don't like menus, milkshakes (with the $3 non-negotiable option to make 'em boozy), an impressive craft beer&nbsp;selection, and a bevy of preconceived "stackers," like the Italian-inspired Fa-Getta-Bod-It -- a half-pound patty with prosciutto, mozzarella, tomatoes, basil mayo, and a perfectly runny fried egg.<br />
&nbsp;
<em>2207 N Clybourn Ave</em><br />
It may not check all the boxes of classic Chicago-style deep dish, but the thick-pan 'za at this Clybourn Ave institution is a Chicago tradition in its own right. Thanks to a layer of thinly sliced cheese that coats the deep pans they get baked in, each pie sports a seriously sexy, lacy caramelized cheese crust. Load it up with your choice of toppings and give into the seduction, crust-first, while watching the Blackhawks.
<em>2024 N Halsted St</em><br />
Long before Lincoln Park's posh shopping district popped up along Armitage and Halsted, the folks at Lettuce Entertain You opened the neighborhood's first Spanish tapas restaurant. Nearly three decades later, this lively joint is still slinging some of the best bacon-wrapped dates, patatas bravas, and hand-carved jamón Ibérico in town. And with refreshing sangria available by the glass, half-pitcher, and pitcher, you'd better come thirsty, amigo.<br />
&nbsp;
<em>2119 N Clark St</em><br />
Quaint and unassuming, this neighborhood-y joint is the spot for traditional, simply prepared Italian fare. Antipasti burrata con speck and black mussels Livornese will rev your appetite, while hearty, house-made pastas and risottos -- like pappardelle ai porcini, spaghetti chitarra carbonara, and risotto pescatora -- will have you loosening belt notches. Just keep your pants on while you house the tiramisu.
<em>1800 Lincoln Ave</em><br />
The menu at this Paul Virant (Vie, Vistro) helmed restaurant changes regularly, but you can always count on the seasonal and locally sourced fare -- like venison carpaccio with smoked cherry jam, massaged kale, pickled sunchoke, Parmesan mayo, and bagel chips -- to be perfectly balanced by house-pickled and preserved ingredients.<br />
&nbsp;
<em>2521 N Clark St</em><br />
Don't let the fast-casual vibe fool you: the mostly vegetarian eats at Sultan's Market's Lincoln Park outpost are remarkably fresh and authentic. The menu pulls inspiration from all over the Middle East and includes everything from baked spinach pie and baba ganoush to falafel sandwiches and lamb shawarma.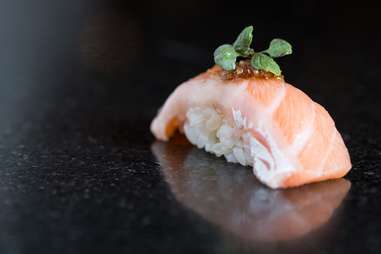 <em>2638 N Lincoln Ave</em><br />
It's hard to hate the&nbsp;fresh, velvety cuts of sashimi and artfully plated nigiri of Chef B.K. Park's omakase, but other standouts include Ora Sake (King Salmon nigiri with pickled garlic and micro-wasabi), and ao ebi (Hawaiian blue prawn nigiri with seared spicy aioli and pineapple salsa).<br />
&nbsp;
<em>1220 W Webster Ave</em><br />
Breads, pastries, and sweet-tooth-satisfying delectables abound at this quaint counter-service bakery and café. Stop in for a pain au chocolat&nbsp;breakfast, take out fudgy brownies and canelés de Bordeaux for a midday sugar fix, or linger over an indulgent grilled cheese with raw milk organic cheddar, Butterkäse (a semi-soft cow's milk cheese), and horseradish on house-made brioche.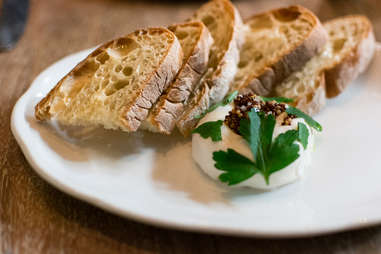 <em>1633 N Halsted St</em><br />
<em>Lady and the Tramp</em> that special someone with tagliolini nero tossed with crab, uni, and chili flakes, or with the mortadella pizza with pistachio pesto, which is a little bit harder logistically, but still doable. Then cross the street for a show at the Steppenwolf Theatre, which probably won't be playing <em>Lady and the Tramp</em>.<br />
&nbsp;
<em>938 W Webster Ave</em><br />
The only thing better than pizza is pizza devoured al fresco, and the lantern-strewn patio at Homeslice is prime for doing just that. The outdoor space is lined with wood paneling, and includes a vintage airstream trailer-turned-seating-area.&nbsp;There's also an illuminated motivational&nbsp;sign that reads, "Be Awesome," which is exactly the kind of encouragement you want from a pizza place.&nbsp;<br />
&nbsp;
<em>1723 N Halsted St</em><br />
So including world-renowned Alinea on this list was almost TOO obvious, but the greater crime would be ignoring Grant Achatz's three Michelin-starred, game-changing restaurant that remains on the shortlist of the most influential modernist kitchens in the world. Yes, you're going to drop some serious bills on the tasting menu, especially if you factor in the wine pairings (and you will!). But such is the price you pay for singular experiences like apple-flavored balloons and salsify jerky hidden within a bird's nest. You have to get your tickets (yes, tickets) way in advance, but it's well worth it.<br />
<br />
<em><a class="vortex-open" data-campaign="2830" href="https://signup.thrillist.com/&quot; target="_blank">Sign up here</a> for our daily Chicago email and be the first to get all the food/drink/fun in town.</em><br />
<br />
<em><a href="https://www.thrillist.com/authors/kailley-lindman&quot; target="_blank">Kailley Lindman</a> is a contributing writer for Thrillist Chicago, as well as a food blogger, bacon enthusiast, and devout user of the Oxford comma. Follow her at&nbsp;<a href="https://twitter.com/KailleysKitchen&quot; target="_blank">@KailleysKitchen</a>.</em>