Baker Miller gives Chicago meat pies and a toast bar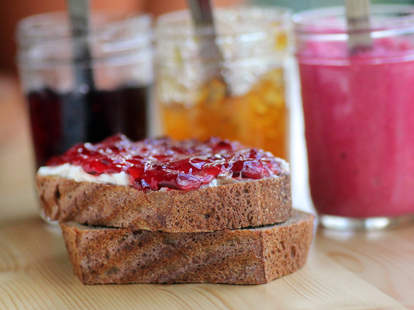 The former owners of Bang Bang Pie Shop (of pie and biscuit sandwich fame) have opened their new passion project in Lincoln Square: a grain-centric sweet & savory bake shop where nearly every item inside is made in-house. ​Baker Miller Bakery & Millhouse will mill grains, make yeast for bread, culture butter, cure salmon, and make sausage, so to say they're cooking from scratch might even be an understatement. Here's a look at some of their seasonal offerings:
Sean Cooley
The breakfast menu (which thankfully stretches to 3pm) includes a toast bar with freshly baked loafiness like whole wheat sourdough and sunflower rye, to be topped with seasonal spreads including orange marmalade, cherry jam, and beet horseradish spread.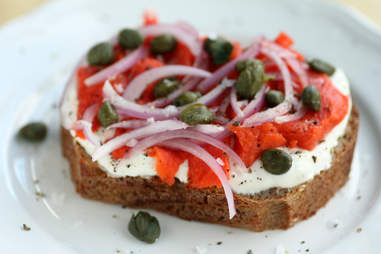 Sean Cooley
You can also take your toast w/ Nova lox, capers, onions, and chèvre (a whippy goat cheese alternative to cream cheese).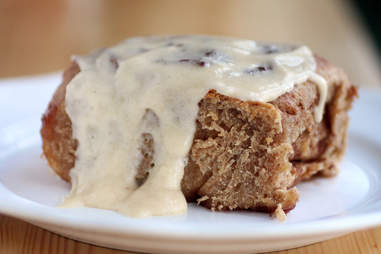 Sean Cooley
Cinnamon rolls are topped with raw sugar icing -- better than a visit to Ann Sather, and also you don't have to go out to eat with your parents!
Sean Cooley
Breakfast grain bowls will rotate seasonally -- the fall dish brings wheat berries, roasted acorn squash, and a poached egg (also available for dinner w/ a confit chicken leg & thigh).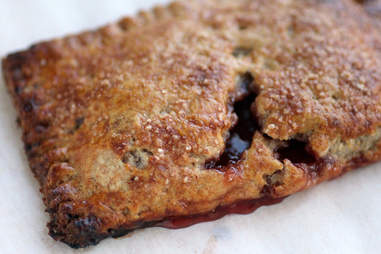 Sean Cooley
Hand pies come in both sweet (raspberry jam) and savory varieties (sausage, confit broccoli, Havarti cheese). You'll be able to pluck one off of their morning breakfast cart, similarly packed with popovers, muffins, cookies, and other deliciousness.
Sean Cooley
To drink, there's Sparrow coffee, tea from Rare Tea Cellar, kombucha on tap (!), and seasonal cold-pressed sodas.
Sign up here for our daily Chicago email and be the first to get all the food/drink/fun in town.
Sean Cooley is Thrillist's Chicago Editor and he did not know about Chicago's seedy pinball history. Follow him @SeanCooley.