Gringo: semi-disparaging term, or delicious Mexican treat? Turns out it's both! L'Patron is serving up its signature gringos (al pastor/Chihuahua cheese in a tortilla with a side of rice and beans), as well as other South-of-the-border staples in a tiny Logan Square taqueria. The chef/owner, an ex-Topolobampo-er, founded L'Patron with his bros (actual brothers, not the colloquial kind), with the express mission of creating from-scratch tortillas from the freshest ingredients available. They've also got a rotating seasonal menu of salsas and're open until 4a on Fridays and Saturdays, so if you're out late and get called a semi-disparaging term, you'll have their tacos to give you solace.
Recommended Video
This Is Your NYC Go-To For Authentic Empanadas
Previous Venue
Next Venue
Venue Description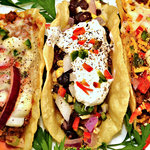 1. L'Patron Tacos
3749 W Fullerton Ave, Chicago, IL 60647
If you thought you could only get decent Mexican street food south of the border, think again – for Chicagoans, it's as easy as a trip to Logan Square. The market-driven menu at L'Patron includes highlights like carne asada and the signature la gringa, a tortilla with al pastor, Chihuahua cheese, pineapple, and a side of rice and beans. While seating is available, this counter-service taqueria is a lunch hotspot, so get there early to snag a seat and chow down.