Sean Cooley/Thrillist
Sean Cooley/Thrillist
Ever since they opened, Bang Bang Pie Shop's impossibly buttery biscuits have come close to stealing the spotlight away from the pie, which is saying something, because their pie is crazy delicious. Well, apparently the biscuits want even more attention (naughty, showboating biscuits!), because they're the basis for a newly launched line of sandwiches available daily starting at breakfast time (7a weekdays, 9a weekends). The McMuffin has officially been rendered obsolete...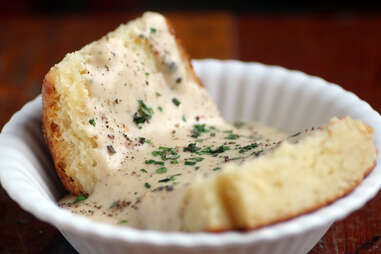 Baked in small batches, the sour cream biscuits achieve their fluffiness by steaming each other as they cook in the pan. Here, they're smothered in a sawmill gravy that, while meat-free, has sausage seasonings like fennel, sage, and pepper.
Still, you'd rather have some meat, so pair those biscuits and gravy with sausage, a poached egg, and a side of Concord grape jelly, and you've got a bangin (!) brunch-time sandwich.
A twist on a Southern-inspired traditional ham steak, the thin-smoked ham sandwich has grits, pimento butter, and pepper jelly.
The thick-sliced applewood-smoked bacon biscuit comes with collard greens and a side of house-made Fresno chili hot sauce that they've appropriately dubbed Pao Pao Sauce.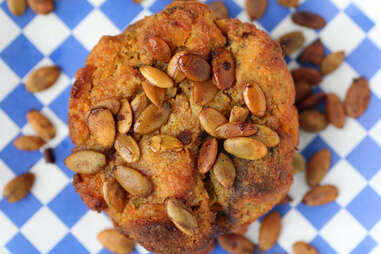 Also new to the menu is a seasonal rotating strata, like this combo of squash's number, with a sprinkling of pumpkin seeds leftover from the pumpkin pies. It's out of this... wait for it... strata-sphere.
Since you're probably going to finish that sandwich and then break down and order a slice of pie anyway, might as well whet your appetite with this flaky leaf lard-crusted apple pie with crumble topping…
... or perhaps malted milk chocolate mousse with a graham cracker crust (they bake their own graham crackers, then make crust out of them)…
... and a butterscotch custard pie made the old-fashioned way with Scotch and caramel, placed in an oatmeal cookie crust, and topped with whipped cream and cranberry-oat granola. Look out for the shop to extend biscuit sandwich hours to include dinner, and to develop blue plate specials with local restaurants like a Butcher & Larder pastrami biscuit or a Parson's fried chicken biscuit... pushing you one step closer to an all-biscuit-sandwich diet.